LeBron James Not Mentioned During Kyrie Irving's Farewell Message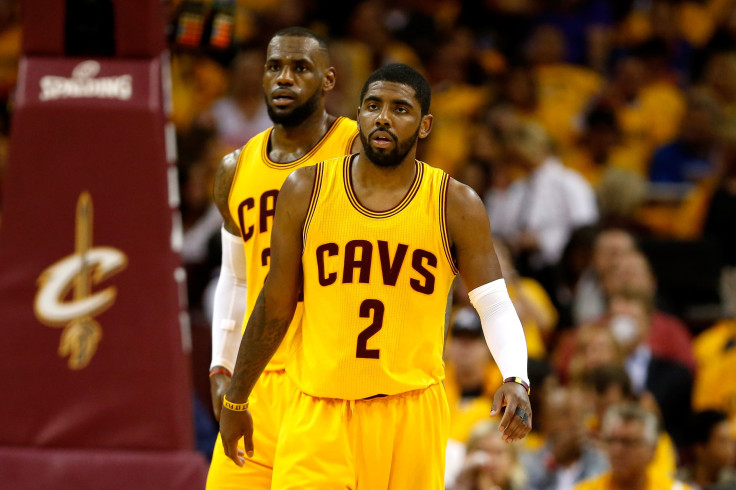 All-Star guard Kyrie Irving, who thanked the Cleveland Cavaliers on Instagram, excluded his former teammate LeBron James from mention after his trade to Boston was finalized this week.
Irving, 25, who found his new home on the Celtics this week after Isaiah Thomas' health concerns stalled the deal, thanked his former team with a note and video on Instagram Thursday.
Irving was mum regarding the trade, which went public on Aug. 22, until he posted on Instagram. Cleveland sent Irving to Boston for All-Star guard Isaiah Thomas, forward Jae Crowder, center Ante Zizic and the 2018 first-round pick Boston gained from Brooklyn. The trade came to a halt when Cleveland caught wind of Thomas' hip injury, but it went through once the Celtics agreed to send the Cavaliers a 2020 second-round pick as an extra asset.
Irving explained some of the reasons that sparked his trade request, including making the NBA Finals three years and earning a championship in Cleveland. The All-Star guard met with Cavaliers owner Dan Gilbert last month and requested a trade.
VIDEO: A (fresh-faced) @KyrieIrving speaks, now that the deal to the Celtics is finally done. Thanks Cleveland, says "the journey continues" pic.twitter.com/leFoxAIkX2

— Rachel Nichols (@Rachel__Nichols) August 31, 2017
"You understand the magnitude of decisions that you make in your life can affect a lot of people all at once," Irving said in the video. "And when you get to that point and you understand that the best intentions for you and ultimately to be in your truth, and find out what you really want to do in your life and how you want to accomplish it — that moment comes and you take full advantage of it."
He added in a note on Instagram: "My special thank you to Cleveland. My love extends way beyond the court I have for Cleveland and it will always be a place that's special because of the great people and experiences. Thank you from my whole being for being there as I was a 19-year-old kid coming into the league, to now where I start another step in the journey as a 25- year-old evolving man. It will Always be Love and respect Cleveland. The journey is always the reward."
Irving, who played with James for three years, apparently thought he wasn't getting enough shine and wanted to step into a more defining role. The two ended a Cleveland championship drought when they won an NBA title together in 2016.
As he concluded his video, Irving never acknowledged their partnership.
"And to my teammates: crazy stories, crazy experiences and just unbelievable human beings, man," Irving said. "You all know how this brotherhood goes, man. All love."
Their relationship seemed to have started off bright. James, while a member of the Miami Heat in 2011, posited that Irving would be perfect for the Cavaliers as their No. 1 overall draft pick.
"If the Cavs pick him it'll be a great pick for them," James said. "He's a true point guard who can score, in this day and age in the NBA it is a point guards' league. If they decided to take him, which it looks like, they'll have a good one."
James appeared to show no hard feelings when he took to Twitter last Tuesday and commended Irving.
"Speical talent/guy! Nothing but respect and what a ride it was our 3 years together Young Gode #Filayy," he wrote.
© Copyright IBTimes 2023. All rights reserved.