Will The Lakers Make The Playoffs? Roster Set Before LA Makes Push For LeBron, George, Westbrook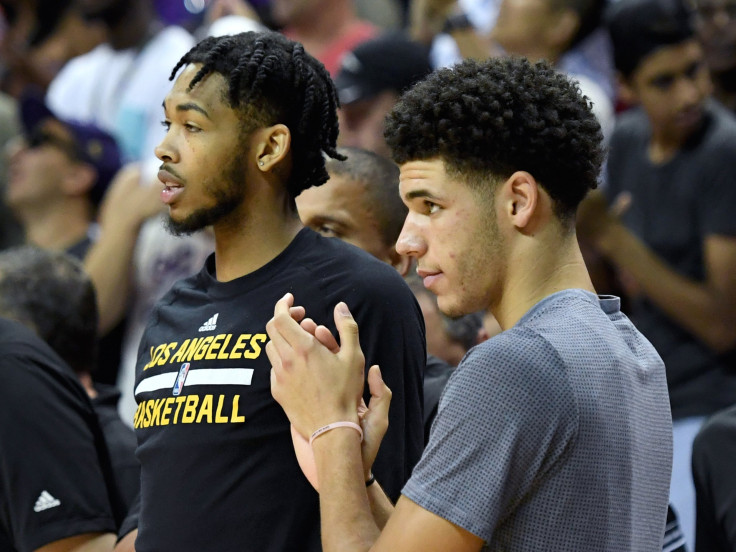 After pulling the trigger on a big trade, drafting a top playmaker and adding a dynamic free agent, the Los Angeles Lakers appear to have a set roster two months ahead of the preseason. All signs point to the Lakers making their boldest playoff push since earning the No. 7 seed in 2013, though all indications point to the front office maintaining their goal of a "super team" in 2018-19 that may consist of impending free agents LeBron James, Paul George and Russell Westbrook.
While the Lakers have added many new faces to a roster intent on ending their playoff drought, it's unclear how long this group will stay intact. Free agent acquisition Kentavious Caldwell-Pope and Brook Lopez, who joined L.A. in a deal that sent D'Angelo Russell and Timofey Mozgov to the Brooklyn Nets, arrive with their contract set to expire at the end of the season and other current players may not fit into complementary roles should the Lakers acquire at least one superstar.
Though Lopez and Caldwell-Pope are expected to provide stronger scoring options, the current cornerstones are rookie point guard Lonzo Ball and second-year forward Brandon Ingram. On the first play of the Lakers' summer league, Ball found Ingram on a beautifully executed alley-oop, perhaps offering a glimpse of what's to come from the young stars.
After Ball and Ingram, the 2017-18 roster includes some notable returning players. Head coach Luke Walton will probably go with a starting backcourt of Ball and Caldwell-Pope, while Ingram is expected to be joined in the frontcourt by Julius Randle and Lopez. Versatile guard Jordan Clarkson could serve as the sixth man on a deep bench that includes veteran Luol Deng, along with promising young players Larry Nance Jr. and Ivica Zubac. Rookie Kyle Kuzma and veteran Corey Brewer should battle for playing time, as well.
Lakers Competing In Deep West
There are eight spots available and L.A. has some tough competition. The Lakers have the ninth-best odds to come out of the Western Conference, according to VegasInsider.com.
Over the last two seasons, the No. 7 and No. 8 seeds in the Western Conference have hovered around .500, so L.A. will need to add about 15 wins from a roster that finished with a meager 26-56 record. Such an increase would be a tall order, but the young roster added experience over last season and will be playing with more incentive and less distractions.
Since the Lakers' first round pick will likely be lost this season, there might be extra motivation for L.A. to make a more determined playoff run. That could mean more games with starters averaging 30 minutes or more per game. In 2016-17, Clarkson averaged a team-high 29.2 minutes, the league's lowest for a team leader.
This Lakers roster should be more disciplined. Last year, Lou Williams provided L.A. with a much-needed steady presence before he was traded in February to the Houston Rockets for a draft pick, leaving the Lakers with less leadership and cohesion. Gone are Russell and Nick Young, two players whose off-the-court turmoil perhaps took away from the team's focus.
While the Lakers appear to be headed in the right direction, they will be competing against a frustratingly deep West. The Golden State Warriors, Houston Rockets, San Antonio Spurs and Oklahoma City Thunder seem like locks to return to the playoffs. Meanwhile, the Minnesota Timberwolves have a burgeoning young squad that now includes veterans Jimmy Butler, Jeff Teague and Jamal Crawford.
The last three seeds could be up for grabs. The Los Angeles Clippers, who lost Crawford, Chris Paul and J.J. Redick, have made the postseason six straight seasons, while the New Orleans Pelicans, who finished with a 34-48 record, will have a full season of DeMarcus Cousins along with veteran point guard Rajon Rondo. The Utah Jazz lost Gordon Hayward and George Hill, but head coach Quin Snyder helped lift the Jazz to a 51-win season and has experienced players in the prime, like Rudy Gobert, Derrick Favors, Rodney Hood and newcomer Ricky Rubio. The Denver Nuggets could also be in the mix.
On Thursday, ESPN projected the Lakers will finish with 33 wins, well short of the number likely needed to advance in the West.
Are The Lakers Up For The Challenge?
Walton may have to work some magic to get the Lakers into the playoffs. The coaching staff will likely call on Lopez to provide the bulk of the scoring and blocks. The 29-year-old has staved off injuries in recent years, coming off his third straight season of playing 72 games or more, and he posted impressive scoring averages: 20.6 points in 2015-16 and 20.5 in 2016-17. An area of concern is Lopez's rebounding, as he averaged just 5.4 per game last season, and he joins a team that finished 21st in rebound differential (-0.9).
After Lopez, the scoring will likely come from Clarkson and Caldwell-Pope. Randle should provide a lift on both ends of the court, but his efforts will truly be needed on the glass after averaging 8.6 rebounds last season. Deng, along with Nance, who has worked on his three-point shot this offseason, will be called upon to add more scoring off the bench and provide a steady defensive presence.
There will be plenty of pressure on the younger players. Ball will have to avoid rookie fatigue, while Ingram will need to prove he's made strides from his first season. Between Zubac and rookies Kuzman and Thomas Bryant, one will probably need to emerge to relieve Lopez and provide healthy competition to the crowded front court.
What's At Stake?
There might be a lot on the line for the 2017-18 Lakers. A strong season could entice free agents to Los Angeles with salary-cap space that could range between $42 million and $70 million. Another disappointing season may prompt free agents to consider other options.
George and Westbrook are already on the same team in a state with low income tax, so they may not feel an immediate need to leave together for their hometown of Los Angeles. George has shown a strong interest in joining the Lakers, but there hasn't been much serious talk over whether Westbrook is willing to leave.
James' interest in Los Angeles is even more intriguing since he's spent his entire career in the East and is a native Midwestern. He owns a home and has a production company in Los Angeles, but that may not be enough for him to set up permanent residence in Southern California.
When James returned to the Cleveland Cavaliers, he joined a team loaded with young players like Kyrie Irving, Tristan Thompson and the No. 1 overall pick in 2014 that were coming off a 33-49 season.
Is James willing to go to another non-playoff team? The Lakers have plenty of young talent to surround James should he be willing to join L.A. without another prize free agent, but there might be some apprehension if players like Ball, Ingram and Randle don't show enough progress.
Lakers Roster
Lonzo Ball, PG
Corey Brewer, SF
Thomas Bryant, C
Kentavious Caldwell-Pope, SG
Alex Caruso, PG
Jordan Clarkson, SG
Luol Deng, SF
Tyler Ennis, PG
Josh Hart, SG
Brandon Ingram, SF
Kyle Kuzma, PF
Brook Lopez, C
Larry Nance Jr., PF
Julius Randle, PF
Ivica Zubac, C
© Copyright IBTimes 2023. All rights reserved.