LeBron James Ranks Kevin Durant's Warriors Trio Over Nets' 'Big 3'
The Brooklyn Nets' "Big 3" of Kevin Durant, James Harden and Kyrie Irving is already considered by many to be one of the greatest collections of superstars in NBA history. The league's best player, however, isn't ready to put them at the top of the list.
When asked if he'd seen a team that compares to Brooklyn's star power, LeBron James was quick to name Durant's previous tenure with the Golden State Warriors, whom he battled in four straight NBA Finals.
"Um, have we forgot about KD, Steph (Curry) and Klay (Thompson) already?" James told reporters Tuesday after his Los Angeles Lakers beat the Minnesota Timberwolves 112-104 on Tuesday night. "I mean, there you go. There you go right there."
James will get his first look at the Nets on Thursday night when Los Angeles hosts Brooklyn in a highly anticipated matchup. The Lakers will be without Anthony Davis as he recovers from a calf strain.
The Nets could have their full complement of stars on the court, though Durant has missed two straight games with a hamstring strain. Irving also missed Brooklyn's win over the Phoenix Suns on Tuesday because of tightness in his lower back.
Brooklyn's trio has only played seven games together since the Nets traded for Harden on Jan. 13. Together they have put up historic offensive numbers and the Nets have won four straight heading into Thursday's showdown.
Durant and Irving are both averaging more than 28.0 points and 5.0 assists per game while shooting better than 52% from the field and 43% from three-point range. Harden, a perennial MVP candidate, leads the league with 11.8 assists per game in addition to his 24.3 points per game.
"It's always exciting for me to go against some of the best guys in the game -- and they got three of them," James said. "They got three of the best guys in the game. Definitely would love to be full when you're playing against a team like that and see, like, at that point in the season, how you match up -- how you match up against some of the best teams in the league. And, obviously, we won't be full on Thursday. But, other than that, yeah, I love going out there and just being out on the floor with some of the best to play this game."
Durant is no stranger to playing with multiple stars. He joined the Warriors for the 2016-2017 season and led Golden State to the NBA Finals in all three of his seasons with the team, winning two championships along the way. While Brooklyn is hoping its group can put together a title run, Durant's Warriors proved to be virtually unstoppable from the jump.
Curry, Thompson, Durant and Draymond Green all made the 2017 All-Star team, and the Warriors went 16-1 in the playoffs. James' Cleveland Cavaliers beat Golden State in Game 4 of the 2017 Finals to prevent the Warriors from being perfect in the postseason. Irving was also part of that Cleveland team.
Curry and Thompson are widely thought to be the greatest shooting backcourt in NBA history. Durant has been widely regarded as the second-best player in the league for much of the last decade, taking a backseat only to James.
Every member of Golden State's "Big 3" averaged at least 20.0 points per game in each of their three seasons as a unit.
The 2017 Warriors led the NBA with 114.8 points per 100 possessions. This year's Nets have been more explosive on offense with a 117.9 offensive rating through 30 games. That number might even go up as the season goes on and Brooklyn's stars play more games together.
The Nets are 5-2 when Durant, Harden and Irving all play. Despite the offensive fire power, Brooklyn's ability to defend is what could determine its championship hopes.
Los Angeles and Brooklyn are both favored to win their respective conferences and meet in the 2021 NBA Finals. Thursday's game will air at 10 p.m. ET on TNT.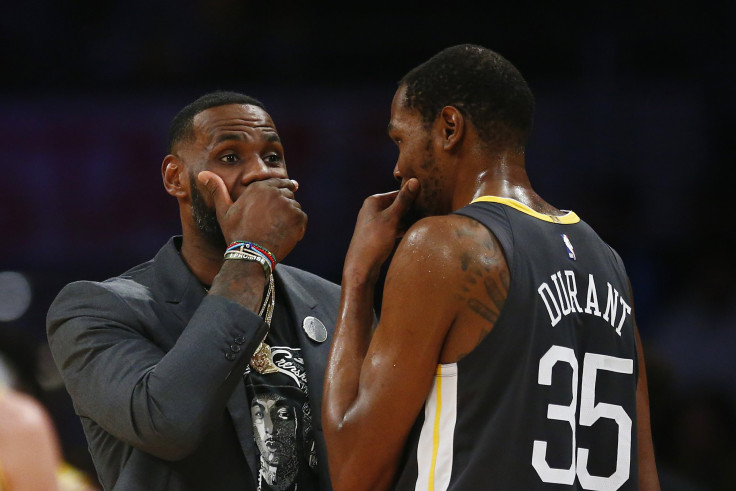 © Copyright IBTimes 2023. All rights reserved.