LeBron James, The Scoring King: Career Highlights Of NBA's All-Time Leading Scorer
KEY POINTS
LeBron James joined the NBA draft in 2003
His first NBA franchise was his hometown side Cleveland Cavaliers
LeBron joined the Los Angeles Lakers in 2018
LeBron James on Tuesday hit a fadeaway jumper to etch his name in history books as he became the NBA's all-time leading scorer.
The Los Angeles Lakers forward entered the game against Oklahoma City Thunder 36 points behind the landmark. The elite record went from one Lakers player to another as James surpassed Kareem Abdul-Jabbar's record of 38,387 points.
Interestingly, Lakers legend Abdul-Jabbar, who took the title from Wilt Chamberlain with his signature skyhook on April 5, 1984, sat courtside during Tuesday's game.
Lebron James' profile:
Born: Dec. 30, 1984, in Akron, Ohio
Position: Small forward/Power forward
NBA titles: 2012, 2013, 2016 and 2020
NBA Most Valuable Player (MVP): 2009, 2010, 2012 and 2013
NBA Finals MVP: 2012, 2013, 2016 and 2020
NBA All-Star: 19 times (2005-2023)
NBA Rookie of the Year: 2004
Olympic medals: 3 (Gold in 2008 and 2012; Bronze in 2004)
LeBron James' career highlights:
Straight out of St. Vincent-St. Mary high school, an 18-year-old James entered the 2003 NBA draft. He was the first overall pick as he was signed by his hometown side the Cleveland Cavaliers.
In his debut season, James averaged 20.9 points a game and became the first Cavaliers player to win the Rookie of the Year trophy.
James made his maiden All-Star game appearance in the 2004-05 season.
In March 2008, James became the Cavaliers' all-time leading scorer.
James won his first MVP award in the 2008-09 campaign by leading his team in points, rebounds, assists, steals and blocks in a single season.
In 2010, James became a free agent before moving to Miami Heat. He announced his decision on the ESPN broadcast "The Decision."
James played a key role as Miami Heat made it to the NBA 2011 finals, but lost to the Dallas Mavericks.
The Ohio player bounced back in style the following season as he not only clinched his third MVP title but also won his first NBA championship as Miami Heat defeated Oklahoma City Thunder in the 2012 final.
James and Heat won back-to-back titles as they defeated Spurs in the 2013 NBA final.
James returned to his former club Cavaliers in 2014.
The Cavaliers and the Golden State Warriors played four straight NBA Finals between 2015-2018. The Warriors won three but James led the Cavaliers from 3-1 down in the 2016 Finals to win 4-3 for the franchise's only championship.
In 2018, James left the Cavaliers for a second time and joined the Los Angeles Lakers.
The Ohio forward helped the Lakers win the 2020 championship title, their first title since 2010. James dedicated the title to Lakers legend Kobe Bryant, who died in a helicopter crash earlier that year.
On Jan.16, two weeks after his 38th birthday, James became only the second player to score 38,000 career points.
James surpassed former Lakers star Kareem Abdul-Jabbar's 34-year-old record for most points in NBA history Tuesday.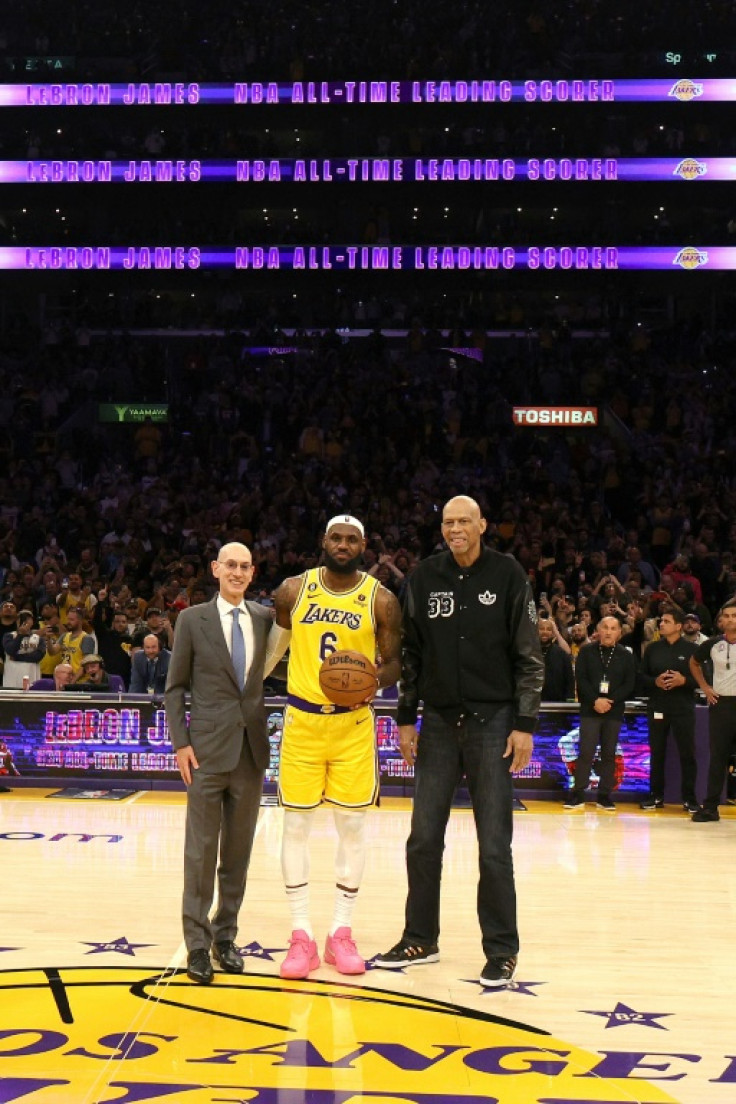 While Tuesday night was record-breaking for James, Los Angeles Lakers lost 130-133 to Oklahoma City Thunder in their Western Conference meeting.
© Copyright IBTimes 2023. All rights reserved.