LeBron James Weight Loss: Is It Affecting His Play? Can Cavs Superstar Bounce Back From Slow Start?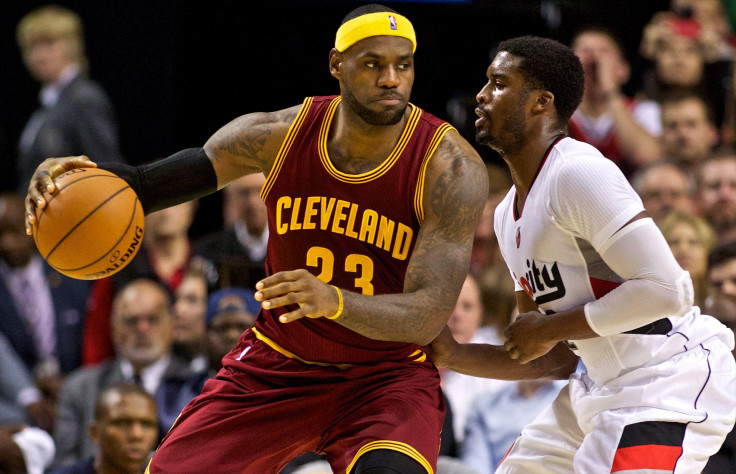 The Cleveland Cavaliers and their fans anticipated a lighter, faster, revitalized, and more gazelle-like LeBron James. Well, James has certainly trimmed down a few jersey sizes, looking far more lean, but thus far he hasn't played like the superstar that owns four MVP trophies and two NBA titles.
Thanks to a low-carb diet over a 67-day span, James melted away some serious pounds over the summer and posted the immediate and striking effects to Instagram. It's unknown precisely how much weight James lost, but he hinted to CNN that it's in the 15 to 20-pound range. Oddly, the 29-year-old stated that the weight loss had "nothing to do with basketball," but it was simply a goal. James was open about his diet, saying he cut out dairy, sugar and other carbs, and stuck to meat, fish, fruits and vegetables.
The diet's long been over, but with his production down and the Cavs struggling very early in the season, a groundswell of talk has formed with James's rapid weight loss as a growing talking point.
"I don't know if he's hurt, I don't know if the big weight loss has affected his game or whatever," said ESPN columnist Bill Simmons.
Fans have also taken to Twitter and said James might need some more carbs in his diet.
So is the weight loss truly affecting James's play after four games? According to personal trainer Idan Ravin, who's worked with James and New York Knicks star forward Carmelo Anthony and Clippers guard Chris Paul this summer, the simple answer is no.
"I don't think it's as much about weight loss as it's about refining the energy and the refining the foods that come into your system," Ravin said in a phone interview. "These guys are all Ferraris, so you have to have really good fuel for these Ferraris to run.
"A little of it is A-B testing. To say, 'How do I feel playing a little lighter? How do my knees feel? Does it help my conditioning? Does it help my performance? Does it help my recovery?'"
Anthony also shed some significant weight this summer, which Ravin said could be beneficial to the scoring machine. Elite players like James, Anthony and Paul are very meticulous with their training regiments, Ravin said, and it's about finding the comfortable combination of training and diet.
So it's really a matter of James finding the sweet spot for his new body and game. Sports nutritionist and author Heidi Skolnik said in time we'll find out if the weight loss was good for James's game or not, and that finding the right sources of energy for his new physique will be the key.
"It will be interesting to see as the season wears on whether what worked in the offseason, will work for him during the season," Skolnik said. "He might find that he'll need to adjust his diet, to really maintain that energy output. My prediction is that he will need to do that."
© Copyright IBTimes 2023. All rights reserved.