Leicester City 'Moneyball': Did The Ultimate Underdogs Use Data To Pull Off Sports' Greatest Upset?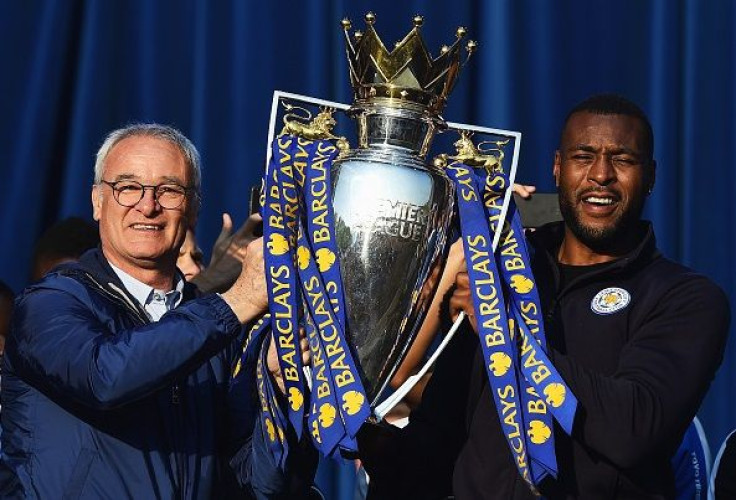 LONDON — Leicester City's victory in this year's English Premier League soccer championship has been called the biggest upset in the history of team sports anywhere. At the start of the season in 2015, bookmakers in the U.K. were offering 5,000–1 odds against the team taking victory in the competition. How did they do it?
Some analysts point to the "Moneyball" theory — a reference to the book and movie that documented the Oakland A's baseball team's remarkable 2002 season, when their management used the statistical analysis technique of sabermetrics to identify players that the wider market undervalued.
So what did Leicester City do? And how much difference did it make? Take the case of midfielder N'Golo Kante, who played a key role in Leicester's campaign. Kante has a fairly diminutive stature, standing just 5 feet 6 inches, and was a relatively unknown player for Caen, in France, when Leicester scouts discovered him.
The team was looking for a midfielder who could cover distances quickly, and was a solid tackler who could intercept attacks effectively. Despite his low profile, Kante topped the charts across the top continental European leagues for tackles made, and Leicester City managed to acquire him for the relatively paltry sum of 5.8 million pounds ($8.3 million). In his campaign with Leicester City this season, Kante's statistics showed that he was the best tackler and made the most interceptions in the league.
Then there's the team's two standout goal scorers, Jamie Vardy and Riyad Mahrez, whom one commentator described as "the two sharpest tools in the box in the Premier League." Leicester purchased Vardy from a nonleague club for 1 million pounds ($1.4 million) in 2012, and paid only 400,000 ($578,000) to recruit Mahrez from French Ligue 2 team Le Havre in 2014.
Over the course of the last season, Vardy went on to score 24 goals and delivered six assists during the season, as well as breaking a record by scoring in 11 consecutive Premier League matches. He was also voted the Premier League Player of the Season and FWA Footballer of the Year. Midfielder Mahrez scored 17 goals and racked up 11 assists during the season, and was voted the PFA player of the year.
Leicester also brought in a number of players in the summer before the 2015-16 season that were hugely talented, but largely unwanted at their old clubs, as they were relatively old for professional soccer. As a result, the team's salary bill was significantly lower than those of the Premier League's big teams: Leicester's squad cost around 54 million pounds ($78 million) according to ESPN, while rivals Tottenham Hotspur's cost 161 million pounds ($231 million) and Manchester City's cost 418 million pounds ($603 million).
Members of Leicester's data analysis team outlined the effect of their work: "We can pick out key points. If a player is losing individual battles and aerial duels, we can help provide the evidence for the manager. Or if the opposition's chances are being created from similar situations, we can help bring that to the manager's attention as well," Pete Clark, one of Leicester's data analysts, told analytics firm OptaPro.
Leicester City spent the least amount of money per championship point of any Premier League Club this last season. During the middle of the season, the club was spending 700,000 pounds ($1.1 million) per point — less than one seventh of the cost laid out per point by Chelsea, where each point cost around 5 million pounds ($7.2 million). Chelsea finished in 10th place in this year's league.
So does this mean that Leicester City replicated the Oakland A's success using "Moneyball"-style data analysis techniques? Experts are skeptical.
"The thing about this is that all the big clubs are doing this now," Stefan Szymanski, professor of sports management at the University of Michigan, told International Business Times.
"It doesn't account for how a team that was 5,000-1 goes on to win the Premier League. It's too big of a leap," Szymanski added. The team's analysts may have spotted something so fundamental that it gave them an unbelievable advantage, but there are reasons to be skeptical about that, he added.
"If they could spot it, why couldn't other people spot it? And, if everyone else has an analytics team, why wouldn't they have noticed after a few weeks that Leicester was doing something different, and why wouldn't they have caught on to it?" he said.
Undoubtedly, while Leicester City has an effective data analytics team, there was a confluence of other factors that helped the team toward its remarkable success this year. Many of the teams that normally dominate the league had abominable seasons. Chelsea, the winner of the 2014-15 Premiership, performed dismally this year, finishing in 10th place after dismissing its manager. The extremely well-financed Manchester City could only manage fourth place. The opposition that Leicester City faced, it seems, was not of as high a standard as in previous years.
Ultimately, experts and experience suggest that a sport like baseball lends itself far more to "Moneyball"-type data analysis than soccer does. John W. Henry, whose Fenway Sports Group used "Moneyball" techniques so effectively with the Boston Red Sox, attempted to employ similar tactics with a subsequent acquisition: Premiership club Liverpool. The result was a flop, with an eighth-place finish in the 2011-12 season.
For now, at least, it seems unlikely that Brad Pitt will be playing a trailblazing Premiership manager anytime soon.
FOR FREE to continue reading
✔️ Unlock the full content of International Business Times UK for free
offer available for a limited time only
✔️ Easily manage your Newsletters subscriptions and save your favourite articles
✔️ No payment method required
Already have an account?
Log in
© Copyright IBTimes 2023. All rights reserved.