Leicester City Shock The Premier League Establishment As Biggest Underdog Story In Sports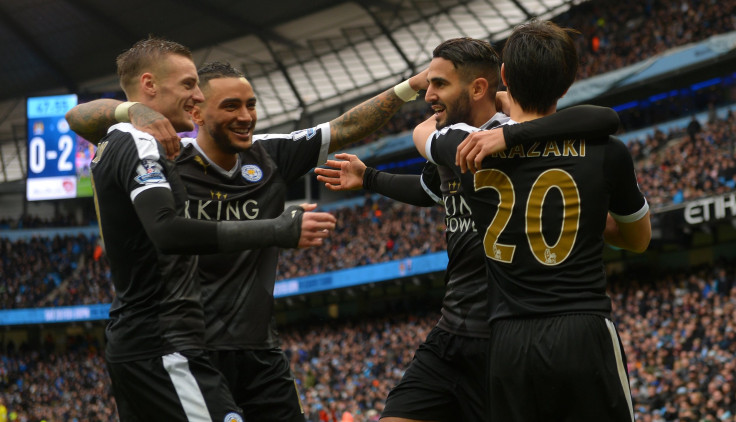 The English Premier League has never provided much of a forum for underdog stories, with only five clubs winning the title since its inception in 1992. But behind consistent play, hard-nosed defense and their new manager's acceptance of last year's mostly successful system, Leicester City have broken a tight stranglehold by the traditional powers to become possibly the most surprising Cinderella story in professional team-sports history.
In this highly erratic 2015-2016 season, Leicester are seemingly on the road to a domestic title following their victory over Southampton on Sunday and Tottenham Hotspur's draw against Liverpool on Saturday. The Foxes own a seven-point advantage on Spurs with six matches remaining, and while much can transpire in the final stretch, only a massive breakdown can deny Leicester the championship.
In Claudio Ranieri's first season as the club's manager, Leicester have turned conventional wisdom on its head. Last season, Leicester needed a late run to avoid relegation, finishing with five wins and two draws in their final seven games to rescue what could have been a disastrous campaign under Nigel Pearson. The improved play carried over into this season, as Ranieri tinkered with Pearson's system and personnel to jump out into sole possession of first place by Week 13. After weathering some minor bumps in the road, Leicester would regain the top spot in Week 23 and not look back.
Leicester's surge defies all reasonable football prognostications. Entering the season, the Foxes were 5,000-to-1 longshots to win the championship, and not only were most experts certain Leicester would have no chance of finishing on top, most seemed quite convinced they were fated to finish near the bottom. It would be hard-pressed to blame them given the circumstances.
The Guardian offered predictions from 11 of their football writers before the season, and all but one projected relegation for Leicester. And the lone abstention, Louise Taylor, didn't exactly give the Midlands side a ringing endorsement when grouping them with relegation clubs.
"Well they do say what goes up must come down ... Leicester could also be in the mix but Claudio Ranieri may just exceed expectations," wrote Taylor.
Most of the press greeted Ranieri's July hiring with plenty of skepticism due to his dismal four-month showing as head coach of Greece in 2014. The Guardian's Dominic Fifield, Andy Hunter, David Hytner, Jamie Jackson and Jacob Steinberg all referenced Ranieri when slotting Leicester in the relegation zone. "How Claudio Ranieri continues to land good jobs is a mystery," Hunter wrote.
BBC chief football writer Phil McNulty picked Leicester to finish 19th and made sure to call out the Italian manager. "Ranieri's appointment is, at best, left field and at worst uninspiring and unwise."
While it might seem Ranieri is getting the last laugh, even he has been caught off guard by his club's dominance. To start the season, the former Chelsea boss aimed for a 40-point season. By the second-half of the season, he had to reevaluate the club's ambitions and aim higher.
"We achieved 39 points from the first half of the season and we want to improve," Ranieri told BBC Sport on Jan. 16. "Our next target is 40 more points from the second half. I know it is very difficult and ambitious but why not?"
As it turns out, Ranieri was selling his team short once again. Leicester currently have 69 points, and another 10 points shouldn't be an arduous task given matches against lower-tier Sunderland, Swansea City and a listless Everton side. West Ham United, Manchester United and Chelsea should provide a threat, but the Foxes have five wins and one draw against those six opponents this season. The way things are shaping out, points may be irrelevant as Leicester could have the season wrapped up before their final two matches.
As Leicester showed no signs of faltering, the most prominent Ranieri critics have had no choice but to eat crow. In a column in The Telegraph, longtime Premier League manager Harry Redknapp admitted how everyone got it wrong on Ranieri, and how the good-spirited Italian got it right by not deviating from the late-season recovery under Pearson. "[Ranieri] could easily have come in and messed it all up, changed the style of play and said 'no, we're not going to do it like that,'" Redknapp wrote on March 6.
What Leicester have accomplished may be just as intriguing as how they have achieved it. In their past six games, Leicester have five wins and a draw, with all of the victories coming by way of a 1-0 result. In fact, Leicester have won seven of their 20 games by a 1-0 score, and they've only allowed two or more goals nine times. Leicester also are tied with Arsenal with away goals (29), a sharp rise from the 18 they scored last season. Not bad for a club that wasn't even in the Premier League in 2013-2014.
Before he took the job in July, Ranieri made sure to watch the final stretch of last season under Pearson. But he would be forced to make do without reliable veteran Esteban Cambiasso, once considered among the world's best defensive midfielders, as the Argentine decided to leave the club in August for Olympiacos. The defensive-minded coach would make adjustments to Pearson's backline, telling left back Paul Konchesky that the 34-year-old wasn't in his plans, while fullbacks Danny Simpson and Christian Fuchs earned playing time over attack-minded Ritchie De Laet and Jeff Schlupp. Leicester would go on to stymie opposing attacks, ranking fourth in goals allowed (31). Meanwhile, returning goalkeeper Kasper Schmeichel has had a breakout season, ranking sixth in saves (86) and tied with Manchester City's Joe Hart for shutouts (13).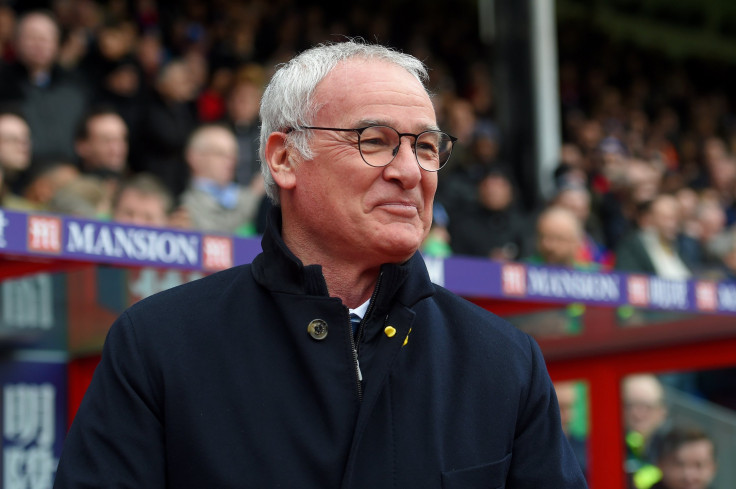 Blue-collar central defenders Wes Morgan and Robert Huth have provided a solid foundation, perhaps due to Ranieri's confidence in Huth, who started 14 games last season on loan. The 31-year-old German already has 31 starts this season in the first year of his three-year deal. Ranieri has also gotten the most out of his attack, as forward Jamie Vardy and winger Riyad Mahrez have been revelations. The Vardy-Mahrez combo has tallied more combined goals (35) than any duo in the league.
Vardy managed just five goals last season, but his 19 goals this season are second to only Tottenham rising star Harry Kane. Vardy, 29, is only four seasons removed from competing with Fleetwood Town when they were promoted from the Conference National league to Football League Two. Now he's starting for England, and emblematic of his club's unprecedented turnaround.
Mahrez has often been brilliant with the ball this year, creating some of the Foxes' best scoring chances. The Algerian star might be the leading candidate to win Player of the Year, as he's fifth in scoring (16 goals), and second in assists (11). While Mahrez has whipped balls from the right side, Marc Albrighton has inflicted damage from the left, tallying six assists.
Central midfielder N'Golo Kante, another integral member of this upstart squad, has made the loss of Cambiasso much less burdensome in Ranieri's conservative system. Big clubs have taken notice of Kante, and Ranieri has admitted that the 25-year-old French star may move on from Leicester in the offseason.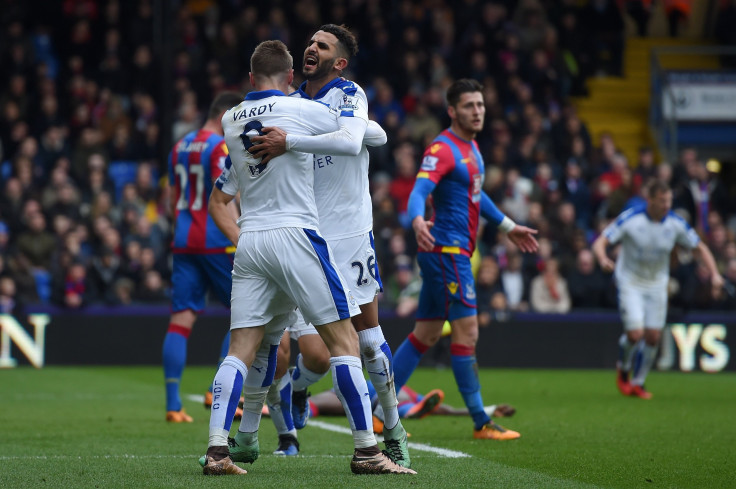 Aside from the handful of first-year players like Kante and clutch forward Shinji Okazaki, Leicester have generally stuck with their own players and the strategy has paid off. When Leicester were toiling in the Championship division in 2012-2013, they were led by Schmeichel, Vardy, Morgan and joined by Danny Drinkwater, Andy King and Schlupp—all six providing Ranieri with consistency and cohesion. Of the 19 players receiving playing time, 11 were on the roster last season.
The chemistry and unity from this group is overtly present, and much of it can be attributed to Ranieri's guidance and ownership's faith in this squad. Leicester did add Demarai Gray (Birmingham City) and Daniel Amartey (FC Copenhagen) in the January transfer window, but neither has played a crucial role. Last year's squad are simply overachieving this year, with the newcomers providing some relief.
Tactics and game-planning have also been integral to Leicester's fairytale season. Ranieri racked up points by employing a conservative 4-4-2 formation that often dismissed prolonged bouts of possession. Aside from a sweep by Arsenal and one loss to Liverpool, Leicester pounded on the more vulnerable Premier League clubs like Newcastle United, Norwich City, Crystal Palace and Watford, to earn an 8-0 record against them. Leicester also played giant slayer with victories over Chelsea, Manchester City, Tottenham and avenged their loss at Anfield by later defeating Liverpool at home.
While Leicester have benefited from consistent and steady play, at least some of their success must be attributed to good fortune. Preseason favorites like Arsenal, Chelsea, Manchester City and Manchester United have been hit by a rash of injuries and haven't had one player start 30 games, while seven have done so for Leicester. When factoring the absence of European Cup matches and the early exits from domestic cups, Ranieri has been able to keep his squad fresh in Premier League play, which has proven to be invaluable.
Leicester's triumphs can't help but be unsettling for those accustomed to the routine of European football. Year after year it's basically been the usual suspects capturing titles. The formula for prosperity in the top-flight leagues has generally been for the perennially dominate clubs to sign world-class players under the helm of a coveted manager. Teams like Bayern Munich, Real Madrid, Barcelona, Manchester United and Chelsea have loyally adhered to this plan, while the small-market and less-acclaimed clubs were forced to bide their time and make incremental moves to one day become "the next Manchester United."
But Leicester disregarded all that and fast-tracked this process. The memo didn't reach King Power that small clubs are supposed to patiently move up the table while watching juggernauts like Chelsea win title after title.
It should be interesting to see how the offseason transpires after this table shakeup. Clubs like Sunderland, and even Manchester United, might consider taking a page out of Leicester's handbook and embrace a culture of player continuity through growth potential, rather than relying on quick fixes through constant turnover. Taking a chance on a veteran coach despite recent failures, and giving hard-working, low-profile players more opportunities might also be a sound strategy.
The days of the traditional elite dominating the table are probably not over, but perhaps Leicester have changed the way many unacclaimed clubs think and set goals. At the very least, they've injected a healthy dose of inspiration for teams yearning for that magical season.
© Copyright IBTimes 2023. All rights reserved.