Lennon Lacy: North Carolina Lawmakers Urged To Join Call For Investigation Into Teen Found Hanged From Swing Set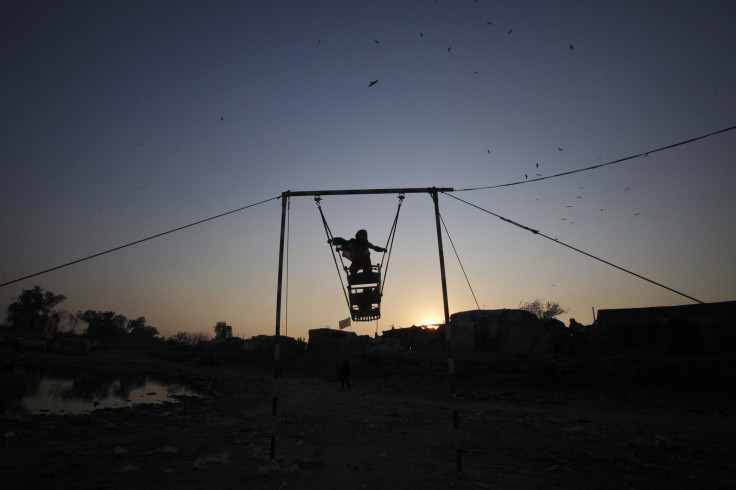 The North Carolina NAACP has called on top lawmakers in the state to join in calling for a new investigation into the death of 17-year-old Lennon Lacy, a black teenager who was found hanging from a swing set in August. An independent autopsy on the teen's body calls into question the police department's decision to record the death as a suicide.
Ahead of a rally scheduled for Saturday, the group's president, Rev. William Barber, announced Thursday the release of a letter to Sen. Richard Burr, a Republican, and Sen. Kay Hagan, a Democrat, as well as incoming Senator-elect Tom Tillis, a Republican, Rep. G.K. Butterfield, a Democrat, and North Carolina Gov. Pat McCoury.
Barber announced the appeal to lawmakers in a conference call with reporters as the chapter prepared to lead a march through the streets of Blandenboro, N.C., Lacy's hometown.
"We have deep questions," Barber said during the call. "We have said this may be, and it could be, suicide, but what this family cannot accept is this being told to them without there being a full investigation."
The organization wrote a letter to U.S. Attorney Thomas Walker in November requesting that his office join the investigation of the "suspicious hanging death" of Lacy. Barber said that neither the group nor Lacy's family has yet been told whether or not Walker's office will open an investigation.
Al McSurely, a lawyer working with Lacy's family on behalf of the NAACP, said that the district attorney in Bladen County has "been open with us from the beginning" and has "welcomed" possible intervention from the FBI and U.S. Department of Justice.
"What we have here is a suspicious death and we assume, and the family assumes, that the law enforcement will do everything it can to find out what happened to Lennon Lacy that night," he said.
In its November letter, the NAACP pointed out that the organization has had previous experience with what it called "quick call suicides," in which "suspicious deaths of black men are quickly classified as 'suicides.'"
"This cycle of distrust happened here," the letter said. "Given the deep distrust that had developed between the family and the current investigators; given the possible race-based animus toward Lennon and his family by some of their neighbors; given the close connections in this small town between local law enforcement and witnesses involved in interactions with Lennon just before, during, and after the night of his death; given the illegal drug transactions in and around this case; we believe that the intervention of the U.S. Department of Justice is necessary."
Police in Bladenboro initially ruled Lacy's death a suicide and closed the investigation, but his family objected. In November, Barber and the NAACP retained pathologist Christena Roberts to perform a second examination on Lacy and found a number of inexplicable oversights by investigators.
Roberts' investigation found that Lacy's hands were not bagged to protect them from contamination, no photographs were taken by police at the scene and the shoes found on Lacy's feet did not match the ones his family had last seen him wearing and were a size and a half too small. The shoes found on Lacy's body were removed from the body bag sometime between when the body was placed inside it and when it was delivered to the state medical examiner. Additionally, Daily Kos reports that different agencies on site argued over evidence being taken and the need for an autopsy.
Most notably, though, Roberts' examination found that given Lacy's height, weight and items at the scene where his body was found, it would have been virtually impossible for him to hang himself.
"Lennon was 69 [inches] tall. The height of the cross beam to the ground was 90 [inches]. In a photo provided his brother who is 6'4" could not reach up and touch the beam," Roberts wrote in the report.
"There were no swings on this swing set to act as a step to reach the beam. There was no item present at the scene that Lennon could have stood on, applied the noose and then kicked away. The only other way to reach the beam and grommet therefore had to be from the climbing platform. No measurements are available at this time for the noose ... but it does not appear long enough to have been tied around the beam, fed through the grommet and still allow a large enough loop for him to be able to place over his head."
McSurely said in October that he and the family were looking to find out who killed Lennon and that they "have a rough idea of who some of those people might be."
"What we're trying to decide now, after talking to several witnesses who have come forward to us, is how we're going to play that with the DA," McSurely said in October, adding that the family may take the case to the FBI or U.S. Department of Justice. "It's not like Ferguson or Trayvon's case in the sense that here, we don't know who shot him. In this case, somebody strangled him and took his body over there and ... hung him up there in the middle of the night."
The U.S. Attorney's Office-Middle District of Georgia opened a similar investigation into the death of Kendrick Johnson, a Valdosta teenager whose body was found rolled up in a gym mat, last year. The investigation was announced on Oct. 31, 2013, but so far no information or further developments have been announced.
© Copyright IBTimes 2023. All rights reserved.
FOLLOW MORE IBT NEWS ON THE BELOW CHANNELS