Let's Fall In Love With September – Interesting Quotes And Photo Captions
The smell of freshly spiced pumpkin latte is here to usher in the fall. The sun seems a little warmer and the air feels crisper as the trees change from green to yellow to crimson before they cover the streets, making for a wonderful Insta-worthy picture. It's time to embrace the magic of September, regardless of whether you're returning to work or school or are simply looking forward to the beautiful colors of fall.
September has something to offer everyone. The transitioning month allows the fashionista in us to display our fashion knowledge and wear the favorites from the closet. For football lovers too, it's the season to get their jerseys and hotdogs ready and head to the stadium.
Whatever your pick is, there's certainly a lot to do in September and while you're at it, better capture those memories.
Here's a list of quotes to welcome and celebrate September:
"Autumn seemed to arrive suddenly that year. The morning of the first September was crisp and golden as an apple." – JK Rowling
"Anyone who thinks fallen leaves are dead has never watched them dancing on a windy day." – Shira Tamir
"And then the sun took a step back, the leaves lulled themselves to sleep, and autumn was awakened." – Raquel Franco
"Nostalgia―that's autumn, dreaming through September. Just a million lovely things I will always remember." – Jacqueline Kennedy Onassis
"But now in September the garden has cooled, and with it my possessiveness. The sun warms my back instead of beating on my head. The harvest has dwindled, and I have grown apart from the intense midsummer relationship that brought it on." – Robert Finch
"All the months are crude experiments, out of which the perfect September is made." – Virginia Woolf
"As the alluring song of September begins to whisper in my ear, my passionate spirit yearns for the splendor of its promise." – Peggy Toney Horton
"September is more than a month, really; it is a season, an achievement in itself. It begins with August's leftovers and it ends with October's preparations." – Hal Borland
"The earth is so rich in September. Apples and quinces fall from heavy branches. Cabbage, squash, broccoli, peppers, and tomatoes ripen in every garden. White and blue grapes hang heavy clusters on the vines." – Gladys Taber
"September is dressing in showy dahlias and splendid marigolds and starry zinnias." – Olive Wendell Holmes
Here are some Instagram-worthy captions for your September/fall photos:
It's official: I've fallen for you, September.
Never want to leaf this place.
September sweaters havin' me feeling gourdgeous.
And suddenly, you just know it's time to start something new and trust the magic of beginnings.
I used to love September, but now it just rhymes with remember.
Wake me up when September ends – Green Day.
Never stop be-leaf-ing in the power of September.
I like weather that gives me a good excuse to cuddle closer to you.
Cotton candy skies and string lights.
All wrapped up.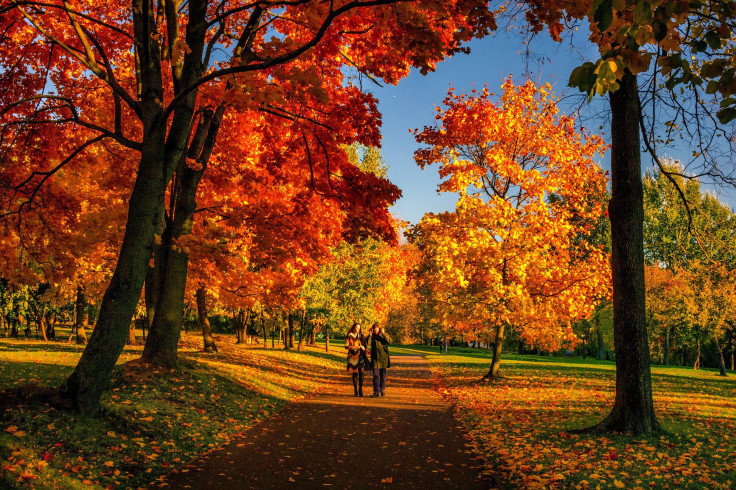 © Copyright IBTimes 2023. All rights reserved.