Liberia Ebola Outbreak: Unpaid Workers Protest At Health Ministry As New Cases Emerge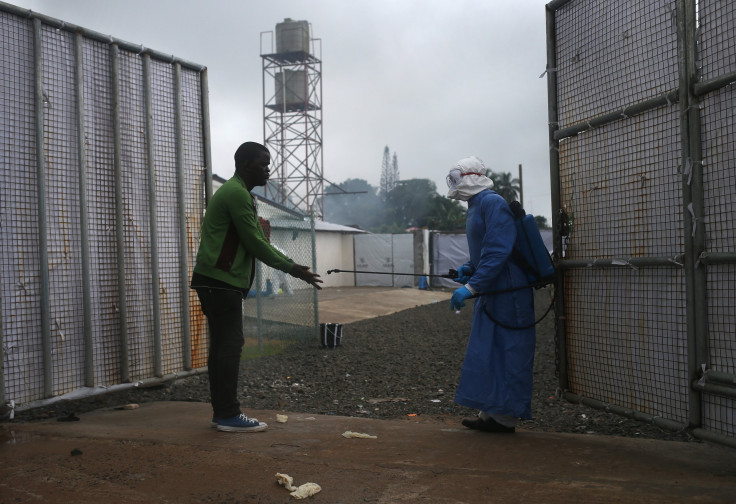 Liberian riot police and United Nations security forces were deployed Wednesday to temper a swelling crowd of angry health care workers outside Liberia's health ministry in a Monrovia neighborhood. The protesters demanded compensation for their weeks of unpaid work at Ebola Treatment Units as two new cases of the virus emerged in the West African nation.
Eyewitnesses said the protest in Congo Town was nonviolent, but the number of demonstrators quickly doubled in size. Officials had locked the main entrances to the Ministry of Health and Social Welfare building, leaving ministry employees stuck inside. But some protesters managed to break though and search for those who led Liberia's Ebola response, according to a source working with the ministry who declined to provide their name because they did not have permission to address the media. Since the start of the outbreak, dozens of health workers have gone on strike over working conditions and unpaid wages in Liberian hospitals.
Liberia built 21 Ebola Treatment Units last year during the height of the deadly outbreak in West Africa, many of which were constructed by the U.S. military as part of President Barack Obama's multibillion-dollar response to the crisis, according to NPR. But scores of health workers treating the Ebola patients have died from the virus, and many complained about shortages of equipment and trained staff at the clinic. Many workers have walked off the job after months of no pay as Liberia, one of the poorest countries in the world, struggled to sustain its fragile healthcare system in the face of the epidemic, according to Reuters.
Wednesday's riot outside the health ministry occurred as Liberia confirmed its second case of Ebola, nearly two months after the virus was declared eliminated from the country. Liberia's deputy health minister, Tolbert Nyenswah, told the media Tuesday that a 17-year-old boy died from Ebola at his home in a rural town outside the capital city of Monrovia. It's not yet known where or how the teenager was infected. Health officials also did not know the boy had Ebola until after his death, Reuters reported.
Liberia was declared Ebola-free May 9. But the rest of West Africa's Ebola-affected nations are still struggling to stop the outbreak. Last week, Liberia's neighboring countries Guinea and Sierra Leone reported 20 new cases total, according to the World Health Organization.
Since the outbreak began in December 2013, there have been more than 27,000 reported cases and over 11,000 people have died, making it the largest Ebola epidemic in history. Liberia, Guinea and Sierra Leone have been the worst-affected countries, according to the Centers for Disease Control and Prevention.
© Copyright IBTimes 2023. All rights reserved.