Libya Hotel Shooting: 1 American, 1 French Citizen Among At Least 9 Dead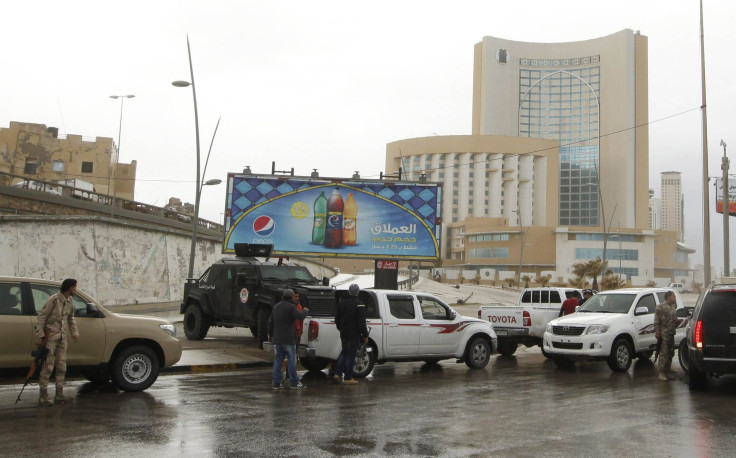 One American is among the five foreign nationals who were killed Tuesday in an attack by gunmen at a luxury hotel in the Libyan capital of Tripoli that left at least 10 people dead. The U.S. Department of State confirmed the death of the American, who the Washington Post identified as being a contractor. The State Department would not offer any further information. The attack, which was staged by the Islamic State, escalated from a hostage situation at first to an eventual siege that also killed one French citizen. According to reports, the violent advance also left one South Korean and two Filipinos dead, which would bring the death toll of foreigners to five.
All of the foreign nationals were shot to death, as were five security guards, shortly after the gunmen detonated a car bomb in front of the hotel before heading to the 24th floor of the five-star Corinthia Hotel, where "diplomatic and government activity" in the city is known to take place. After being surrounded by security forces, the gunmen committed suicide by blowing themselves up, according to AFP. Omar al-Hassi, the self-appointed leader of the Libyan government, was inside the hotel during the attack but emerged unscathed.
Omar Khadrawi, head of Tripoli security, described the deadly rampage to Reuters, which called the attack one of the capital city's worst since Muammar Gaddafi was overthrown in the Libyan civil war of 2011. "The attackers opened fire inside the hotel, killing four foreigners, two men and two women, who are believed to be from East Asian countries," Khadrawi said. "When the attackers were completely surrounded by the security forces, one of them detonated a grenade, but we don't know if it was deliberate."
The attack was reportedly carried out to honor Abu Anas al-Libi, the alleged al Qaeda operative who was accused of being involved in the 1998 U.S. Embassy bombings in Kenya and Tanzania. Al-Libi, 50, died earlier this month in an American hospital.
© Copyright IBTimes 2023. All rights reserved.