Libyan rebels' ragtag army has al Qaeda links though lacks basic training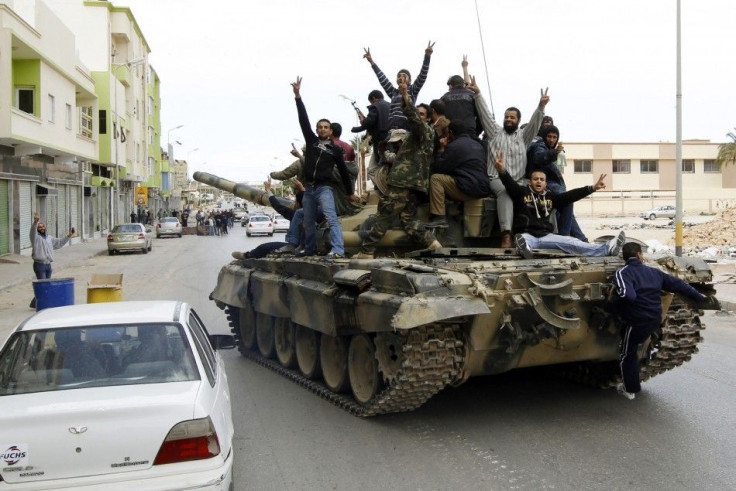 In a revelation of sorts, Libyan rebel commander Abdel-Hakim al-Hasidi told the Italian newspaper Il Sole 24 Ore that he had about 25 men from the Derna area in Iraq who had some links with the global terror outfit al Qaeda.
He, however, insisted that his fighters are patriots and good Muslims, not terrorists as some members of al-Qaeda are also good Muslims and are fighting against the invader.
This came close on the heels of similar statements from Idriss Deby Itno, Chad's President, who had said al-Qaeda had managed to subtly enter the ranks of the Libyan rebel army.
Otherwise, the rebels had no training and use most of the arms smuggled into the country.
A ship's captain Ayman Faraj Hasan Al-Barady, who had never handled a weapon, picked up an AK-47 at a time when Libyan soldiers left an army base in Benghazi as uprising against the country's leader Gaddafi began.
Barady, 30, had no time for training. Following Gaddafi's forces advances toward his hometown he volunteered to train amid a fierce attack on Benghazi as the commander gave a clarion call to "empty the base, go to the streets and hide yourselves – and if you want to fight, you can." He was quoted as saying in The Washington Post that "All I knew is that you just need to slide the handle back and then pull the trigger."
Barady said he knew this from what he saw in the movies and from PlayStation. This speaks of how the rebels' ragtag army, which has a few seasoned officers and defectors from Gaddafi's army, is functioning notwithstanding the fact it is a bit unorganized without much training and a chain of command.
With no command structure in place despite the presence of an assortment of weapons, leaders of the rebel army are finding it tough to train a new army during wartime although there is plenty of heart.
Circumstances have helped students and engineers, bakers and plumbers turn into soldiers of the rebel army as people living in Eastern Libya are reveling in a Gaddafi-free world for the first time in 42 years.
Young men have set up checkpoints and stationed themselves on street corners with rifles and bayonets hanging over their shoulders while shoving handcuffs and knives into their pants pockets besides cigarettes hanging from their lips.
The rebels' ragtag army does not know with whom they have to communicate as they also lack communication equipment. The young brigade pack themselves into cars and drive to wherever the fighting is on. Most of them arrive unarmed confident that they can steal a weapon from a dead soldier.
So far, nearly 8,000 rebels have been killed even as their leaders are striving to impose discipline onto an army that has been in existence for a month now. The rebels would have been demolished by now had there not been any coalition air strikes.
A new army commander has been installed by the rebels, who is a widely respected former Libyan army officer. However, the opposition urgently needs arms and ammunition as their representatives are seeking governments to provide them, a report quoted Mustafa Abdel-Jalil, president of the interim government as saying.
"In a revolution it's very hard to control patriotic excited young men," said Mustafa Gheriani, an opposition spokesman. "If you come in and say 'I would like to volunteer,' there is no system to receive you," he said.
The Libyan military has been dysfunctional for years and when the uprising began there was no centralized army to support the protesters, rebel officials admit.
"No one expected that a military special forces were going to come and wage a war on us, We never expected to be commanders in the field. Now, all of a sudden we're saying, 'Let's build a military,'" Gheriani was quoted as saying.
Young revolutionaries are camping out on the streets of Baida, where Abdel-Jalil is shuttled from house to house in his hometown to protect him for Gaddafi had put a $400,000 bounty on him earlier.
A colonel was killed by a volunteer on the Martyr's Compound, a training base in west Benghazi last week, who turned out to be a Gaddafi loyalist.
Eastern Libya is functional as it is split off from its capital and the rest of the country even as their cities are littered with unfinished projects due to whims of Gaddafi.
FOR FREE to continue reading
✔️ Unlock the full content of International Business Times UK for free
offer available for a limited time only
✔️ Easily manage your Newsletters subscriptions and save your favourite articles
✔️ No payment method required
Already have an account?
Log in
© Copyright IBTimes 2023. All rights reserved.