Life During Wartime: Syrian College Students Are Dropping Out As Families Can No Longer Support Them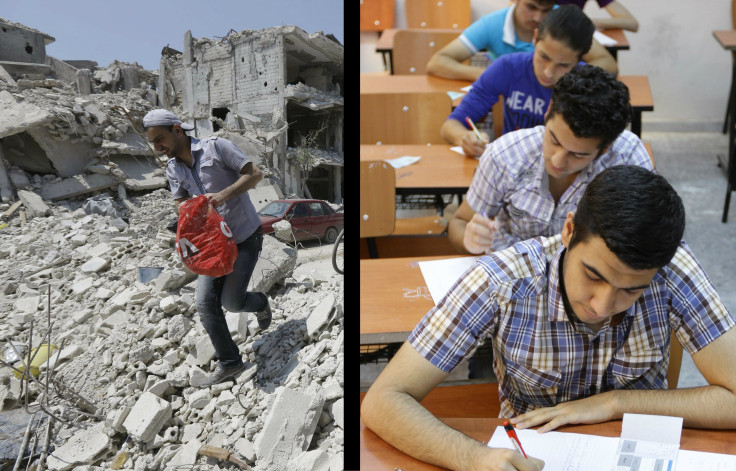 Syria's civil war began its fourth year in March, after the first three years of the conflict left more than 150,000 people dead and nine million as refugees.
Death and mayhem came to many parts of the country, but where there isn't a constant threat of bombings and sniper fire, life goes on -- or tries to.
For college students in the country's intellectual centers, staying in school has become an increasingly hard battle to win.
"My family paid for all my expenses over the last three years in college, which helped me focus on my studies," said Faiz, who ended his mathematics studies at Baath University in Homs when he had to drop out, according to news site Syria Deeply. "But the increasing financial burdens have forced them to cut off my allowance [so they can] take care of the rest of the family. I tried working while studying, but my part-time wages didn't cover my expenses, so I had to drop out of university to work full-time."
Syria's jobless rate is approaching 50 percent, and nearly 8 million more Syrians were driven into poverty since the war began. According to the most recent independent data (pdf) from the Syrian Center for Policy Research and the United Nations, students like Faiz (whose family name was not provided) are lucky they didn't have to flee their homes or cities -- but they have not been spared the economic impact of the conflict.
The pan-Arabic newspaper Aliqtisadi said that student housing near university campuses, like those in Damascus and Homs, now costs the same or more than the total monthly cost of living for a family of four living on the full-time salary of an entry-level civil servant.
The most ideal locations for students near Damascus University, Syria's premier learning institution, now cost as much as 60,000 Syrian pounds, or $400 a month, which is a lot for a country in which a family can subsist on about $128 a month. Rooms near campus are running at $100 a month, according to the report.
© Copyright IBTimes 2023. All rights reserved.