Line Of Actual Control: China And India Again Squabbling Over Disputed Himalayan Border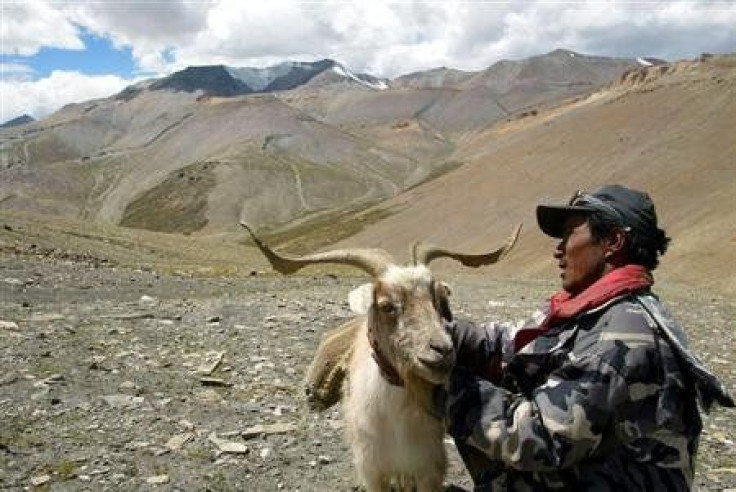 China is involved in yet another territorial dispute with one of its neighbors.
This time China is staking its claim far from the South and East China seas and shifting focus to a landlocked remote area in the Himalayas.
This past week, media reports said that in mid-April a small platoon of China's People's Liberation Army soldiers invaded an area in the Himalayan mountains, entering roughly 19 kilometers (11 miles) into Indian territory and setting up camp.
On April 15, about 30 Chinese troops marched across the de-facto border that separates the two nations into the Ladakh region of India in the state of Jammu and Kashmir and set up tents in Daulat Beg Oldi, according to a report in the Economist.
China, however, has denied that the incursion even occurred, according to an Associated Press article. Still, Indian officials are claiming that over the past two weeks, PLA soldiers have refused to leave the Indian territory and move back to the "line of actual control," which is the demarcation that separates Indian-ruled land from Chinese-controlled territory.
"If they have come 19 kilometers into India, it is not a minor LAC violation. It is a deliberate military operation. And even as India protests, more tents have come up," said Sujit Dutta, a China expert at the Jamia Millia Islamia University in New Delhi.
China, on the other hand, is asserting that its soldiers were performing routine patrols and remained on their side of the line.
"China is firmly opposed to any acts that involve crossing the line of actual control and sabotaging the status quo," China's Foreign Ministry spokeswoman Hua Chunying said in a news briefing in Beijing.
"As we pointed out many times, the China-India border issue is one which was left over from the past. The two sides reached important consensus that this issue should not affect the overall bilateral relations," Hua added.
The border issue between India and China has long been the source of strained relations between the two giant nations.
In a report by the Chinese publication, Economic Observer, author Tao Duanfang explains that though Beijing and Delhi have steered away from conflict by using the line of control, the two nations have different definitions for the border.
"Although in recent years both sides have acknowledged the principle of 'not breaking the status quo on the basis of the line of actual control' and the 'peaceful settlement of disputes,' each country nonetheless holds very different views as to what the line of actual control specifically refers to; in part because of the complex topography of the Ladakh region," the report notes.
Ladakh isn't a resource-rich area, unlike the hotly disputed Diaoyu/ Senkaku islands in the East China Sea, but its location is of geo-strategic importance to both India and China. Ladakh is located near Tibet, China's Xinjiang province, India and Pakistan -- strategically speaking it could actually be more valuable than any other disputed area in the South or East China Sea.
Rumors that Salman Khurshid, India's minister of external affairs, was traveling to Beijing on May 9 to discuss the area haven't been confirmed by spokeswoman Hua, who only said that "both sides are in close communication on the border question," according to the Times of India.
Neither side wants a repeat of 1962, when India and China fought a brief war arising from the Himalayan border dispute -- that conflict killed more than 2,000 people.
© Copyright IBTimes 2023. All rights reserved.
FOLLOW MORE IBT NEWS ON THE BELOW CHANNELS