Lionel Messi, Cristiano Ronaldo's Success Has Something To Do With Their Diet
Lionel Messi and Cristiano Ronaldo have been taking good care of their bodies in order to prolong their success.
The recently crowned Best Men's Player of the Year at FIFA's ceremony and Barcelona star Messi hasn't shown any signs of slowing down as he attempts to add more gloss to his glittering career. Same goes with his rival Ronaldo, who is now 34 years old. Apparently, their longevity at the top has something to do with what they eat.
Messi is indeed one of the best soccer players in the world today. However, there were questions on whether he could maintain his quality as the years passed. According to Pete Jenson of Daily Mail, who wrote a detailed article about the Argentine's diet change, Messi as a teenager, enjoyed "Fizzy" drinks and fast food.
Reports also claim that Messi had a hardtime shaking off the habit. In fact, Pep Guardiola has once reportedly demanded a drinks machine be removed because it was too close to the home team's dressing room at the Camp Nou. Another report stated that Barcelona manager Charly Rexach once claimed that Messi had "eaten more pizza than he should have done."
Luckily, it soon dawned on Messi that a change in his diet was required if he wants to continue to play at the highest level in his thirties and beyond.
"What you can put into your body at 18 or 19 years of age is not the same as what you can put in at 27," Messi said.
In 2014, Messi began to work with Italian nutritionist Giuliano Poser, a well-known nutritionist who says foods heavy in sugar and refined cereals are detrimental to muscle repair and recuperation of the soccer star. Poser also noted that fresh and dried fruits, nuts, seeds and salads seasoned with just olive oil are pivotal to Messi's eating regime. The nutritionist was also able to drastically cut down Messi's consumption of meat.
As a result, Messi returned to Barcelona three kilos lighter since the 2014 World Cup where he met Poser for the first time.
Ronaldo on the other hand, isn't just careful with what and how much he eats. He's also incredibly strict in terms of how he divides his day between training, rest and relaxation.
According to AS, the Portuguese star has six separate meals a day and all of them are based around a diet of protein and carbohydrates.It was also noted that Ronaldo's main foods are pasta and chicken, a combination standard for a modern-day athlete.
And when it comes to fluids, the five-time Ballon d'Or winner only allows himself to drink water, except for breakfast when he'll drink usually pineapple or orange juice.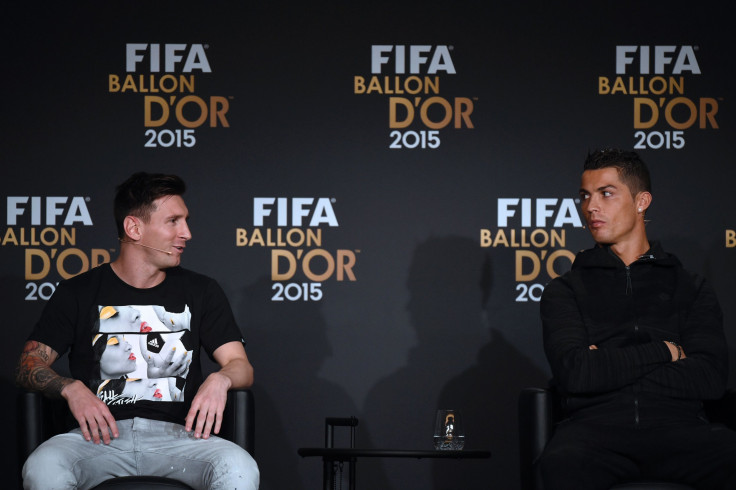 © Copyright IBTimes 2023. All rights reserved.