Lionel Messi Exposed By Argentina Teammate Via Random Phone Call During Live Stream
KEY POINTS
Lionel Messi was exposed by his Argentine teammate Sergio Aguero by randomly calling him during a live stream
Messi was pressured Aguero to reveal why he decided to call him
Aguero reminded Messi about his upcoming birthday
Sergio Aguero exposed his Argentina teammate Lionel Messi to his fans by randomly calling him via phone during a live stream.
When the coronavirus put soccer on hiatus, players were forced to find to stay occupied during lockdown. While some players like Cristiano Ronaldo continued their intense workout regimen, Manchester City star Aguero has been keeping himself busy playing video games.
Aguero has often been seen streaming on "Twitch," playing a number of different games on his PS4 console. The prolific striker recently went viral after ESPN posted his epic reaction over a missed chance by his own character in a video game. However, on Friday, Aguero may have pulled off his best Twitch content thus far. In the middle of a live stream, the Man City forward decided to call his fellow Argentine and Barcelona superstar Messi.
Fans surely expected that the conversation will be interesting as the pair have developed a great relationship outside the pitch. However, what happened next was something more casual yet raw. Messi was evidently not expecting the call at all and pressed Aguero to reveal why he decided to call at "9 in the morning."
The conversation went on for 10 minutes. Messi and Aguero spoke Spanish throughout the entire phone call but Give Me Sport translated the best parts.
Below is how the conversation went down:
"What happened to you today that you phoned me at 9 in the morning," Messi asked immediately.
"I had to do the (coronavirus) test," Aguero replied.
"But why did you call me?" Messi asked again.
"At 9 in the morning? ... Me?" Aguero replied.
"9 or 10 I don't know, over there," Messi responded.
Aguero then played around Messi and said that he just wanted to say "good morning" because he suddenly saw the Ballon d'Or winner's name on his phone.
"I don't know, it was to say good morning to you. It's just that I saw you on my phone and I said 'Hey, cool,'. I was bored and well, it was 9 in the morning and I said I'm going to call. What do I know?" Aguero explained.
Messi could be heard laughing upon hearing Aguero's excuse. The conversation then jumped to Aguero's upcoming birthday on June 2. The Man City star said that this could be his first birthday celebration which Messi will ever miss.
"This is the first year that we haven't spent together, a**hole," Aguero told Messi.
"Locked up, you can not do anything there," Messi replied.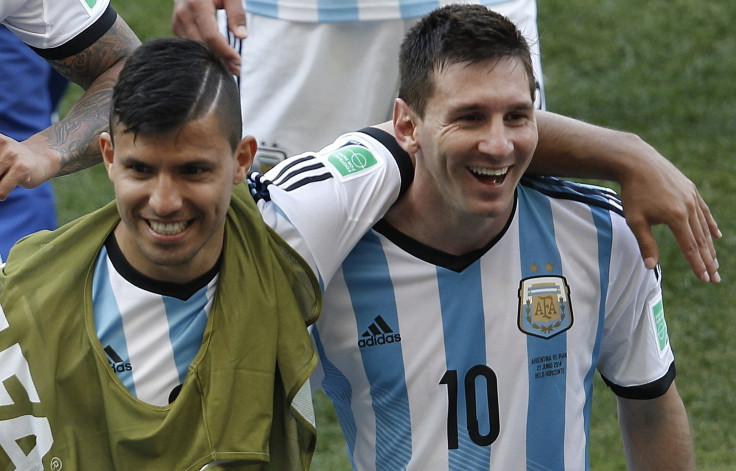 © Copyright IBTimes 2023. All rights reserved.