Lionel Messi The Greatest Soccer Player Ever? Argentine May Surpass Maradona, Pele In World Cup 2014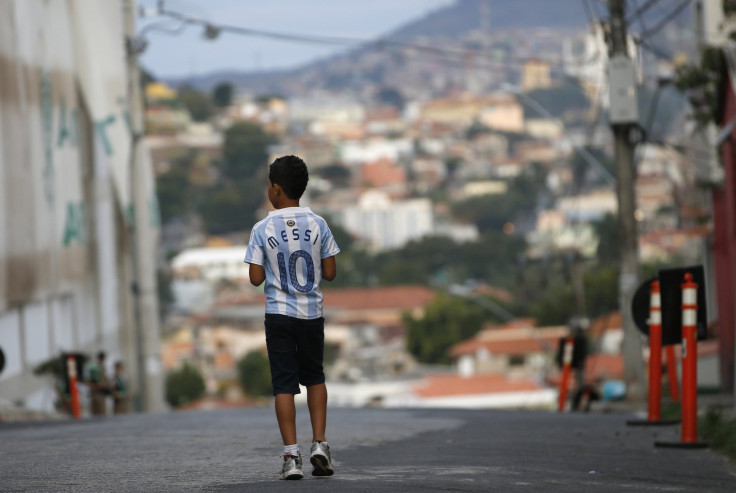 When Argentina begin their World Cup campaign on Sunday against Bosnia-Herzegovina, it will perhaps mark Lionel Messi's last chance to gain ground on two of football's most prominent legends.
While several players are worthy of consideration for the title of "greatest of all-time," the two players who have garnered the most praise have been Pele and Diego Maradona. Messi has strengthened his case to be listed in the same company based on his career club success with Barcelona, but Pele and Maradona thrived in the World Cup, and so far Messi has done little in the competition.
The 26-year-old made his World Cup debut in 2006, and scored his only goal against Serbia &Montenegro days before turning 19. But the score was 5-0 in the 88th minute when he notched his strike, and that was all he would score in all World Cup action – including 2010. Though Messi looked sharp in group play in 2010, many Argentine supporters were expecting more, and his lack of scoring served as further evidence that he has some ways to go to match the achievements of Pele and Maradona.
Messi's individual struggles have paralleled team struggles. In 2006, Argentina reached the quarterfinals, but were bounced by host-nation Germany in a penalty shootout. The same fate would befall on Argentina in 2010, but the final score was far more painful as the Germans took control early and didn't look back, 4-0.
Messi had entered South Africa after displaying top form with Barcelona. There was little doubt that he was the world's best player after winning the FIFA World Player of The Year Award in 2009, then following it with the FIFA Ballon d'Or in 2010, 2011 and 2012, as well.
A title and individual success in the World Cup have eluded the highly skilled Rosario native, and plagued his contribution to the game. Suggestions of his success being buttressed by the star Barcelona-playmaker duo of Andres Iniesta and Xavi began to grow in merit. Argentina have a large collection of quality midfielders, but few can match the skills and chemistry that the Catalans provide Messi. While Barcelona often operate like a well-oiled machine, Argentina never quite seem to be in the right rhythm.
Though Messi is a casualty in Argentina's inability to play a sophisticated passing attack, his legacy could be sealed if he gets Argentina to advance despite obvious challenges. While Barcelona may appear flawless at times, Argentina have room for improvement. The two-time champions lack an elite goalkeeper and have multiple holes in defense. They also had a history of underachieving before Messi ever made an appearance, failing to reach the semifinals since reaching the final in 1990.
But the pieces still may be in place for Argentina to thrive in Brazil 2014. They have a strong midfield that includes Real Madrid's Angel di Maria and Barcelona teammate Javier Mascherano at defensive midfielder. Messi will also have two star forwards to take the pressure off of him in Gonzalo Higuain and Sergio Aguero.
Helpfully, the Argentines were handed a rather weak group, with World Cup debutantes Bosnia being the biggest threat to a first-place finish, ahead of Nigeria and Iran. Should Argentina win the group and avoid facing France in the Round of 16, a probable scenario, they may have a relatively kind path to the semifinals.
How deep Argentina can go, may depend on how far Messi can take them. Indeed, head coach Alejandro Sabella described Messi as "irreplaceable," but warns that the squad can't rely on just one player.
"There is a team which must help Messi," Sabella told reporters in May. "We cannot put all the responsibility on his shoulders. He is happy. He feels sheltered by his team-mates."
In World Cup qualifying, Messi was on top of his game. He also didn't have quite as much success with Barcelona last season, perhaps suggesting that he was devoting more of his focus and fitness to being at his best in Brazil. If Messi could use any more motivation, he can look back at his second-place finish to Cristiano Ronaldo for the 2013 FIFA Ballon d'Or.
But it's not Ronaldo who truly hovers over Messi's legacy; it's Pele, and more dauntingly, Maradona. Neither legend had the same success at the club level as Messi. But Pele was on the Brazil roster of three World Cup titles, while Maradona scored perhaps the World Cup's most memorable goal and led Argentina to their last World Cup title in 1986. He also helped lead them to the title game in 1990.
Maradona was a hero of epic proportions for Argentina. His talent was so pronounced even at age 22 that at the 1982 World Cup, legendary Italy defender Claudio Gentile beat and battered the diminutive star every time he was anywhere near the ball to help the eventual champions eliminate Argentina. Years after Maradona's retirement from national duties in 1994, there had been talk of "the next Maradona." While Ariel Ortega and Javier Saviola fizzled, Messi has lived up to, and perhaps exceeded, quite lofty expectations.
The pressure of Maradona's success hangs over Messi now more than ever. Superstar players love to prove their critics wrong, and Messi may forever be branded as a player who only thrived for club but not for country. He has been a goal-scoring machine for Barcelona, scoring a club-record 382 goals, but his scoring ratio for Argentina is far more modest (38 goals in 86 appearances.)
The next several weeks loom large for Messi. He will not only need to score multiple goals, but also must play a pivotal role in a strong run by Argentina. A player of unquestionable talent, it's hard to fathom that he won't be playing at his highest level for a tournament that will be watched by roughly a billion viewers.
For a player who has already achieved so much, Messi has that one last hurdle to jump.
© Copyright IBTimes 2023. All rights reserved.