Will Gianni Infantino Reform FIFA? New President Urged By Billie Jean King To Hire Women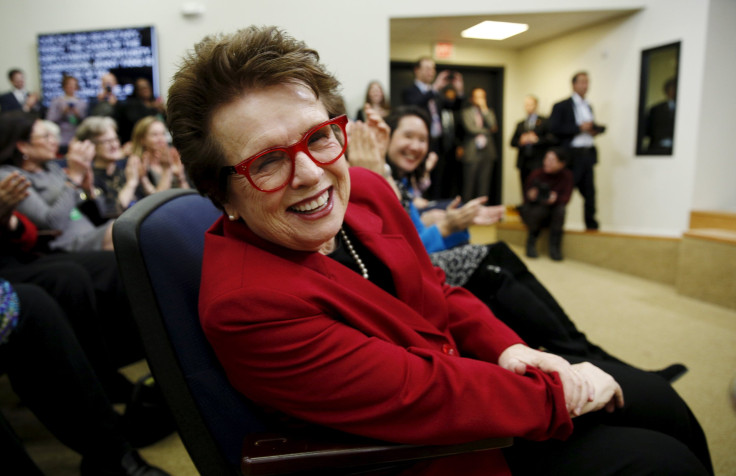 FIFA has had severe, and highly public, problems with corruption, experiencing two rounds of sweeping indictments against officials last year. Tennis legend and Women's Sports Foundation founder Billie Jean King told newly elected President Gianni Infantino on Monday that the pressure is on to fix FIFA and that hiring more female leaders could be a key step toward that end.
At a FIFA women's leadership conference held to coincide with International Women's Day, King said to Infantino in a keynote speech, "No pressure, but the world is counting on you," the Associated Press reported.
Soccer needs more female leaders in senior positions, she said. None of its top commercial or management positions were filled by women during the reign of former President Sepp Blatter, who was recently banned from world soccer for six years for infringements largely connected with a $2 million payment in 2011 to former Union of European Football Associations chief Michel Platini. FIFA's Ethics Committee ruled there was no legal basis for the payment, and after a failed appeal Blatter was banned for infringements ranging from "conflicts of interest" to "offering and accepting gifts and other benefits," among others.
FIFA's executive committee, which makes many of the important decisions that shape world soccer, included its first female member in 2012. King suggested "three concrete steps" for FIFA to take: making women one-third of management hires, hiring a secretary general who has a history of supporting gender equality and developing a commercial strategy for women's soccer.
The same day Infantino was elected, about a week and half ago, FIFA passed a set of reforms that put an increased focus on women's soccer and mandated that the executive committee include at least six women, or one from each regional confederation. As International Business Times wrote ahead of the election, this marked a major shift in an organization that had long been considered a "boys club."
"Not only are these reforms the right moral path but they make smart business sense," King said. "The business of women's football has a tremendous upside, and it's FIFA's obligation to invest in the assets needed."
That executive committee reformation gives women 16.7 percent representation at the table, which falls below a 30 percent target that had been set women's soccer advocates in 2015. But it's a first step, and Infantino had been a supporter of the 30 percent target.
"That's a substantial step forward," Moya Dodd, chairwoman of FIFA's Women's Football Task Force, who has steered women's soccer reforms, told International Business Times in an interview ahead of the vote. Dodd, an executive committee member, told Infantino on Monday that women could FIFA help fix its image, especially with the Women's World Cup, which she said has been underserved.
Dodd said, "FIFA has a brand problem, and women are part of the solution," according to Reuters. "FIFA has one big asset, the [men's] World Cup, and we need more than one, and the women's World Cup is part of the answer."
For his part, Infantino has seemingly been eager to fix FIFA. Monday he addressed concerns that women have not been sufficiently involved in the organization that has shaped world soccer. The reforms passed on election day mandating six female executives on the committee were an important first step, but the new president said FIFA has to go further.
"It's a minimum of six. It must be more," Infantino said Monday. "We have to look at all the committees. Women's football and women in football is a priority — it's part of the solution for the future of football."
© Copyright IBTimes 2023. All rights reserved.