Littoral Combat Ship USS Montgomery In South China Sea To Counter Beijing's Bullying
KEY POINTS
A Malaysian drill ship was hassled by Chinese vessels
Beijing continues bullying foreign ships in the South China Sea
Two U.S. Navy ships sail in to support the Malaysian ship
As Beijing continues its bullying in the South China Sea, two U.S. Navy ships were sent into the disputed region Thursday (May 7). The U.S. Navy will support a Malaysian drill ship that was hassled by Chinese vessels.
According to Asia Maritime Transparency Initiative, the dry cargo ship Cesar Chavez and the littoral combat ship USS Montgomery sailed near the Malaysia-contracted West Capella. According to Navy Times, at the time of the maneuver both Navy ships were already underway in the region.
The West Capella has been assigned to exploratory drilling in two gas and oil fields located in the South China Sea. Its activity has irritated the Chinese government, which is trying to claim this resource-rich region. In recent months, the Malaysian drill ship has been harassed by Chinese Coast Guard ships and fishing vessels. In the past year, similar disputes have arisen as well between Beijing and neighboring Vietnam.
According to Pacific Fleet commander Adm. John Aquilino, the U.S. Navy is "committed to a rules-based order in the South China Sea and we will continue to champion freedom of the seas and the rule of law". Navy ships are regularly patrolling the contested waters. The freedom of navigation operations (FONOPs) send a signal to Beijing that the U.S. seeks to keep those international waters open.
The dry cargo ship Cesar Chaves is a vessel with a displacement of 41,000 tons, 689 ft length and 106 ft beam. It is capable of a speed of 20 knots. The vessel is dedicated to providing the U.S. Marine Corps with food, ammunition, repair parts and fuel.
The USS Montgomery is an Independence-class littoral combat ship. Littoral combat ships are networked surface combatants, fast and agile, optimized for near-shore operations. The vessel has a displacement of 3,104 tons when full, a length of 418 ft and a beam of 104 ft. It is capable of speeds over 40 knots. Armed with 4× .50 cal (12.7 mm) guns, BAE Systems Mk 110 57 mm gun, and Evolved SeaRAM 11 cell missile launcher, the vessel is well suited for a broad range of missions, with unique capabilities and characteristics.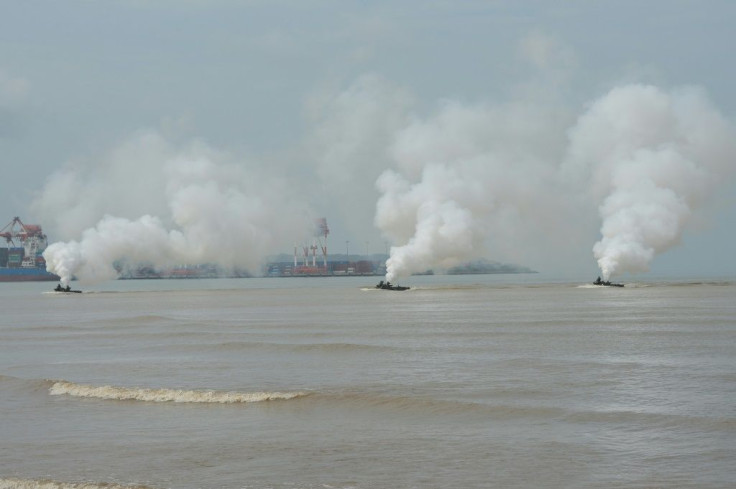 © Copyright IBTimes 2023. All rights reserved.