[LIVE BLOG] May 2013 US Auto Sales: Sales Seen Rising From April; The Detroit 3 GM, Ford, Chrysler Sold Almost 10% More Cars From April; World's 'Big 8' Including Toyota, Honda, VW Report Their Sales Today
[UPDATE 8:17 a.m., June 4, EDT]With most auto makers reporting, the finaly tally for total May U.S. auto sales is: 1,444,626 units, above the 1.33 million reported in May 2012. Trucks increased 24.7 percent while passenger cars rose nearly 5.7 percent. Ford and Chrysler came out ahead overall.
[UPDATE 4:58 p.m. EDT] Here's a breakdown of how the eight largest auto makers fared in May 2013. Volkswagen was the only one ot register fewer year-over-year sales due largely to a slowdown of a past winning streak in an crowded market for compacts and the fact the German automaker doesn't have a pickup truck to help offset declines in other model types.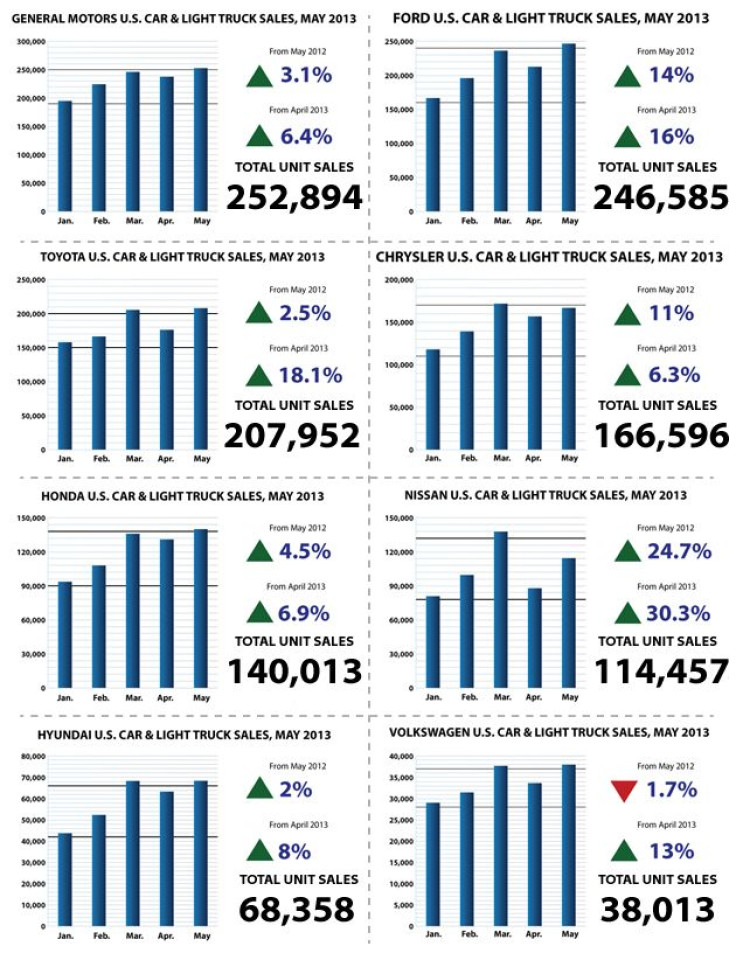 [UPDATE 3:55 p.m. EDT]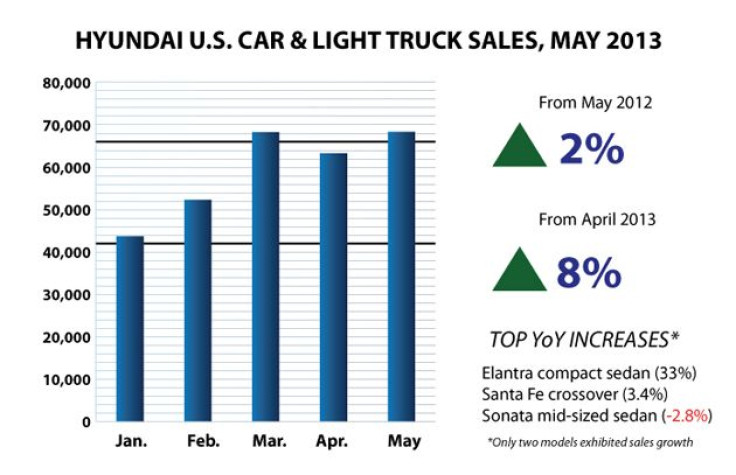 Hyundai Motor America, the U.S. unit of South Korea's Hyundai Motor Co. (KRX:005380), said Monday it sold 68,358 units, or 2 percent more than in the same month last year.
However, only two of the Korean company's 10 models it sells in the U.S. saw year-over-year growth: its best-selling Elantra compact sedan and the redesigned Santa Fe crossover SUV.
"Our core products – Elantra, Sonata and Santa Fe – all performed exceptionally well. We're selling each of these three U.S-built products as fast as we can build them," said Dave Zuchowski, executive vice president of national sales.
[UPDATE 3:28 p.m. EDT]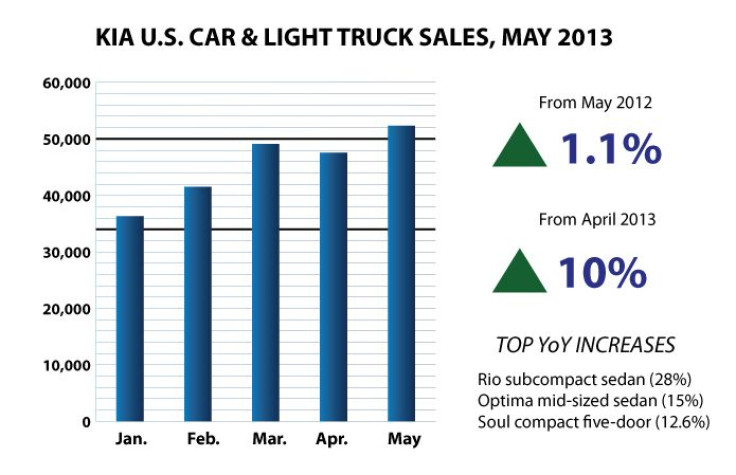 Kia Motors America Inc., the Irvine, Calif.-based unit of South Korea's Kia Motors Corp. (KRX:000270), said Monday its May U.S. sales were up 1.1 percent from the same month last year, and up 10 percent from numbers reported in April, largely on demand for the Optima midsized sedan, the company's best seller.
Sales of the U.S.-built Optima jumped to 15,368 in May from 14,678 in April. Year-to-date sales declined from the same five-month period last year, by 4.5 percent to 226,815
The automaker has a small U.S. market share and sells only eight models in the country. The Cadenza full-sized sedan and the Forte compact started to arrive in showrooms recently. Kia is unveiling seven redesigned models in the U.S. this year.
[UPDATE 3:01 p.m. EDT]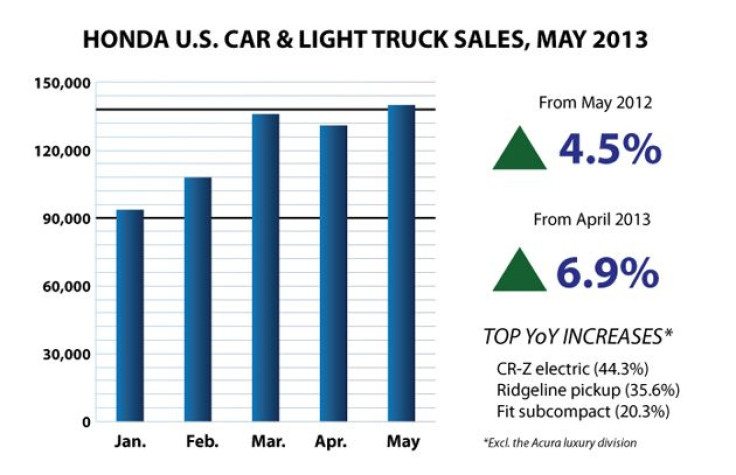 American Honda, the Torrance, Calif.-based U.S. unit for Japanese auto maker Honda Motor Co. Ltd. (NYSE:HMC), said Monday it sold 140,013 vehicles in the U.S. in May, a 4.5 percent rise from the same month last year, on strong demand for the company's crossovers, namely the CR-V, the Pilot, and the Odyssey minivan.
The luxury Acura brand saw sales down 1.5 percent, but the Acura RDX luxury crossover hit an all time sales record of 4,930 units.
"Looks like American families are preparing for summer road trips as our family-friendly light truck lineup posted the best May sales in Honda history," said John Mendel, executive vice president of Sales for American Honda.
Sales of the company's best-selling Accord climbed 11.7 percent to 32,218 units while sales of the Civic compact sedan fell 9.6 percent to 30,268 units.
[UPDATE 2:08 p.m. EST] General Motors, Ford, Chrysler, Toyota, Honda, Nissan and Volkswagen reported on Monday combined U.S. light truck and car sales for May of 1.17 million units. In May 2012, these eight companies sold 1.33 million units. It's up to Hyundai and Kia to come up with a number large enough to put the total sales volume for May 2013 over May 2012.
[UPDATE 1:21 p.m. EST]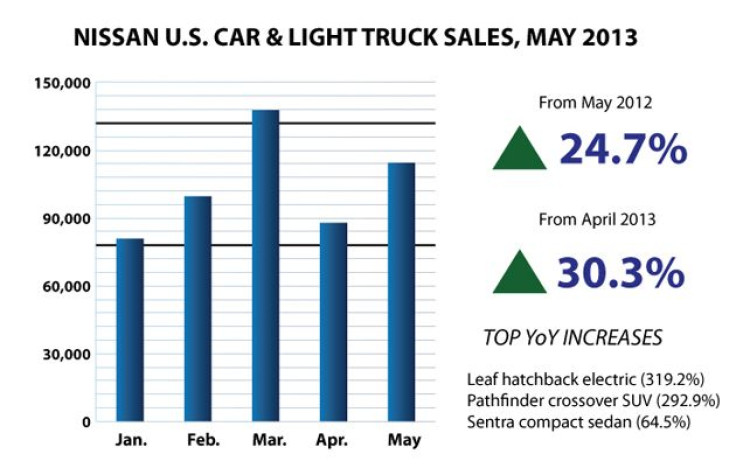 Nissan North America Inc., the U.S. unit of Japan's Nissan Motor Co. Ltd. (TYO:7201), said Wednesday that its May U.S. sales climbed 24.7 percent from the same month last year on robust demand for the Altima and Sentra sedans, and the Pathfinder and Rogue crossovers.
Sales of the company's luxury Infiniti brand fell 25.4 percent after rising 7 percent in April. All models except the Infiniti JX luxury crossover SUV retreated from the same month last year. The JX saw record monthly sales, rising 10.2 percent year-over-year. "We are in the midst of launching five all-new, top-selling Nissan models in 15 months, and the effort is paying off, said Jose Muñoz, vice president of Nissan sales for the Americas. "Altima, Pathfinder and Sentra, the first three of these launches, are up a combined 64.6 percent in May."
The Japanese auto maker also managed to bring down its incentive spending, which had risen in April by nearly five percent. In May, Nissan's incentive spending was down 34.2 percent year-over-year to $1,821. It spent $2,555 per sale in April. Incentives help spur sales but eat into profits.
[UPDATE 12:27 p.m. EST] Toyota Motor Sales U.S.A. Inc., the U.S. unit of Japan's Toyota Motor Corp. (NYSE:TM), released its preview showing 207,952 unit sales in the U.S. in May, up 2.5 percent from the same month last year and up 18 percent from April.
"New vehicle sales are heating up along with the weather, and solid May results coupled with an excellent Memorial Day weekend provide great momentum as we move into the summer selling season," said Bill Fay, group vice president and general manager of Toyota Division.
Toyota will provide more details about its sales report later today.
[UPDATE 12:15 p.m. EST] Ford announced Monday a recall of 465,000 of its 2013 models, affecting the Fusion, Flex, Explorer, Lincoln MKZ, MKS and MKT, as well as its Interceptor police sedan and utility vehicle, to check for fuel leaks. The company said it had received over 600 consumer complaints as of the end of March. It also said it might not have parts necessary to fix the issue for everyone until September. The recall affects mostly North American units, but at least 35,000 of them are outside of the region.
[UPDATE 12:08 p.m. EST] U.S. auto sales transaction prices for the world's Big 8 auto companies (GM, Ford, Chrysler, Toyota, Honda, Nissan, Hyundai and Kia) edged up a slight 0.5 percent to $31,377 compared to April 2013, according to TrueCar.com The average cost of taking home new vehicles was lowest for Chrysler brands (Dodge, Jeep, Ram, Fiat) at $32,030 and was highest for Volkswagen cars at $38,564, which includes Porsche and Audi.
[UPDATE 11:51 a.m.]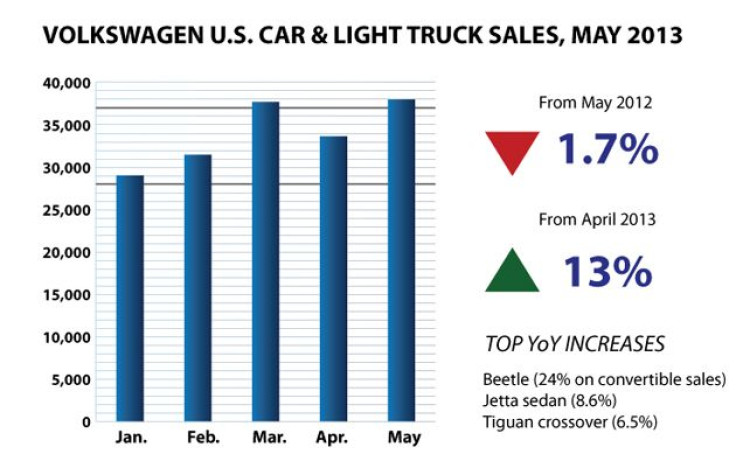 Volkswagen Group of America Inc., the U.S. unit of Volkswagen AG (FRA:VOW3), said Monday it sold 644 fewer vehicles in the U.S. in May compared to the same month last year, a 1.7 percent decrease due largely to a retreat in sales for all three Golf models, the Beetle coupe and the Jetta Sportswagen.
Volkswagen's May sales did rebound by 13 percent from April, which was described by Jonathan Browning, Volkswagen Group of America president and CEO, at the time as a "challenging month" for VW's compact and midsized sedans.
Browning said industry-wide U.S. auto sales in May were helped considerably by truck sales, "an area in which we do not compete."
The Passat sedan, Volkswagen's most popular brand in the U.S., maintained slight upward momentum, with a 0.9 percent increase to 10,267 units while the Jetta group, which includes the SportWagen that saw double-digit declines, increased 4.8 percent on strong demand for the Jetta sedan.
The Tiguan crossover SUV continued to sell well as Americans appear to be wholly embracing the more fuel-efficient and pared-down version of the full sized SUV.
[UPDATE 11:23 a.m. EST] Michelle Krebs, senior analyst for Edmunds.com: "May car sales are coming in a tad stronger than predicted, driven by a significant rebound in full-size pickup trucks sales due to a recovering construction market. Small vehicles -- cars and utilities -- were also robust. Automakers report consumers took advantage of Memorial Day sales but stress that the momentum was built from the start of the month across all parts of the country."
Original story starts here: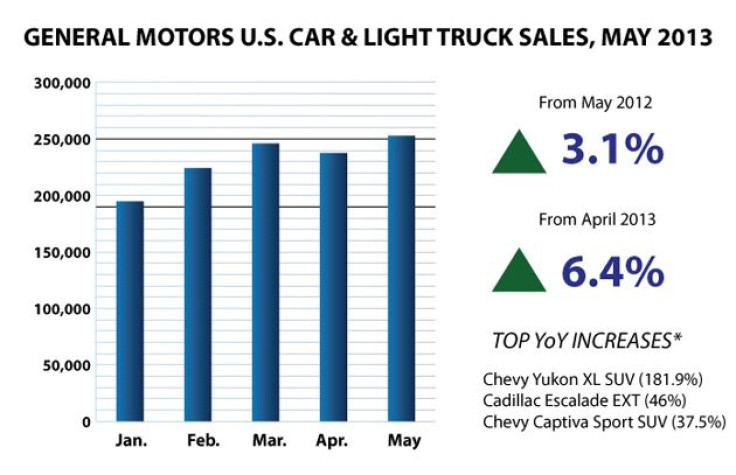 General Motors Co. (NYSE:GM), North America's largest automaker, announced Wednesday it sold 252,894 cars and light trucks in April, a 3 percent rise from last year as robust demand for pickups trucks and compact SUVs lifted sales of the Silverado and GM's crossovers.
GM's seasonally adjusted annualized rate estimate (SAAR) for all U.S. car and light truck sales stands in May at 15.4 million, higher than last month's 14.9 million and also higher than most analysts' estimates for May. The SAAR is a key metric for measuring the month-by-month annual performance in the sector. This year is estimated to close with an SAAR between 15 and 15.5 million, up from 14.5 million in 2012 and way up from the 10.9 million amid the auto industry crisis of 2009. "Cadillac is growing faster than it has in almost 40 years, the pickup rebound is in full swing and we're seeing strong retail demand for our crossovers," said Kurt McNeil, vice president of U.S. sales operations.
Cadillac has been driving strong on Escalade SUV sales and the new XTS luxury sedan which likely helped push down sales of Chrysler's luxury 300 sedan last month.
GM reported a 10 percent year-over-year rise in its smaller crossover SUVs, thanks largely to demand for the Equinox. As with competitors Ford Motor Company (NYSE:F) and Chrysler Group LLC, GM saw sales of its popular pickup truck, the Silverado, boost revenue as the rebounding housing market lifted demand for America's perennial favorite vehicle type.
Sales of the Silverado increased 25 percent from April to 43,283 units. Combined, the three auto makers sold 666,075 units, a 9.75 percent increase from April. These numbers represent most of U.S. auto sales for the month. Sales from Toyota, Honda, VW and the Korean duo Kia/Hyundai make up the bulk of the rest. These eight major auto companies report their U.S. sales figures throughout the day.
Click here for Ford's May auto sales.
© Copyright IBTimes 2023. All rights reserved.
FOLLOW MORE IBT NEWS ON THE BELOW CHANNELS