Liverpool Rumors: Klopp 'Prepares' Shock Bid For La Liga Star Fit For Premier League
KEY POINTS
Liverpool is linked to a move for Real Sociedad vice-captain Mikel Oyarzabal
Reds boss Jurgen Klopp is certain Oyarzabal can excel in the English Premier League
The attacking midfielder hinted at his plan to stay with Real Sociedad
As Liverpool's hopes of UEFA Champions League football slips away, Jurgen Klopp could already be looking to bring a well-rounded player to Anfield.
After winning the 2020 English Premier League title, Liverpool ended up having a seemingly disastrous 2021 campaign.
With that in mind, Klopp is expected to revamp the Reds squad in the next transfer window.
As early as now, the renowned manager has already identified Real Sociedad vice-captain Mikel Oyarzabal as target, per Spanish outlet Don Balon.
It has become apparent that some stars in Liverpool's talent-stacked squad are likely to depart Anfield following the club's underwhelming performance this season.
Mohamed Salah and Sadio Mane are among the players who could consider finding a new club at the end of the season, the report said.
While a move for in-demand players such as Jadon Sancho and Kylian Mbappe seems impossible at this point, the report further noted that Klopp would fancy having Oyarzabal instead, an attacking midfielder whom he believes will "rise considerably" in the English top flight.
Oyarzabal, who has also functioned effectively as a forward, is expected to cost around the region of €50 million ($60 million).
As per the outlet, the said figure doesn't overwhelm Liverpool, having been able to save money for future transfers.
What's even more interesting is that the Reds' current budget could even increase significantly should the club manage to cash-in on a few departures this summer.
As for who could leave Liverpool, the report suggested that it will all depend on the team's fate in this year's Champions League.
Oyarzabal, on the other hand, seemed unbothered by the rumors linking his name to a move away from Real Sociedad.
The Spaniard has been instrumental in the Basque outfit's recent climb to the fifth spot in the La Liga standings, and his latest comments suggest that he is not planning to leave the club anytime soon.
According to Oyarzabal, the entire Real Sociedad organization has forged a "feeling of belonging," which is a very important aspect in the sport.
"It is really important to have a coach who you really understand and who really believes in his players," Oyarzabal told CBS Sports via media call. "It is also really important for the players to believe in the coach. There is no doubt about that whatsoever."
"With Imanol [Real Sociedad coach], us players and Xabi, the club believes in us and we believe in them," he added. "It is important because we have this feeling of belonging to the club."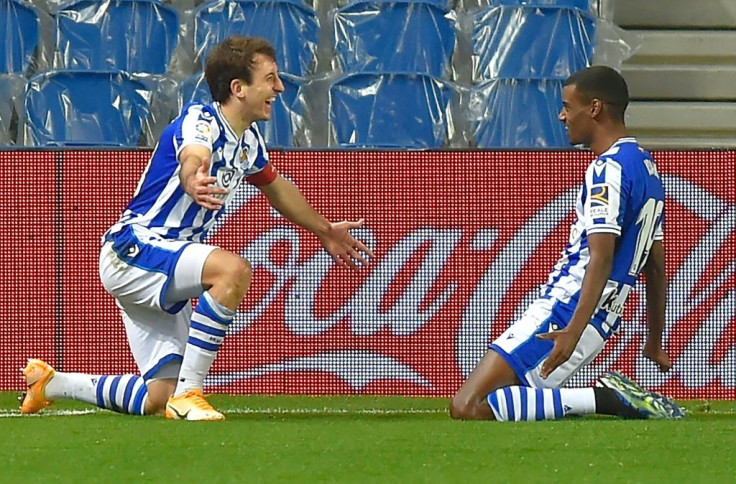 © Copyright IBTimes 2023. All rights reserved.