Lochte wins 200 freestyle, big showdown looms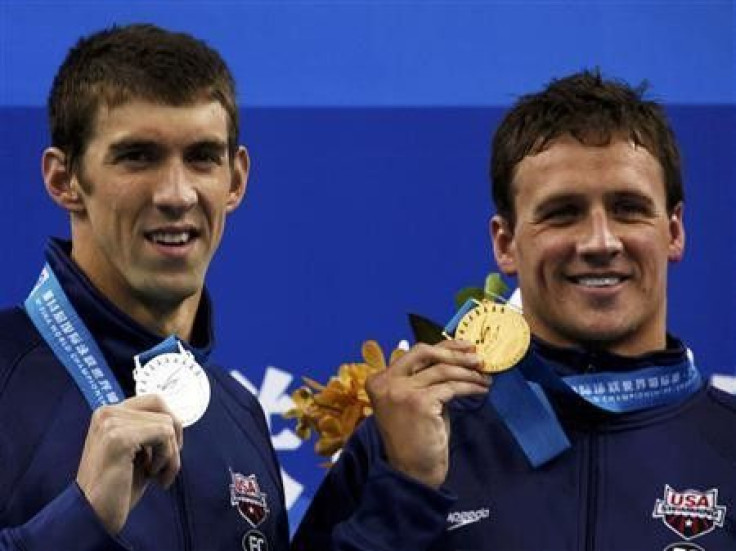 Ryan Lochte's victory in the mens' 200 meters freestyle at the world swimming championships Tuesday not only allowed him to emerge from compatriot Michael Phelps's shadow but could set up a mouthwatering 'Race of the Century - Part Two' at next year's London Olympics.
Lochte's impressive turn at the 100 mark, when he exploded off the wall to catch, then overtake, Olympic champion Phelps, propelled him to the victory over a high-class field that included world record holder Paul Biedermann of Germany and South Korea's 400 meters freestyle champion Park Tae-hwan.
While Lochte's victory was impressive enough, it is the likely return of Australian Ian Thorpe to competition that could set up a repeat of the race that captivated the Athens Olympics.
Thorpe prevailed over Pieter van den Hoogenband and Phelps in the mens' 200 freestyle in Athens -- the so-called 'Race of the Century', but Lochte's victory makes the 2012 race even more palatable and he is already looking forward to another showdown with Phelps in it next year.
"Michael and I have been training head to head for about eight years, back and forth (and) we will keep on pushing each other for the 2012 Olympics," Lochte told reporters. "I'm definitely a different swimmer after 2008, smarter, stronger.
"I knew Michael was going to go out fast, but I realized that I've got a shot. I didn't know I was the winner right away.
"I was happy. That kind of feeling is really good, all the hard work had paid off."
While Phelps was forced to settle for silver, he showed that two years of frustration may be about to end when he qualified third fastest for the men's 200 meters butterfly final.
No longer the unbeatable force in the event, Phelps still proved he had enough in reserve to match it with the best in the world after two tough races within the space of 90 minutes.
HOME WIN
The home crowd also had plenty to celebrate Tuesday when Zhao Jing produced a fast finish to overcome Olympic champion Natalie Coughlin in the women's 100 meters backstroke and snatch the host country's second gold in the pool.
"The gold medal has significant meaning to me," Zhao said.
"It is definitely a huge boost to my confidence in the build-up to the London Olympic Games."
The host nation had more to celebrate when they grabbed two bronze medals with Ji Liping in the women's 100 breaststroke and Li Xuanxu in the women's 1,500 meters freestyle.
Rebecca Soni of the United States cemented her credentials as the world's pre-eminent breaststroker with her victory over Australia's Leisel Jones in the 100 breaststroke final and also set up another exciting clash in London.
"I think this is pretty much what we are going to see in London next year," Jones said.
"There is still a long way to go. Today was a great practice for London. I think it will be very similar."
The championships produced a dead heat in the men's 100 meters backstroke with France's Camille Lacourt and Jeremy Stravius both touching in 52.76 seconds.
Denmark's Lotte Friis led from start to finish, and was under world record pace for the first half of the race, to win the women's 1,500 freestyle title.
Friis, however, will need to concentrate on the shorter 800 freestyle next year in London, with the 1,500 not on the Olympic program.
"It's always nice to win a gold medal," Friis said. "It's my personal best (but) I will focus on the 800 next year in London."
© Copyright Thomson Reuters 2023. All rights reserved.