London Knife Attack: 1 Dead And 5 Injured In Russell Square, Police Find No Evidence Of Terrorism Or Radicalization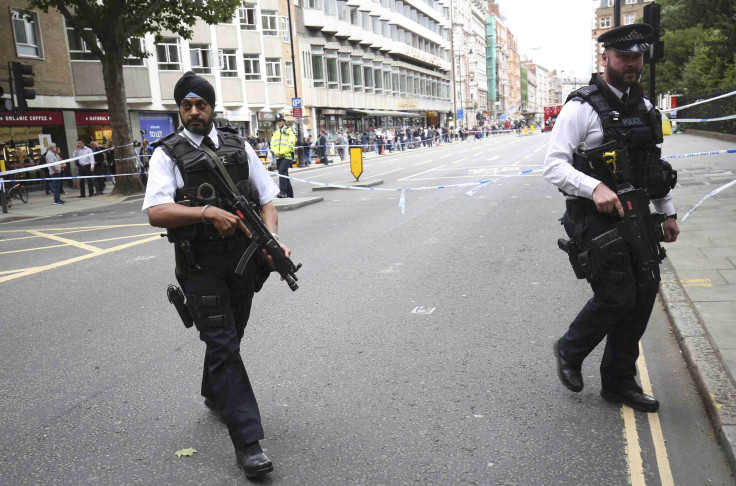 Update: 6:51 a.m. EDT — The woman killed in the knife attack in Russell Square in central London Wednesday was from the United States, Mark Rowley, the Metropolitan police assistant commissioner, said Thursday.
Rowley said at a press conference that the suspect, who is in police custody at a hospital in London, is a Norwegian national of Somali origin. Police believe that the attack was linked to the suspect's mental health issues, and that there is no evidence of radicalization.
"At this point we believe this is a spontaneous attack and the victims were selected at random," Rowley said.
Nationals of Spain, Israel, Australia and Britain were injured in the attacks, Rowley said, adding that none of the five injured have life-threatening injuries.
Meanwhile, Metropolitan Police Commissioner Sir Bernard Hogan-Howe said that the probe into the attack was "moving quickly" with a "substantial focus" on mental health. He also vowed to "protect our Capital and those who live, work and visit our city."
UPDATE: 3:45 a.m. — The Metropolitan Police said early Thursday that three victims of the knife attack in central London's Russell Square have been discharged while two others are still being treated.
One woman, believed to be in her 60s, died after a man attacked people with his knife. A 19-year-old suspect is currently in police custody in a hospital.
Jeremy Corbyn, U.K. Labour party leader, prayed for the families of the victims.
"Shocking attack in London last night. Thoughts are with family and friends of the victims," he wrote on his Twitter account.
Meanwhile, London Mayor Sadiq Khan called for the public to remain "calm and vigilant" as police investigated the Russell Square knife attack.
"The safety of all Londoners is my number one priority and my heart goes out to the victims of the incident in Russell Square and their loved ones," Khan said in a statement.
"I have spoken with the Commissioner, and the Assistant Commissioner, who have assured me that our police officers are working extremely hard to investigate exactly what has happened and to keep the rest of us safe. A man was arrested at the scene. Police have spoken to him and are seeking to establish the full facts including motives for this attack."
Original story:
One woman was killed and five other people were injured Wednesday night after a man attacked people with a knife in Russell Square, central London. A 19-year-old man has been taken in custody at a hospital following the incident.
Metropolitan Police official Mark Rowley said the suspect's mental health played a "significant factor," though he admitted authorities are still determining whether terrorism was a motivating factor. Two women and three men were among those injured, police said. The identities of those involved in the attack have yet to be determined.
"We are keeping an open mind regarding the motive and terrorism remains one line of inquiry being explored," Rowley said, in a statement. "As a precautionary measure, Londoners will wake up this morning to notice an increased presence on the streets of officers, including armed officers today. We would urge the public to remain calm, alert and vigilant."
The Met's homicide command was leading the investigation into the attack, with support from the counter-terrorism unit, Rowley said.
Earlier, officials briefed on the investigation told CNN that based on the evidence, authorities believe the incident was a terror attack.
"The fact that they're even mentioning terrorism leads me to believe that some of the witnesses and some of the victims may have said that this guy may have made some statements while he was carrying out the attack," former FBI agent Bobby Chacon said told CNN. "The normal posture is to calm the public and say we don't have any information that it's terrorism yet."
© Copyright IBTimes 2023. All rights reserved.