London Riots 2011: Elderly Ealing Man Becomes 5th Murder Victim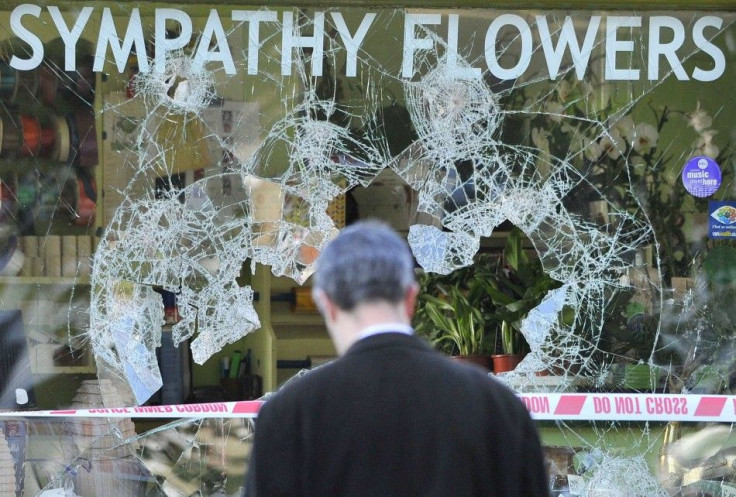 A 68-year-old London man died from injuries sustained in an attack during the riots that have swept the city.
Richard Mannington Bowes of Ealing, West London was critically injured when he attempted to stamp out a fire. He suffered head injuries in a brutal attack on Monday evening and was left in a coma.
Scotland Yard said that a 22-year-old man has been arrested in connection with Bowes' death. The man is expected to be charged with murder, rioting and burglary.
A witness to the attack on Bowes told reporters: "I went up to Spring Bridge Road to check on my other shop and saw him on the ground. The rioters had set a bin alight and then they jumped on him when he tried to put it out."
A senior police official described the attack as "a brutal incident that resulted in the senseless killing of an innocent man."
The Mayor of London, Boris Johnson, paid tribute to the victim: "There are many villains in this story but also many heroes and I want to pay particular tribute to Mr. Bowes. But he has paid a terrible price. I am desperately sorry for him and his family."
Ealing Borough Council said it will flying the Union Jack Flag over its town hall at half-mast to honor Bowes.
The Council will also launch an appeal to help all riot victims in the borough -- to be called the Richard Mannington Bowes Relief Fund.
This is at least the fifth death believed to be connected to the riots that have convulsed much of urban England – three men were run over by an automobile in Winson Green, Birmingham; while another man was found shot to death in his car in Croydon, South London.
Across England, at least 1,500 people have been arrested since the disorder broke out Saturday, including 1,000 in London alone.
Outrage over the rioters is at a boil. More than 100,000 Britons have signed an online petition calling for the cancellation of state benefits for anyone convicted of crimes related to the disturbances. The petition will be submitted to the House of Commons for debate.
© Copyright IBTimes 2023. All rights reserved.