Lonmin Miners Agree To End Strike, But South Africa's Labor Struggles Are Far From Over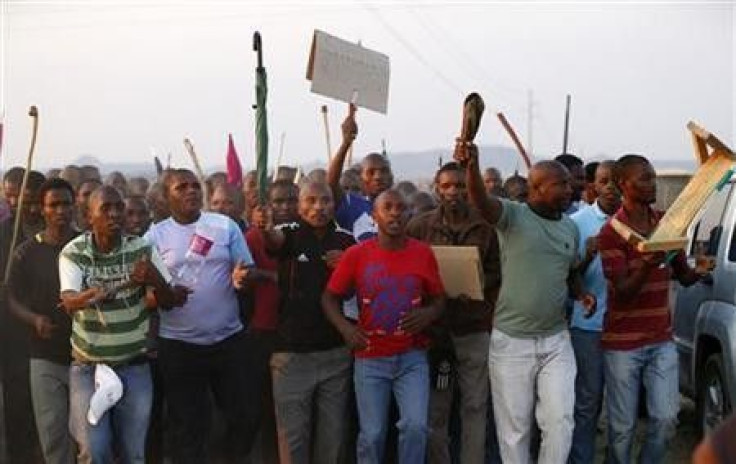 The South African mine workers who went on a massive strike this summer have resolved their differences with Lonmin PLC (London: LMI), the world's third-largest producer of platinum.
The workers had demanded higher wages since their wildcat strike began on August 10. On Tuesday they accepted a 22 percent pay raise, as well as a one-time bonus of 2,000 rand, or US$245, when they resume work on Thursday.
It's a huge achievement. No union has achieved a 22 percent increase before, said worker representative Zolisa Bodlani to Reuters.
But these gains drew a heavy price.
Demonstrators' clashes with South African security officials over the past month have resulted in at least 45 deaths. In a single headline-grabbing episode on Aug. 16, 34 strikers lost their lives when police fired into a crowd of advancing strikers.
The incident drew international condemnation, harking back to the days of brutal oppression during South Africa's apartheid era.
But the miners continued demonstrating, determined to secure a greater share of the profit from their labors. Mining accounted for about 18 percent of South Africa's gross domestic product, according to the country's Chamber of Mines. But many mining workers were poor, and some were forced to live in dilapidated shantytowns surrounding their work sites.
The strike also had a political element. South Africa is the richest country on the continent, but still has one of the world's biggest income gaps. Poverty is widespread and unemployment is around 25 percent. By drawing attention to the government's failure to promote societal equality, the miners sought to hold the ruling African National Congress Party accountable for its failed policies.
The government is certainly feeling the pinch -- President Jacob Zuma said on Monday that the protests have cost South Africa about 4.5 billion rand, or more than $550 million.
And the battle is still far from over; other mining companies are still dealing with unrest.
South African mines run by Aquarius Platinum Ltd. (AQP) and Xstrata Plc. (XTA) have seen recent shutdowns, but were reopened on Monday amid tensions. Anglo American Platinum Ltd. (AMS), the world's largest platinum producer, opened its Rustenburg facilities to workers on Tuesday morning after a suspension; it has urged all workers to return by Wednesday.
Those developments continue to unfold day by day. For now, at least, the Lonmin strikers are celebrating their victory.
I am happy, said miner Sithembile Sohati to Reuters on Tuesday. Forward with the struggle.
© Copyright IBTimes 2022. All rights reserved.
FOLLOW MORE IBT NEWS ON THE BELOW CHANNELS