LOOK: Satellites Capture St. Vincent Volcano Eruption
KEY POINTS
St. Vincent's La Soufrière volcano recently began erupting
Satellites captured images of the explosive event
Eruptions are still ongoing
Residents are still being urged to evacuate
A volcano in St. Vincent began erupting decades after its last explosive eruption, which had taken place in 1979, and satellites caught the event.
La Soufrière, a volcano in the Caribbean island of St. Vincent, began its explosive activity on April 9, just four days before the 42nd anniversary of its last eruption, The Guardian noted. That same day, at about 10:30 a.m. local time, the Operational Land Imager (OLI) on NASA and the U.S. Geological Service's (USGS) Landsat 8 satellite captured an image of the explosive event.
In the image, which was shared by NASA Earth Observatory, the volcano can no longer be seen because of the thick plume of hot ash and gas covering parts of St. Vincent.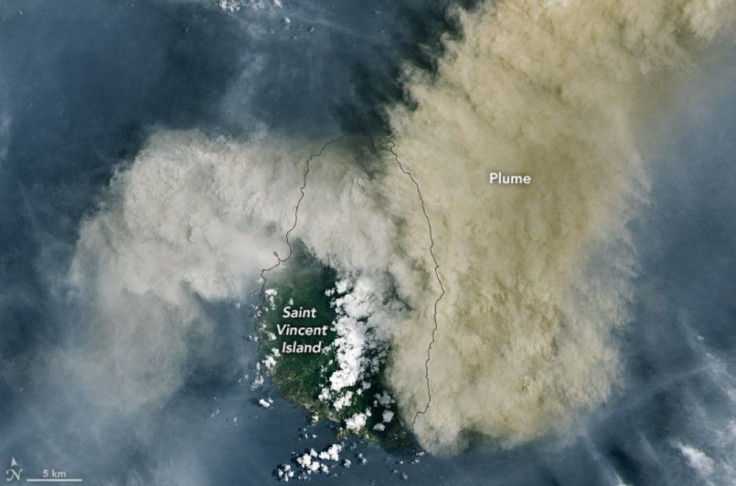 A day after the activity began, another satellite also captured the eruption. This time, it was the Aqua satellite, with its Moderate Resolution Imaging Spectroradiometer (MODIS) instrument.
In the image, one can see just how far the thick smoke traveled by the afternoon of April 10. Amid the white clouds, the brown plume can also be seen covering Barbados which, according to the agency, is 190 kilometers (120 miles) away.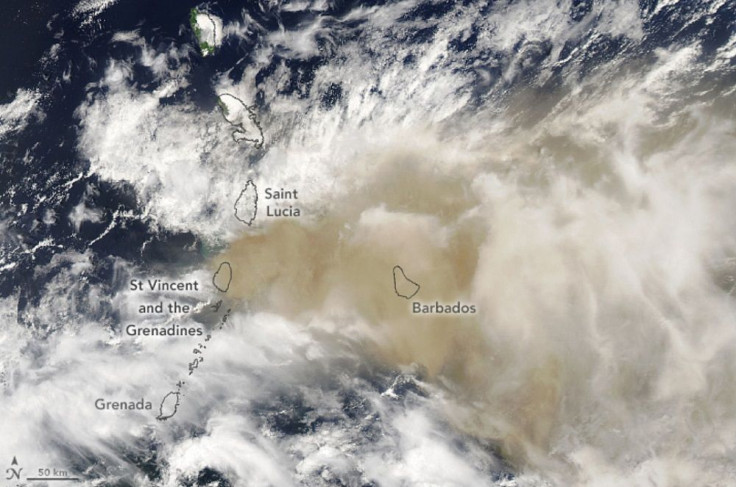 NASA and the NOAA's GOES-16 satellite also captured the activity, showing the volcano spewing out dark ash.
"Scientists are investigating the extent and height reached of the ash and gas plume," NASA Earth Observatory said. "They think some ash has risen all the way into the stratosphere, where strong winds can potentially carry it great distances."
According to the agency, some of the ash also fell on the ground, covering parts of the affected islands with ashfall. This is quite problematic amid the efforts to evacuate thousands of the island's residents, not just because of the reduced visibility and the threat to food and water supplies, but also because the ash particles can become dangerous when inhaled.
The current eruption's biggest explosion took place in the early hours of Monday, bringing pyroclastic flows down the volcano's flanks, The Guardian said in a report. The volcano's dome has also been confirmed to be destroyed, Volcano Discovery said, adding that the question now is how much magma is still left to erupt.
So far, authorities are warning residents of similar or even potentially larger eruptions, The Guardian said. Cruise ships were also prepared to take the evacuees to nearby islands.
However, even if thousands of people who live close to the volcano have been successfully evacuated, there are still some who reportedly refuse to leave their homes.
© Copyright IBTimes 2023. All rights reserved.