Looters Victimizing Queens, Brooklyn, New Jersey In The Wake Of Hurricane Sandy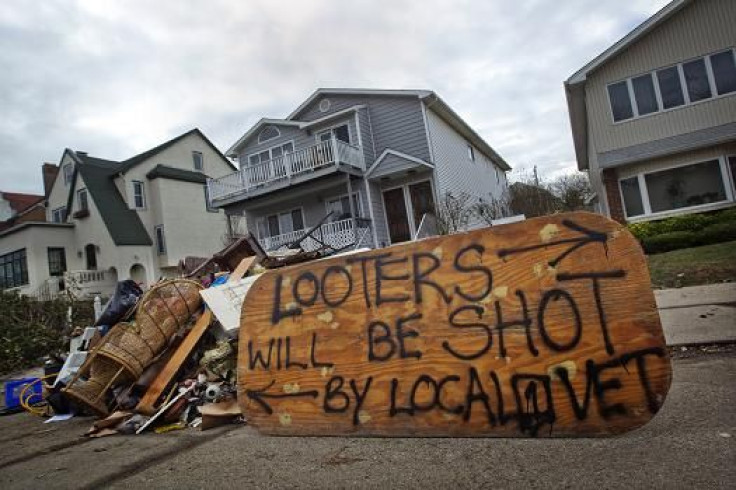 As electrical service gets turned back on and subway trains slowly make their way across New York again, government officials are faced with a new, perhaps more volatile situation.
There are areas in Queens and Brooklyn, as well as New Jersey, that continue to be without electricity -- and residents there have quickly learned not to take anything for granted while the lights are still out. Gangs of looters and other thugs have taken advantage of some vulnerable areas, and the victims aren't standing pat any longer.
The New York Police Department and National Guard have provided security on street corners in the city, but arrests have been reported everywhere, perhaps an inevitability when an estimated 3.5 million people have lost power.
Meanwhile, there has reportedly been a slew of late-night break-ins by robbers dressed as Long Island Power Authority workers in the Rockaways section of Queens.
Walter Meyer, 37, told the New York Daily News how dangerous the normally safe area has become. "After sunset, everybody locks their doors," Meyer said. "They're trying to find whatever weapons they can find. Some people are even using bow[s] and arrows.
Since World War II, the Rockaways area has on balance experienced an influx of lower-income families, which has led some people to accuse the Long Island Power Authority of favoring wealthier neighborhoods during the current recovery effort.
"I saw this guy stealing televisions from a nursing home right on the boardwalk on Tuesday, and the workers were chasing him up the street," Ben Cooper, who lives on the Rockaway Peninsula, told the Christian Science Monitor. "Every time I saw him, he had a different TV."
Meanwhile, Brooklyn's Coney Island has been at the mercy of looters since Tuesday, as the thugs barely waited for Sandy to move on before doing their thing. By 8 a.m. that day, an entire pharmacy had been sacked with thieves tearing through as many as 10,000 bottles of prescription pills, according to the Huffington Post.
"The water went away and these people started walking down the streets and just robbed stores," one of the pharmacy workers said.
In New Jersey, about 25 arrests for such things as "petty burglaries and looting incidents" were made around Monmouth County over the past few days of Hurricane Sandy, Acting County Prosecutor Christopher J. Gramiccioni told the Asbury Park Press in Neptune on Thursday.
Gov. Chris Christie -- who has been praised for his performance in dealing with Superstorm Sandy -- called in about 2,100 members of the National Guard to help with the relief effort, while 250 state troopers were on duty on the state's barrier islands specifically to deal with the crime spree. Still, Christie denied it was anything more than a few roving bands of criminals and said it was mainly up to municipalities to police themselves.
"They're the ones that know what's going on their towns better than I do sitting in some center in Trenton," Christie said. "And when they ask for more help, we give it to them."
© Copyright IBTimes 2023. All rights reserved.