Los Angeles Homeless Shooting: France, Cameroon Rejected Man When US Immigration Authorities Tried To Deport Him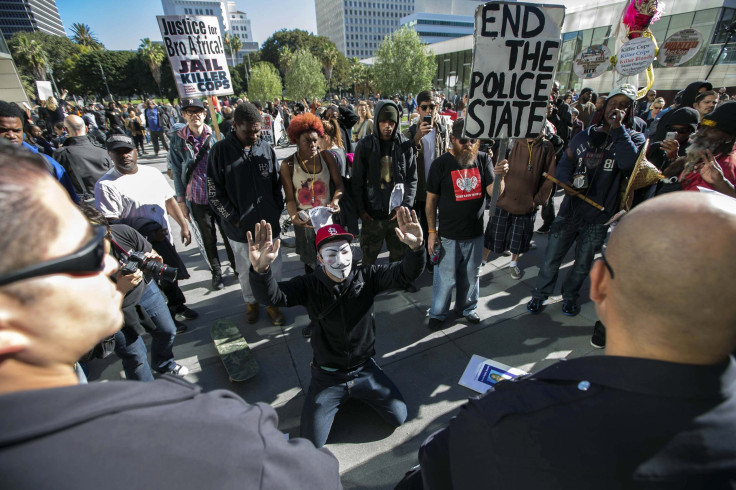 The homeless man who was fatally shot by Los Angeles police officers Sunday had been released by U.S. immigration authorities after two countries refused to have the man repatriated following a prior conviction for bank robbery, according to a report from the Associated Press. Both France and Cameroon would not take the man identified as Charley Saturmin Robinet, forcing officials to release him in compliance with a 2001 Supreme Court ruling that prevents immigration authorities from detaining people indefinitely if deportation is not a possibility.
Robinet had been sentenced to 15 years in prison after pistol-whipping a teller during a 2000 bank robbery north of Los Angeles, Reuters reported. The man reportedly told investigators at the time that he robbed the bank in order to fund acting classes at the Beverly Hills Playhouse. A federal judge in California ordered Robinet to a halfway house in September 2013, where he spent six months before being released in May 2014 under a three-year supervised-release order.
France had issued travel documents to Robinet but later rescinded them in 2013 after determining that he had stolen the identity of a French citizen and was living in the U.S. under an assumed name, U.S. officials said. "The real Charley Robinet is in France apparently living a totally normal life and totally unaware his identity had been stolen years and years ago," Axel Cruau, the consul general for France in Los Angeles, told the AP. The man later told immigration authorities that he was from Cameroon and gave a different name, though officials in the African country did not respond to repeated attempts by U.S. immigration authorities to reach them.
On Sunday, the man's killing at the hands of police officers was captured on a video that was later widely circulated on the Internet. The incident has triggered protests, with civil rights activists calling for greater oversight of police use of force in the Los Angeles Skid Row area where Robinet was shot dead. Critics have accused the department of routinely using heavy-handed tactics in their dealings with homeless people, Reuters said. Around 200 activists marched to the Los Angeles Police Department's headquarters in a rally to protest the department's tactics on Tuesday.
© Copyright IBTimes 2023. All rights reserved.
FOLLOW MORE IBT NEWS ON THE BELOW CHANNELS