Los Angeles Rams Will Host Bears, Cowboys Or Seahawks In 2019 NFL Divisional Playoff Game
The Los Angeles Rams will be watching from home on Wild-Card Weekend as they look to learn their first opponent in the 2019 NFL Playoffs. Three teams have a chance to earn a second-round matchup on the road with the NFC's No.2 seed.
Depending on what happens in the first round of the postseason, it'll be the Chicago Bears, Dallas Cowboys or Seattle Seahawks that visit Los Angeles in the divisional round. The Philadelphia Eagles are the only NFC team playing this weekend that doesn't have a chance to play the Rams in Los Angeles' first playoff game.
The odds suggest it'll be the Bears that visit the Rams next weekend. A win for Chicago would automatically pit them against L.A. in the divisional playoffs. The No.3 seed is favored by 5.5 points at home against the Eagles, according to OddsShark.
Chicago and Philadelphia will meet late Sunday afternoon in the final wild-card game. Dallas will host Seattle Saturday night. The winner of that game will visit Los Angeles if the Eagles can pull off the upset the next day.
The Cowboys are a slight favorite at home over the Seahawks. Dallas is the only NFC team playing in the first round that didn't face the Rams in the 2018 regular season.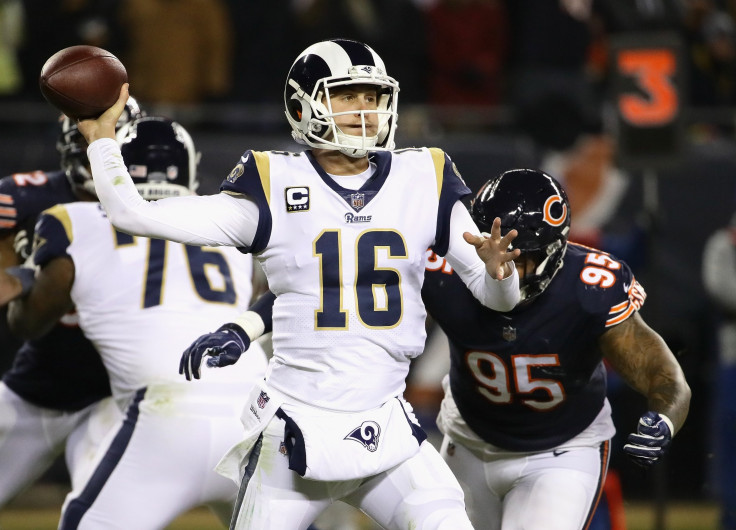 The Rams might be happy that the Eagles can't possibly face them until the NFC Championship Game. Philadelphia won in Los Angeles in Week 15 when Nick Foles made his first start in 12 games. It was the start of a three-game winning streak for the defending champs.
The Bears beat the Rams 15-6 at Soldier Field in Week 14. Jared Goff completed less than half of his pass attempts for 180 yards and four interceptions. Maybe Los Angeles would have better luck against Chicago at home. Mitchell Trubisky was held to 110 yards and three picks in the win.
Los Angeles has beaten Seattle twice, though both games came down to the wire. The Rams won on the road against the Seahawks 33-31 in Week 5, putting the game away by converting a 4th and 1 on their own 42-yard line with less than two minutes remaining in regulation. In Week 11, Seattle was stopped at Los Angeles' 35-yard line with 18 seconds left as the Rams secured a 36-31 victory.
L.A. went 7-1 at home. The Rams tied the New Orleans Saints with an NFL-best 13-3 record, and they've got better Super Bowl odds than any AFC team.
© Copyright IBTimes 2023. All rights reserved.