Louisiana Ex-Gov. Edwin Edwards, Convicted Felon, Announces Run For Congress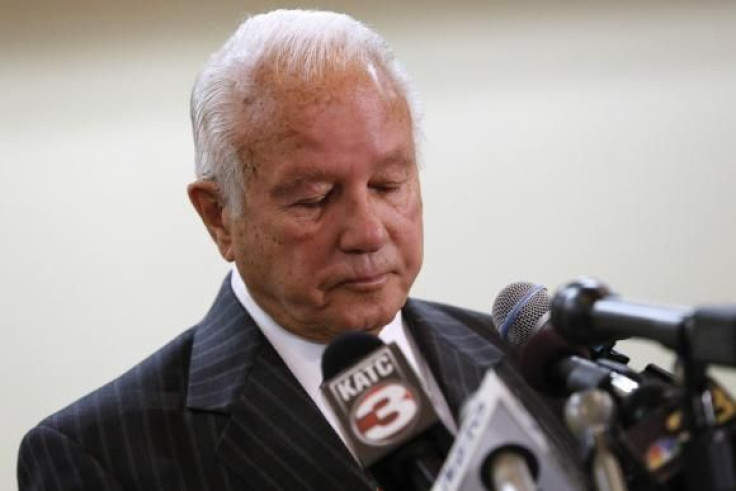 Three years after leaving prison, former Louisiana Gov. Edwin Edwards is once entering politics, making a run for Congress.
According to the New Orleans Times-Picayune, the 86-year-old former governor, a Democrat who spent nine years in federal prison for extortion, fraud and racketeering, appeared at the Press Club of Baton Rouge to announce his candidacy on Monday. He was joined onstage by his 35-year-old wife, Trina, and their 1-year-old son.
"I've given a great deal of thought to do this, I've read articles from pundits … and I acknowledge there are good reasons why I should not run," Edwards said. "But there are better reasons why I should, and good reasons should give way to better reasons. Therefore I will be a candidate for Congress from the 6th Congressional District this year."
The only four-term governor in the state's history, Edwards remains a popular figure in Louisiana despite his criminal conviction, largely for his down-home charm and devil-may-care Cajun personality. ("The only way I can lose this race is to be caught in bed with a live boy or dead girl," Edwards once said during the 1983 election). Given that the 6th District seat will be vacant this election cycle as Republican Rep. Bill Cassidy is giving it up to challenge Democratic Sen. Mary Landrieu, Edwards may stand a chance.
At the Baton Rouge event, Edwards said he would run for governor once again if he were able, but Louisiana law prevents him from doing so. Felons are barred from holding statewide office until 15 years after release unless they receive a pardon. As for Congress, Edwards says, the only requirement is being a citizen over the age of 25.
"And clearly, I meet that qualification," Edwards said. "There's a guy in Florida 101 years old running, and by the time I am his age, I'll be in my seventh term."
Edwards discussed his nearly nine years in jail, though he insisted he is innocent of the 17 counts of racketeering, mail and wire fraud, conspiracy, and money laundering he was convicted of. Edwards maintained that despite his past, he was not corrupt during his time as governor.
"[The trial] was not about Edwin Edwards the governor. It was about Edwin Edwards who was a friend of people who, for reasons of their own, falsely testified about our relationship after I was out of the governor's office," he said.
© Copyright IBTimes 2022. All rights reserved.
FOLLOW MORE IBT NEWS ON THE BELOW CHANNELS