LSU Coach Les Miles Not Having An Affair With A Student Despite Twitter Rumor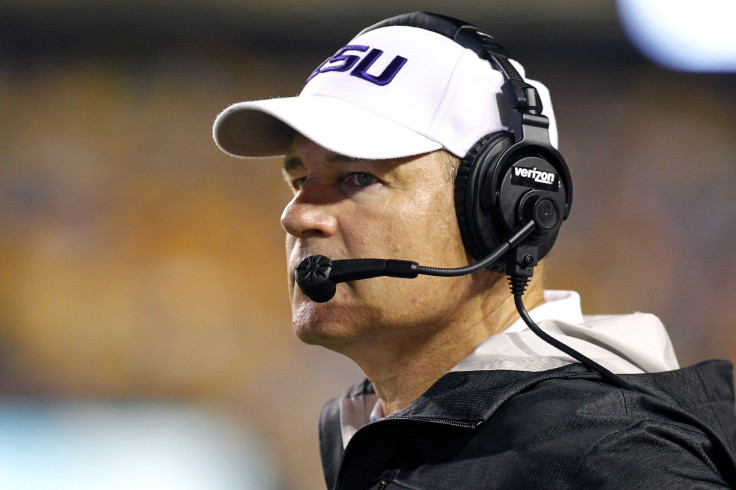 LSU Tigers football coach Les Miles came under scrutiny this weekend after a student reporter tweeted out a rumor that he would be resigning after having an affair with a student. But it turns out that the claim arose from an baseless rumor on a message board that has since been debunked.
Sam McGaw, a student reporter at Western Kentucky University, tweeted the rumor about the beloved Louisiana State University coach at 4:39 p.m. Saturday.
"There are rumors that LSU head football coach Les Miles will step down on Monday after allegedly having an affair with a student. Hmm...," he wrote.
The message was retweeted more than 150 times and started a minor hubbub on Twitter, and, at 5:01 p.m. Saturday, McGaw tweeted the first in a series of clarifications.
"Again, Les Miles' alleged affair and resignation is a complete rumor. It hasn't been confirmed yet. Nobody will know the truth until Monday," he wrote.
But the follow-up didn't put an end to chatter about the erroneous assertion, and a number of Twitter users, including Cory Crow, questioned McGaw via public tweets about the foundation of the claim.
"@sammcgaw sources for the Miles rumors? Those used to matter you know," he wrote, to which McGaw responded, ".@blogawful Someone told me to check it out on twitter and some recruiting boards. It's a complete rumor. It's just something to speculate."
McGaw went on to spend much of the remainder of Saturday and a major portion of Sunday rebuffing claims that he was spreading a false rumor as fact and trying to explain away the fact that he had created a minor crisis by alleging that Miles was involved in an affair despite his admission that he had no reliable sources to back it up.
"@cmatt3 @danoglesby Message boards is where any of this info came from. I simply stated what I saw," he tweeted in response to criticism of his "reporting" tactics.
Twitter user Jon Dowd was one of many to take him to task.
"@sammcgaw bahaha, any message board rumor should be preempted explicitly with 'this came from a message board'. #reporting101," Dowd tweeted, to which McGaw weakly responded as follows: "@lingsched I blame twitter. The 140 character limit wouldn't let me do that. I figured people knew what rumor and allegedly meant."
And at 3:50 a.m. Sunday, CBS columnist Bruce Feldman confirmed that the claim about Miles allegedly having an affair apparently had no basis in reality.
"Talked to a source at LSU tonight... there is no truth to that wild rumor," he tweeted.
In the end, Sam McGaw was shamed by the Twitterverse, and his tweeted rumor was thoroughly discounted.
But that doesn't mean he didn't benefit from the controversy. In the barely 14 hours since he sent out the initial tweet, he has become a known entity on Twitter and increased his number of followers from less than 300 to more than 30,000.
Not too shabby for simply sending out one irresponsible tweet.
© Copyright IBTimes 2023. All rights reserved.