LSU-Oregon, Boise State-Georgia, and College Football's Other Biggest Games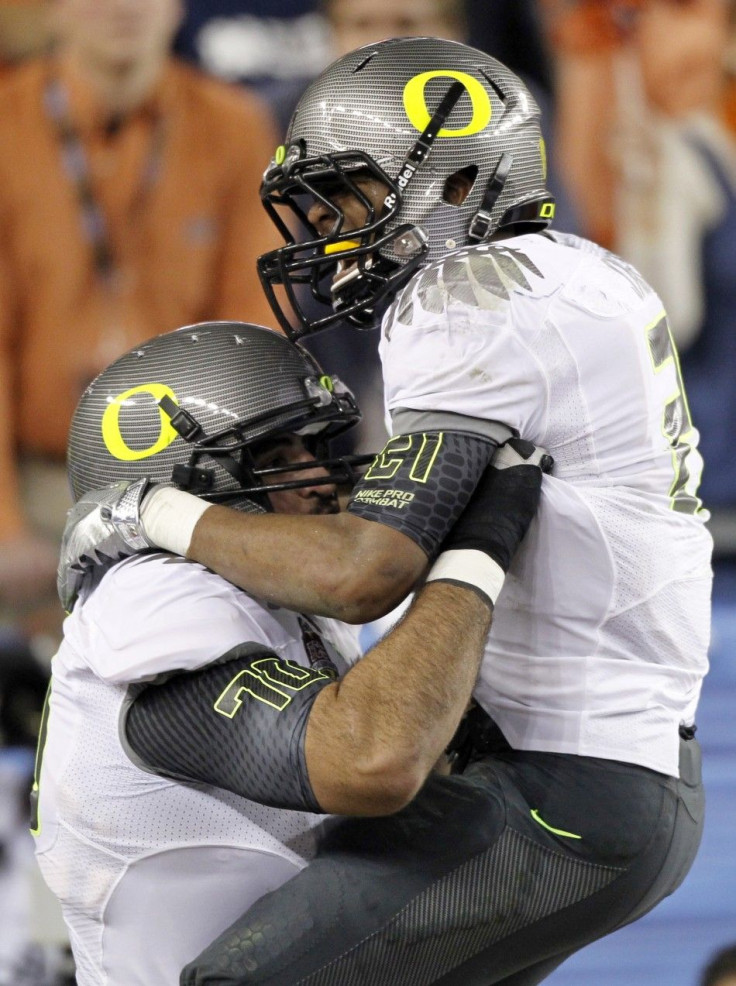 After months of waiting, scandals galore, and a distracting NFL Lockout for good measure -- the NCAA football season is finally upon us, ready for kickoff.
The pageantry and excitement of college football begins Thursday night when UNLV travels to Madison, Wisconsin to face the 11th ranked Badgers. It will be a few weeks before the major influential conference rivalries start to gear up, but Week 1 features plenty of high importance games.
From LSU-Oregon to Boise State-Georgia to Miami-Maryland, college football has quite a few marquee matchups to whet your palate. IBTimes takes a look at some of the weekend's biggest games.
UNLV at No. 11 Wisconsin

When: Thursday at 8 p.m.
Where to watch: ESPN
The beginning of the Russell Wilson era starts off the college football year with a bang. Wilson, a promising baseball prospect, transferred from NC State after issues that he wasn't spending enough time on football.
NC State's loss became Wisconsin's gain, as the Badgers acquire a smart, steady quarterback to provide another option to an already quality offense. Don't expect coach Bret Bielema to completely turn Wilson loose, but he could utilize his feet and arm to throw UNLV off its feet.
Minnesota at No. 25 USC
When: Saturday at 3:30 p.m.
Where to watch: ABC Regional or ESPN 2
The USC Trojans are only playing for pride this season as they are in their second, and last, year of a postseason ban. But don't expect Lane Kiffin to allow his players to come out unmotivated against Big 10 foe Minnesota in the school's opener.
The school's hopes yet again lay in quarterback Matt Barkley's hands, who will need to make a considerable jump in effectiveness to match the initial hype for his arrival at USC. USC could struggle a bit with Minnesota's mobile quarterback, MarQueis Gray, but defensive wizard Monte Kiffin should have his guys ready.
South Florida at No. 18 Notre Dame (NBC)
When: Saturday at 3:30 p.m.
Where to watch: NBC
South Florida could prove to be a tough first week test for the Fighting Irish ahead of next week's matchup versus archrival Michigan. The game pits Dr. Lou Holtz's favorite former school versus his son Skip's current school -- leading the ESPN commentator to finally pick against his beloved Notre Dame program. South Florida is assuredly the underdog in this game, but could capitalize on Notre Dame looking ahead to its game against the Wolverines.
No. 7 Boise State at. No. 22 Georgia
When: Saturday at 8 p.m.
Where to watch: ESPN
One of the absolute biggest games of the week is media darling Boise State versus SEC stalwart Georgia. Boise State is led by the dynamic Heisman hopeful quarterback Kellen Moore -- Mark Richt even joked UGA scheduled Boise St because he thought Moore graduated. Boise State has shown some knack in knocking off top out of conference opponents -- they beat Virginia Tech at FedEx Field last year -- but a match-up in Atlanta, which will be filled with a lot of Bulldogs fans, could be its toughest battle yet.
No. 3 Oregon vs. No. 4 LSU
When: Saturday at 8 p.m.
Where to watch: ABC
The biggest game of the weekend features its fair share of drama. Dubbed the Willie Lyles Bowl by some media members, the game features two teams missing significant starters. LSU is without its starting quarterback and one of its wide receivers, while Oregon is missing its top cornerback.
The good thing for LSU is that it relies much more on its defense than its offense, which offsets the loss of quarterback Jordan Jefferson a tad. Oregon is coming off a strong 2010 season that led to a National Championship loss to Auburn, but may struggle against LSU's staunch defense.
Tulsa at No. 1 Oklahoma
When: Saturday at 8 p.m.
Where to watch: FX
The opening game for the top-ranked Sooners should feature a lot of Heisman Trophy candidate Landry Jones. Jones is considered to be the key for the team's success and figures to have a big game against Tulsa and its new coach Bill Blankenship's defense.
Marshall at West Virginia (ESPN)
When: Sunday at 3:30 pm
Where to watch: ESPN
The Dana Holgorsen era begins with in-state rival Marshall and what should be a high-scoring game -- at least on West Virginia's side of the scoreboard. Holgorsen is known as an offensive guru and could finally let loose some of the offensive stars former coach Bill Stewart had bottled up a bit over the last few years. Anything can happen when you pit two in-state rivals against each other, but West Virginia is rightfully a big favorite in this game.
SMU at No. 9 Texas A&M
When: Sunday at 7:30 p.m.
Where to watch: Local television only
Wait, did Texas A&M do something recently? The Aggies have absolutely dominated the sports talk conversation leading into college football's opening weekend after the school decided to explore membership in a new conference. Ironically enough, SMU is one of the schools desperate to take A&M's soon-to-be open seat in the Big 12. A&M comes into the season with very high expectations, but June Jones' high-flying offense could pose some difficulties for Mike Sherman and his team.
Miami at Maryland
When: Monday at 8 p.m.
Where to watch: ESPN
The Labor Day primetime game features plenty of interesting layers to dissect. Miami has dominated the news waves with a booster scandal that has rocked The U to its core. The Hurricanes will be without seven of their starters, including quarterback Jacory Harris, as they travel to College Park to take on a new-look Maryland team. Led by first-year coach Randy Edsall, the Terrapins will have a sold out Byrd Stadium -- although it struggled to do so-with second-year Danny O'Brien leading a potent offensive attack.
© Copyright IBTimes 2023. All rights reserved.