Madonna's Stuns Football Fans at Super Bowl Halftime Show; No Wardrobe Malfunction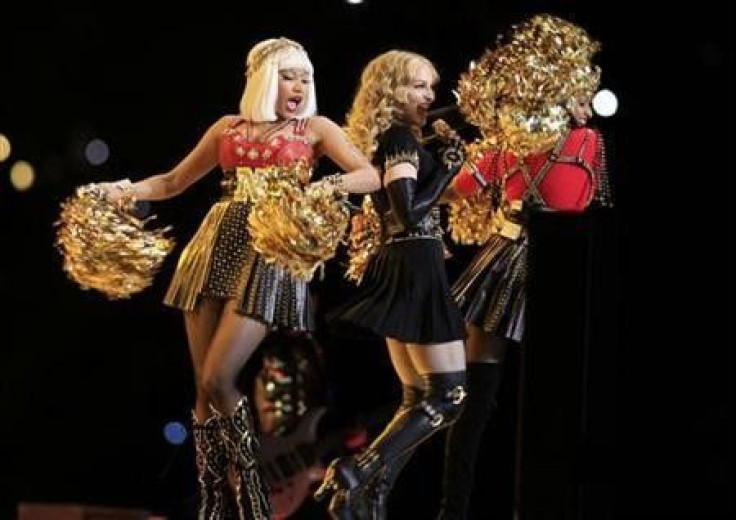 Pop superstar Madonna dazzled football fans and more than 100 million television viewers on Sunday when she performed during a glittery, spectacular Super Bowl halftime show.
Madonna performs during the halftime show with Nicki Minaj (L) and M.I.A. in the NFL Super Bowl XLVI football game in Indianapolis, Indiana, February 5, 2012.
Madonna, the first female Super Bowl halftime headliner since the notorious Janet Jackson wardrobe malfunction of 2004, was carried, Cleopatra-style, into Indianapolis' Lucas Oil Stadium by a cadre of muscled gladiators.
Wearing Egyptian regalia, complete with headdress, and spiked black boots, the pop superstar launched into her seminal hit Vogue, with lighting and other visual effects contributed by the Canadian performing troupe Cirque du Soleil.
Next came Music, which included LMFAO, followed by a cheerleader-themed Give Me All Your Luvin', from Madonna's latest CD. Madonna was joined by Nicky Minaj and M.I.A., with the latter proferring a fleeting obscene one-fingered gesture on-camera.
In a nod to the sport whose fans she was entertaining, the Material Girl performed much of her act on, or in front of, bleachers, with high school marching bands and drumlines augmenting the show, which lasted about 10 minutes.
After a mini-medley of her hits Open Your Heart and Express Yourself, Madonna closed her act decked out in a Gospel-goth black gown, performing Like a Prayer with Cee Lo Green before dropping out of sight in a puff of smoke.
Madonna was not the only pop superstar to grace the high-profile Super Bowl on Sunday, one of U.S. television's most-watched programs: Kelly Clarkson performed the national anthem.
Last year's Super Bowl attracted 111 million U.S. viewers, the largest for a single TV broadcast in the United States.
The halftime show has increasingly featured high-profile pop acts, a far cry from the first Super Bowl in 1967 when college marching bands entertained the crowd.
Paul McCartney, the Rolling Stones, U2, Prince, Bruce Springsteen, The Black Eyed Peas and Janet Jackson have been among recent performers.
Jackson's 2004 appearance made headlines worldwide with her infamous wardrobe malfunction, during which fellow performer Justin Timberlake tugged at her costume, exposing her nipple to millions of TV viewers.
Madonna had promised that all efforts were being made to ensure her show would not be marked by a similar episode.
Great attention to detail has been paid to my wardrobe. There will be no wardrobe malfunction - I promise, she said.
Madonna, who was born in Bay City, Michigan, told reporters last week her appearance was a Midwesterner girl's dream, to be performing at the Super Bowl halftime show.
In over 25 years of performing that I've done, I have never worked so hard or been so scrupulous or detail-oriented or freaked out as much as I have.
© Copyright Thomson Reuters 2022. All rights reserved.
FOLLOW MORE IBT NEWS ON THE BELOW CHANNELS