Maduro Accuses US Of Meddling In Venezuela Riots. How Much Truth Is There To It?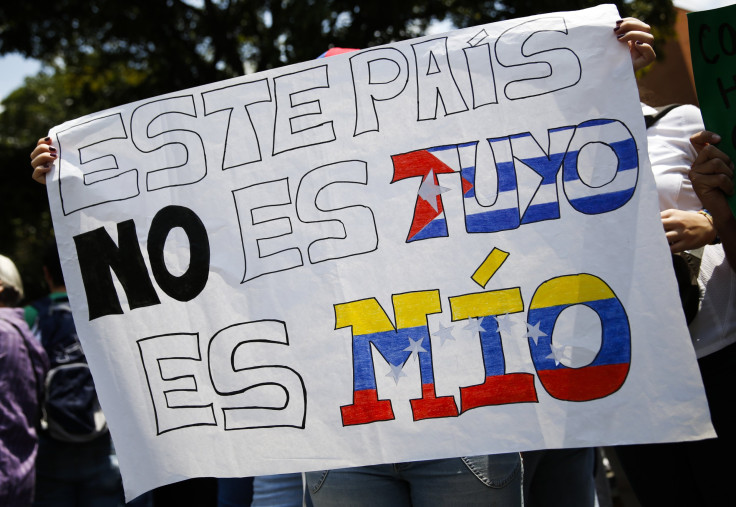 MEXICO CITY -- The U.S. is no stranger to getting involved in the politics of Latin American countries. From the CIA-instigated 1954 coup in Guatemala to the backing of the dictatorship of General Augusto Pinochet in Chile, the U.S. has got its hands dirty with many a foreign government in the region.
And now that Venezuela has been in the news for much of the year -- because of an economy spiraling into chaos and mass protests against the government that have resulted in dozens of deaths -- suspicion that Washington may be involved in supporting the opposition is swirling.
Since President Hugo Chávez's passing on March 6, 2013, the ninth-biggest oil producer in the world has lost its way. Nicolás Maduro, Chávez's right-hand man, who was named interim successor and later won the presidency in an election, has made clear his determination to stretch Chavismo to its limits. A tough crackdown on protesters, including the arrest of opposition leader Leopoldo López from the Voluntad Popular (People's Will) party, and the rejection of international help have made him possibly even more of a polarizing figure than his spiritual and political father.
International governments and international organizations alike have asked for an end to the street war and for the government to listen to its people. Maduro reacted by laughing off all offers of mediation and kicking out diplomats from Panama and the U.S.
Maduro accused U.S. consular officials Breann Marie McCusker, Jeffrey Gordon Elsen and Kristopher Lee Clark of conspiring with students involved in the protests, and said their expulsion was needed to protect Venezuela.
"We are determined to protect our country," he said in a televised speech on Feb. 16. "The Foreign Ministry has declared those three consular officials persona non grata and expelled them from the country. Let them go conspire in Washington!"
In response, U.S. Secretary of State John Kerry said: "We call on the Venezuelan government to provide the political space necessary for meaningful dialogue with the Venezuelan people and to release detained protesters."
"We are deeply concerned by the violence surrounding the protests and the arrest of opposition leader Leopoldo López," said State Department spokeswoman Marie Harf.
What neither of them addressed was the accusation of meddling by U.S. officials in the Venezuelan riots. And despite the proven unreliability of Maduro's statements, he is certainly not the only one who has suspected the involvement of the U.S. in Venezuelan affairs.
Venezuela-U.S. relationships have been practically nonexistent for 15 years now. Since Chávez was first elected president in 1998 and overturned the privatization of the state-owned oil company Petróleos de Venezuela SA (PDVSA), the already tense diplomatic relations worsened significantly. Chávez's public friendship with and support of Cuba's Fidel Castro, which undermined the U.S. policy of isolating Cuba, did not help.
Throughout Chávez's 14 years as Venezuela's leader there were suggestions of U.S. schemes to bring the regime down, including a military coup in 2002 that almost toppled Chávez. In fact, the president was briefly ousted.
Chávez alleged that he had definitive proof of U.S. involvement, claiming that radar images had shown the presence of U.S. military ships and planes within Venezuelan waters and airspace. Former U.S. Ambassador in Caracas Charles Shapiro was also accused of meeting and conspiring with Pedro Carmona Estanga, who was installed as president by the army for all of 24 hours during the coup.
According to Democracy Now, several documents proved that former U.S. President George W. Bush knew about the plot weeks prior to the coup. When asked, William Brownfield, who succeeded Shapiro at the U.S. embassy, said that he had tried to warn Chávez about the plot.
The U.S. embassy dismissed the allegations of conspiracy, calling them "ridiculous."
The second accusation came a decade later, in the months that led to Chávez's death from of an undisclosed form of cancer. In December 2011, Chávez, already under treatment, wondered out loud if "would it be so strange that they've invented the technology to spread cancer and we won't know about it for 50 years?"
Chávez thus put into words the widespread belief among Venezuelan officials that the U.S. had helped covertly "infect" the president with cancer. This was right after four other prominent leftist Latin American leaders had been diagnosed with cancer: Argentina's Cristina Fernández de Kirchner, Brazil's Dilma Rousseff, and two former presidents, Paraguay's Fernando Lugo and Brazilian Luiz Inácio Lula.
Venezuela expert Rory Carroll wrote in the Guardian that charges that Chávez had been killed by a U.S.-produced bioweapon were in the same league with "conspiracy theorists who wonder about aliens at Roswell and NASA faking the moon landings."
Yet, political differences did not hinder economic relations, even during the Bush years: In 2006, the U.S. remained Venezuela's most important trading partner, both as the biggest buyer of Venezuelan oil and the biggest exporter of goods to the country. That year, trade rose 36 percent, the largest increase among the United States' 20 biggest commercial partners, according to Miami-based trade consultancy WorldCity. U.S. trade with Venezuela totaled $62 billion in 2011, making it the U.S.' 14th largest partner, according to numbers form the U.S. Trade Representative office. Most of the trade is related to oil.
After President Barack Obama's election in 2008, Chávez showed a slight change of mind, expressing hope that he would meet with Obama as soon as possible. But when the new American president condemned Venezuela for its ties to Cuba and Iran, Chávez went back to his inflammatory rhetoric, calling him "a clown and an embarrassment."
The U.S. and Venezuela have not had ambassadors in each other's countries since 2010, though both kept diplomatic representation.
U.S. involvement with right-wing politics in Venezuelan has been discussed often, but never confirmed. WikiLeaks offers a wealth of documents about this involvement; those include emails from U.S.-based intelligence companies detailing a web of informers and private meetings with prominent anti-Chávez politicians, and CIA documents dating back to the 2002 coup.
Part of the reasoning of some who believe America is behind the recent, ongoing riots is based on the fact that several prominent opposition figures in Venezuela have ties with the U.S. One of the reasons given is that Henrique Capriles studied at Columbia University, while Leopoldo López attended Harvard, and as such both are regarded as U.S. sympathizers.
The U.S. has adamantly denied any involvement with the riots. "The allegation that the United States is helping to organize protesters in Venezuela is baseless and false," said U.S. State Department spokeswoman Jen Psaki. "We support human rights and fundamental freedoms in Venezuela as we do in countries around the world."
Carl Meacham, director of the Americas Program at the Center for Strategic and International Studies, said Maduro is just using the U.S. as a scapegoat -- a sign of desperation.
"He's accused the United States of being the puppet master and controlling what the opposition is doing," he told NPR. "He's desperate to redirect attention away from the troubles that he's having in Venezuela: with the opposition, with constant protests and with some questions that are starting to come up within his own coalition about his ability to really perform as a strong leader".
In reality, though, the country that has the biggest influence in Venezuela today may not be the United States. China and Cuba have the most clout with the government in Caracas, and both support Maduro. The regional heavyweights closest to the action, Brazil and Colombia, do not look very keen on getting involved.
That leaves Washington in a difficult situation with Venezuela, where suspicion about its motives always runs high. Harold Trinkunas, director of the Latin America initiative at the Brookings Institution, summed it up by saying that "almost anything the U.S. says and does will be used against it." Relations between the two countries, he added, are just too toxic.
FOR FREE to continue reading
✔️ Unlock the full content of International Business Times UK for free
offer available for a limited time only
✔️ Easily manage your Newsletters subscriptions and save your favourite articles
✔️ No payment method required
Already have an account?
Log in
© Copyright IBTimes 2023. All rights reserved.