Major Gen. Greene's Death Latest Failure For Afghan Military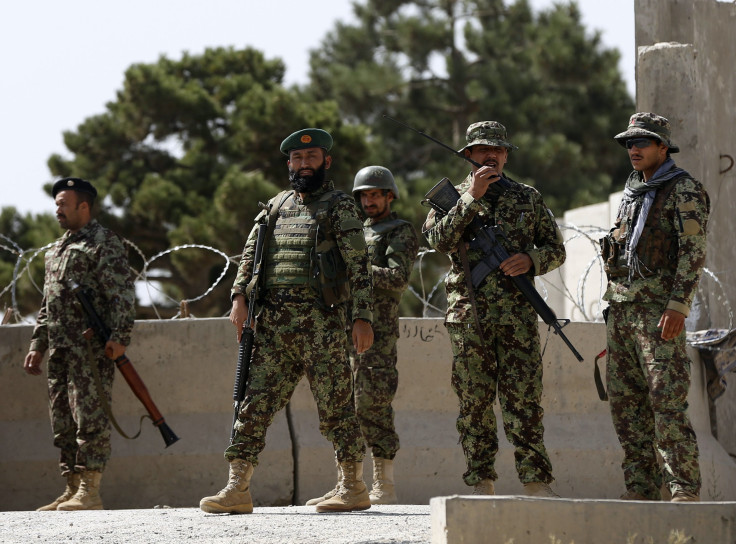 The NATO- and U.S.-trained Afghan military has long struggled to gets its fledgling security forces mobilized, and has had its fair share of failures along the way, not least among them Tuesday's shooting at a military training academy west of Kabul that killed U.S. Maj. Gen. Harold J. Greene and wounded 15 others. Then there are the roughly 200,000 U.S.-supplied weapons that inexplicably went missing last month. All together, the military crisis is driving the debate about the timing of the upcoming withdrawal of U.S. and NATO troops from Afghanistan, scheduled for the end of the year.
"They continue to struggle with logistic support, air support, mobility," Jonathan Schroden, a military operations research analyst with CNA Corporation, a non-profit research organization based in Arlington, Virginia, told International Business Times. "One of the reasons they faced so much trouble [in southern Afghanistan in June] was they were running out of ammunition. They didn't take the steps to preposition supplies, to anticipate that the Taliban would try to do something."
Schroden led a report published in January that assessed the readiness of the Afghan army to handle national security issues without a foreign presence. The report concluded that the Taliban will continue to threaten Afghanistan's stability after 2014, and that the Afghan National Security Force, or ANSF, will need to maintain some 373,000 army, police, air force and local police to cope with the Taliban insurgency – about 113,000 more than the 260,000 active personnel NATO and the U.S. plan to leave behind by 2015.
"We conclude that the ANSF will continue to have significant gaps in capability that will limit their effectiveness after 2014," the report found. Schroden says the conclusions reached by CNA in January remain "generally unchanged."
For one, half of Afghan soldiers are still illiterate, despite a $200 million U.S. program to teach them to read. Soldier illiteracy as well as the Afghan army's reluctance to use comptuterized records instead of paper ones hinder day-to-day communications and make things like ordering spare parts for military vehicles more difficult, officials say.
Officials also fear that some 634 vehicles handed over to the Afghan army are in danger of falling into disrepair. The army has failed to keep the vehicles and the soldiers who employ them properly equipped, according to the Army Times. Officials found that in addition to these flaws, roughly $230 million worth of spare parts have gone missing.
More recently, investigators with the Special Inspector General for Afghanistan Reconstruction, or SIGAR, discovered in July that almost half of the 474,823 small arms the U.S. had given to the ANSF since 2004 had been misplaced. Officials found the ANSF's weapons inventory filled with errors; many weapons contained the wrong or duplicate serial numbers. Some are worried those weapons will fall into the hands of insurgents.
Since the U.S. and NATO increased their forces in 2009 in Afghanistan, the Taliban threat has significantly dropped. The CNA's assessment of Afghanistan concluded that the withdrawal of foreign troops will "result in a considerable reduction in counterinsurgency and counterterrorism operations" and that the Taliban will continue to use Pakistan as a sanctuary before attacking areas of Afghanistan. "The Taliban will amass and try and take an area, and the ANSF will have to cede those areas," Schroden says. "That sort of give-and-take between the Taliban and ANSF in rural areas is likely to be the status quo for the next few years."
Experts say the general success of this year's national elections showcased the Afghan Army's ability to handle larger scale security issues. In June, Afghan voters cast their final ballots for a new president while major Taliban attacks continued, but police and army forces managed to keep major cities relatively disaster-free. "What you saw was some pretty impressive levels of coordination in the runoff election," Schroden says. "They had a lot less time to prepare, and yet I think they did a really good job."
Pentagon spokesman Rear Adm. John Kirby stressed that Tuesday's attack would not undermine the cooperation and trust between coalition forces and the ANSF. "The Afghan national security forces continue to perform at a very strong level of confidence and competence," he said. "This is a security force that we believe grows stronger by the week."
Insider attacks are on the decline after peaking in 2012. That year, NATO officials recorded 46 separate insider attacks that resulted in the deaths of some 62 coalition troops. "Green-on-blue" attacks declined the following year, to 13. Tuesday's attack was the third of 2014. Schroden says Tuesday's attack near Kabul is not on its own an indication of the Afghan army's readiness to maintain security efforts in the country once foreign powers have left.
Still, others were not as confident that the attack would not affect the partnership. "From the ISAF side, from the U.S. side, any form of trust between the Afghans and the U.S. trainers has now been fully broken," said ABC News contributor Steve Ganyard, a retired Marine colonel.
© Copyright IBTimes 2023. All rights reserved.