Malala Yousafzai Gets $3 Million Book Deal: Has A Backlash Started?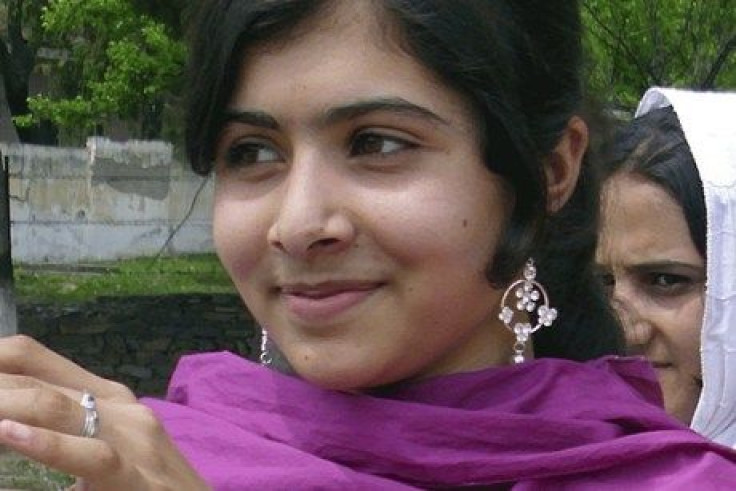 Judging by comments submitted by some readers to newspapers in India, Pakistan and Britain, not everyone is happy with the $3 millon book deal that Malala Yousafzai has received to write her life story.
Malala, the 15-year-old Pashtun girl who was shot in the head by a Taliban gunman in the Swat Valley in Pakistan last October, has become a world-famous figure and a heroine for the cause of advancing women's education.
Her odyssey to global fame included extensive reconstructive surgery at hospitals in Pakistan and Britain; visits to her hospital in Birmingham, England, by the famous (including Pakistan President Asif Ali Zardari); many awards from around the world; and a possible nomination for next year's Nobel Peace Prize.
Ban Ki-Moon, the secretary-general of the United Nations, even declared that Nov. 10 will be celebrated as "Malala Day."
In addition, all of her medical costs were picked up by the Pakistani government and her father was given a job at the consulate in Birmingham. She has also returned to school after a six-month disruption of her studies.
Now, Malala's improbable and incredible saga will make her rich.
According to a report in the British newspaper the Guardian, Malala will write her memoirs – to be titled "I Am Malala" and scheduled to be published this fall -- for a cool $3 million from Weidenfeld and Nicolson Ltd., the London publishing house. (W&N will publish the book in Britain and the Commonwealth, Little, Brown and Co. will do so in the rest of the world, including the U.S.).
"I hope the book will reach people around the world, so they realize how difficult it is for some children to get access to education," Malala said in a statement.
"I want to tell my story, but it will also be the story of 61 million children [around the globe] who can't get education. I want it to be part of the campaign to give every boy and girl the right to go to school. It is their basic right."
While Malala getting a book deal (and perhaps many more remunerative endorsements) was inevitable given the magnitude of her fame and global reach, it has nonetheless rubbed some folks the wrong way.
A reader named 'Harry128' in Sky News commented bitterly on the expense Malala and her family have incurred the British taxpayer.
"[It's] time for you [Malala] to go home, we [don't] want to be paying our taxes to pay for your treatment [and] housing anymore," he wrote.
On the other side of the world, a reader of the Pakistan Tribune newspaper named "Munib" made a reference to the Pakistani state paying for Malala's hospitalizations.
"I guess [it's] time to pay back the medical expenses!," he declared.
Another reader, dubbing himself "Common Man" lamented: "We [are] all tired of Malala this and Malala that."
Indian news consumers had a field day with Malala's good fortune.
A reader named "Scamnivas" from Chennai commented on Times of India: "The west is going wild!" perhaps as a snide remark on how Europe and the U.S. may have become more enamored with Malala than people in her native South Asia.
Similarly, "Raghunadharao" from Hyderabad defended Malala's bravery but lampooned Western entities for putting a dollar figure on everything, thereby cheapening acts of courage.
"We agree that the girl is bold and stood up for [her] rights," he wrote. "[But] the tendency of the western world is to lift up to [the] sky or reward persons."
Another reader characterized the promotion of Malala as a form of "propaganda."
"Western media is making an icon of [Malala]," said Tanvi. "It's all western propaganda… giving [millions of dollars] to a girl will not change things [in Pakistan]."
Yet another reader implied Malala is now the darling of "Jewish-controlled" Western media, while referring to her nomination for the Nobel Peace Prize.
Calling himself "Nobel Prize is politics," he or she stated: "This girl would become a propaganda icon of the Western Jewish-press. So, the chances are high that she may also get the Nobel Prize. The Nobel Peace Prize is now Jewish and a part of Imperialist Politics."
He or she suggested a more deserving candidate for the prize, Abdul Sattar Edhi, known as Maulana Edhi, a prominent Pakistani philanthropist and social activist.
"Why Maulana Edhi, who is working in Pakistan for the last 60 years for the well being of all people, was never nominated for a Nobel Peace Prize?," they asked.
Yet another reader suggested that promoting Malala was a way for Jews in the West to spread anti-Muslim propaganda, by making a reference to Lord George Weidenfeld, the founder of Malala's publishing house.
"Lord Weidenfeld is an Austrian Jew who left his previous homeland and settled in Britain," wrote the TOI reader.
"Now the rescued Jews are [spreading] a lot of propaganda against the Muslims. Even a simple biography becomes a welcome propaganda in the Western media. This is [the] liberal face of the West."
Of course, some media consumers applauded Malala's sudden wealth. A reader named "IRUNWILD31" for the New York Daily News beamed: "Good for her. I'd rather read her story than [celebrities] and lying [politicians]. I will definitely add this to my Kindle."
Perhaps jealousy over Malala's book contract is somewhat understandable given the massive poverty in her homeland.
According to the Pakistan Bureau of Statistics, the per capita income in the country for the 2011-2012 amounted to a paltry $1,257. (This means that it would take almost 24,000 years for the average Pakistan to earn what Malala will receive from her memoirs).
© Copyright IBTimes 2023. All rights reserved.
FOLLOW MORE IBT NEWS ON THE BELOW CHANNELS