Malala Yousafzai Slams Donald Trump's Views On Muslims As 'Really Tragic' And 'Full Of Hatred'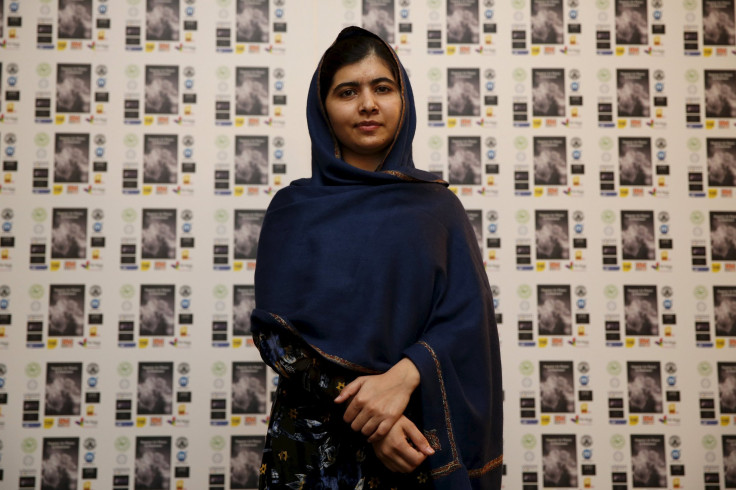 Nobel Peace Prize winner Malala Yousafzai on Tuesday slammed Donald Trump's calls for a ban on all Muslims entering the United States. The 18-year-old condemned the U.S. Republican presidential candidate during a ceremony to mark one year since a Taliban attack on a school in Peshawar, Pakistan, killed more than 140 people, mostly children.
"Well, that's really tragic that you hear these comments which are full of hatred, full of this ideology of being discriminative towards others," Yousafzai told Agence France-Presse, during the event in the city of Birmingham, central England. She added that blaming Muslims for terrorism would only "radicalize more terrorists."
"If your intention is to stop terrorism, do not try to blame the whole population of Muslims for it because it cannot stop terrorists," Yousafzai said, according to BBC.
Trump has been heavily criticized for his views on Muslims that came after the Dec. 2 shooting in San Bernardino, California, which was carried out by Syed Rizwan Farook and his wife, Tashfeen Malik.
Last week, Trump called for the U.S. to implement a "total and complete" travel ban against Muslims trying to enter the country. He also released a statement on Dec. 7 referencing the "great hatred" that "large" segments of the Muslim population hold against Americans.
Speaking at the ceremony, Malala's father Ziauddin Yousafzai also criticized Trump's comments.
"It will be very unfair, very unjust that we associate 1.6 billion with a few terrorist organizations," he said, referring to the number of Muslims across the world.
The event in Birmingham was reportedly organized by Malala and her family, and two survivors of the Peshawar attack, Ahmad Nawaz, 14, and Mohammed Ibrahim, 13, took part.
"There are these terrorist attacks happening, for example what happened in Paris or what happened in Peshawar a year ago," Malala reportedly said, referring to the Nov. 13 Paris attacks, which were claimed by the Islamic State group, also known as ISIS. Gunmen and suicide bombers targeted cafes and restaurants in the French capital, and also the Bataclan concert hall, killing 130 people.
"It's not just needed in Pakistan but across the world. If we want to end terrorism we need to bring quality education so we defeat the mindset of terrorism mentality and of hatred," Malala reportedly said.
© Copyright IBTimes 2023. All rights reserved.