Malaysia 1MDB Scandal: US Investigators Probing Businessman With Alleged White House Links, Report Says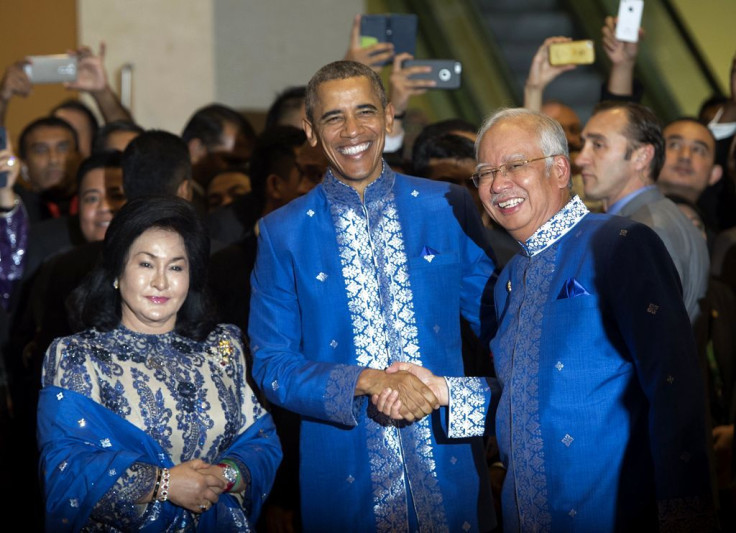 Federal officials are probing whether money allegedly misappropriated from scandal-hit Malaysian state fund 1Malaysia Development Berhad (1MDB) was sent to a U.S. businessman who scheduled a visit to Oval Office for relatives of Malaysian Prime Minister Najib Razak, the Wall Street Journal reported Thursday, citing sources.
Frank White Jr., founder and CEO of investment firm DuSable Capital Management, escorted Najib's son and stepson to the Oval Office where they met President Barack Obama in December 2013. Property transactions carried out by the stepson, Riza Aziz, in the U.S. are being investigated by federal authorities.
White made a business deal, where about $10 million embezzled from 1MDB could have gone indirectly to him, according to the Journal. The Journal added that last November, 1MDB paid $69 million to purchase a DuSable unit out of a deal they signed to build solar-power plants.
DuSable and 1MDB's dealing were "intended to provide renewable energy in Malaysia, create jobs in the United States and earn support for Malaysia in the United States," Erik Smith, spokesman for White and DuSable said, according to the Journal.
Sources told the newspaper that Najib's aide Jho Low — who is also named in the alleged 1MDB scandal — helped come up with the solar-power project on which DuSable cooperated. Low said that his efforts in the project helped Najib build relations with Obama, the report added citing the sources.
In 2012, MB Consulting LLC — a company owned by Low's business partner from Abu Dhabi — reportedly paid White about $10 million as a part of a consulting agreement. And some of the money allegedly misappropriated from 1MDB was sent to MB Consulting, the Journal reported, citing U.S. prosecutors' July lawsuits related to the investigation into the embattled fund.
The report also added that White has raised funds for Obama and Hillary Clinton.
Razak had established 1MDB to spur Malaysia's economy. Investigators reportedly believe that about $1 billion siphoned off from 1MDB went to Najib's private bank accounts. The prime minister has denied any wrongdoing.
The U.S. Justice Department is seeking to confiscate over $1 billion of assets linked to 1MDB, including 11 luxury properties in the U.S. In an August court filing, the department said that 1MDB's embezzled funds went through shell companies, checks, wire transfers and accounts with Deutsche Bank AG, JPMorgan Chase & Co., Rothschild Bank AG and BSI Bank Ltd. These banks have not been accused of wrongdoing.
© Copyright IBTimes 2023. All rights reserved.