Malaysia Airlines Flight MH370 Search: Indian Ocean Noise Analyzed For Possible Link to Missing Jet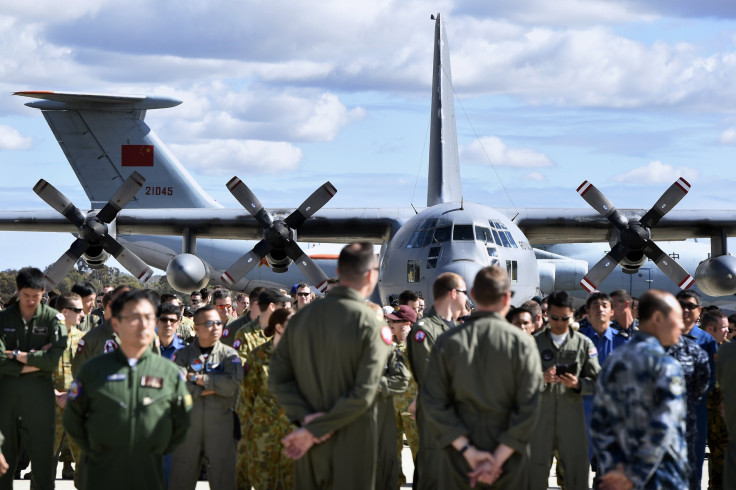 Scientists will release information Wednesday about a mysterious noise, which could have been an ocean impact, recorded by two undersea receivers in the Indian Ocean about the time Malaysia Airlines Flight 370 stopped satellite transmissions and vanished on March 8, the New York Times reported Monday evening.
The sound, so low-frequency that it was outside the normal range of hearing and had to be sped up to be made audible, appears to have traveled halfway across the Indian Ocean to the receivers off the coast of Australia.
"It's not even really a thump sort of a sound — it's more of a dull oomph," said Alec Duncan, a senior marine science research fellow at Curtin University near Perth, who has led the research.
The area from which the noise came is in the central Indian Ocean off the southern tip of India and about 3,000 miles northwest of Australia. That does not match with calculations of an arc of possible locations in the southeastern Indian Ocean where the plane, carrying 239 people, might have run out of fuel. Those calculations were from Inmarsat, the global satellite communications company.
Scientists have struggled to figure out the origin of the noise.
"If you ask me what's the probability this is related to the flight, without the satellite data it's 25 or 30 percent, but that's certainly worth taking a very close look at," Duncan said.
On Friday, he had said the source of the noise "is just as likely to be a natural event," CNN reported.
Two receivers — one operated by Duncan's team and the other by the Comprehensive Nuclear Test Ban Treaty Organization in Vienna — produced enough data to establish the direction from which the noise arrived. But the distance to the source of the noise was less clear. The result is a vast rectangle of ocean several hundred kilometers wide but a couple of thousand kilometers long, Duncan said.
That would be an area roughly the size of Texas.
Martin Dolan, chief commissioner with the Australian Transport Safety Bureau, the agency leading the search at the request of Malaysia, agreed with Duncan¹s initial analysis of the sound.
"We think that those detections may have been interesting from the point of view of the direction they came, but other characteristics make it unlikely that they are associated with MH370," he told CNN Friday.
© Copyright IBTimes 2023. All rights reserved.