Mali Refugees' Food Aid Cut: Doctors Warn Refugees At Heightened Risk Of Malnutrition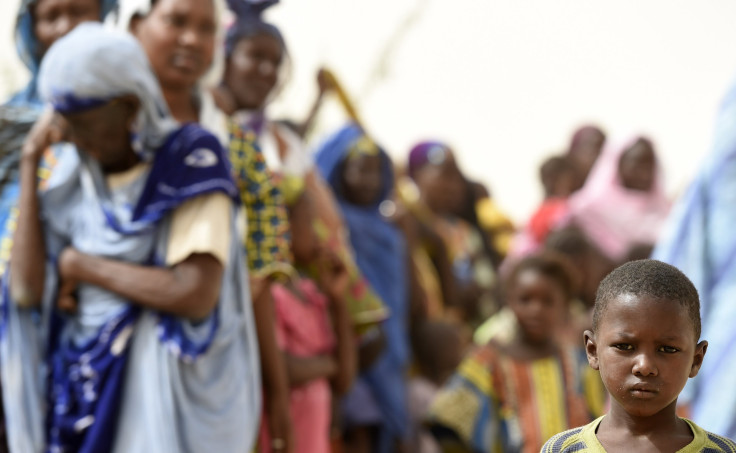 Monthly food rations will be cut for almost 50,000 refugees from the West African nation of Mali because of financial shortfalls, humanitarian groups said this week. Doctors Without Borders warned that the M'bera refugee camp in the country's neighboring Mauritania would likely see a spike in malnutrition without monthly food distributions. The aid group has called on international donors to prevent an impending health crisis in the region.
"Global acute malnutrition in the camp was around 20 percent in 2012 when we first started our activities here," Dr. Mahama Gbane, the Doctors Without Borders medical coordinator in Mauritania, said in a statement. "It would be tragic if we allowed the health of the most vulnerable to slip back to catastrophic levels."
Responsible for distributing food staples in the M'bera camp, the World Food Program has been unable to secure funding to provide its inhabitants with food this month. Previously, Doctors Without Borders reported: "The general food distribution was canceled entirely in March, which then caused a surge in admissions of sick children to ... therapeutic feeding programs in M'bera -- an increase from 30 to 79 admissions per month." Last month, the rice ration per person was cut by more than one-half, to about 12 pounds from about 26 pounds.
Some refugees have their own small businesses or raised their own livestock, but, because of intolerable conditions in a region where temperatures can exceed 120 degrees Fahrenheit, most of them still rely heavily on food donations. "Refugees have tried to grow [produce] in communal gardens, but extreme heat, sandstorms and insects destroy most of the plantations," the IRIN news agency quoted Maya Walet Mohamed, head of the women's committee at the camp, as saying.
The camp was initially set up to accommodate Malians fleeing war in their country's north as Islamist insurgent groups launched a separatist campaign in 2012 against the central government. The civil war lasting officially until early 2015 prompted French military intervention in early 2013, and it left hundreds of thousands of Malians displaced and in need of humanitarian support. Although peace agreements have since been signed, many refugees still feel unsafe returning home, especially amid recent reports of an increase in violence and the spread of al Qaeda in Mali.
According to IRIN, the World Food Program needs about $600,000 to cover the cost of its food distribution in the Malian refugee camp each month. "The camp has been totally forgotten by donors because today international politics are focused on other crises like Syria and Ebola," said April Benedict, head of Doctors Without Borders' mission in Mauritania.
© Copyright IBTimes 2023. All rights reserved.