Man Falls 50 Feet To His Death While Paragliding, Incident Caught On Camera
KEY POINTS
Doctors said the man suffered a cardiac arrest due to the shock of the fall
Police have registered a case of accidental death
Efforts are underway to send the man's mortal remains to Korea
A South Korean national died after falling from 50 feet while on a paragliding adventure in India. The tragic incident which occurred in the western state of Gujarat was caught on camera.
The Korean national, Shin Byeong Moon, 50, was in Gujarat at the invitation of one of his friends in Vadodara. As per local reports, Moon and his Indian friend had come to Kadi in the Mehsana district, where they started paragliding from Dharampur village.
The incident took place around 5:30 p.m. local time Saturday. Moon's paraglider failed to open on time due to some technical glitch, which led to the crash. He was rushed to a hospital after dropping unconscious on the ground. Doctors said the man suffered a cardiac arrest due to the fear of the fall.
"From Vadodara, the South Korean national and his Gujarati friend Prakashbhai had come to Kadi. He (the deceased) started doing paragliding from Dharampur village and due to some technical glitch, he fell from 50 feet. He was rushed to Bhagyoday Hospital in Kadi where he died during treatment," Inspector of Kadi Police Station, Nikunj Patel, told Indian Express.
In a video shot by locals, the man can be purportedly seen losing control while in the air as he falls straight to the ground.
Another video taken by locals shows police tending to Moon on the ground as he lies unconscious on the ground. Patel said that Moon was being accompanied by another Korean person while visiting India, Hindustan Times reported.
"Shin was on a trip to Vadodara. He and his Korean friend were visiting their acquaintance, who is into paragliding, at Visatpura village near Kadi town. On Saturday evening, Shin and his Korean friend went paragliding," Patel said, according to the daily.
"The man fell from a height of around 50 feet after the canopy failed to open properly," Patel added.
Police have registered a case of accidental death and the victim's relatives and friends in Vadodara, as well as the Korean embassy, have been informed about the incident.
The process of sending the man's mortal remains to Korea is underway.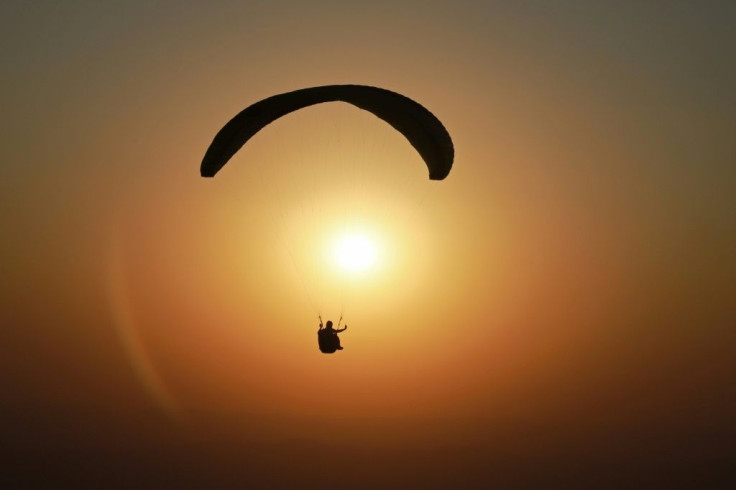 © Copyright IBTimes 2023. All rights reserved.