Man United Star Bruno Fernandes Points Out Real 'Problem' During Man City Derby
KEY POINTS
Manchester United is now 0-2 at home in the club's last three Premier League matches
Bruno Fernandes is disappointed with how the team conceded goals against Manchester City
Ole Gunnar Solskjaer is focused on the next game against Watford
Manchester United midfielder Bruno Fernandes is calling for his teammates to re-assess themselves following the loss to Manchester City.
Ole Gunnar Solskjaer's side did not manage to live up to the hype of its promising comeback win over Tottenham Hotspur in the English Premier League.
After the derby loss to Manchester City, the Red Devils found themselves in a difficult situation once again.
Not only did Manchester United fail to score a single goal the entire match, but the club also conceded a strange goal courtesy of Bernardo Silva at the 45th minute.
Atop that, Manchester United's Eric Bailly even scored a disappointing own goal early in the game.
Expressing his deep frustration after the match, Fernandes stressed that it's not only goalie David de Ge who is to blame for it. Instead, it was the whole team's poor defense as well.
"It's always a bad time to concede a goal," Fernandes told Sky Sports. "The problem is the way we concede goals. It's too easy. As I said many, many times, if it was not David [de Gea] again, the result could be much higher and worse for us."
"We have to protect better, David, because he is protecting us a lot and we have to help him because he cannot make every game eight, nine saves and then still concede goals."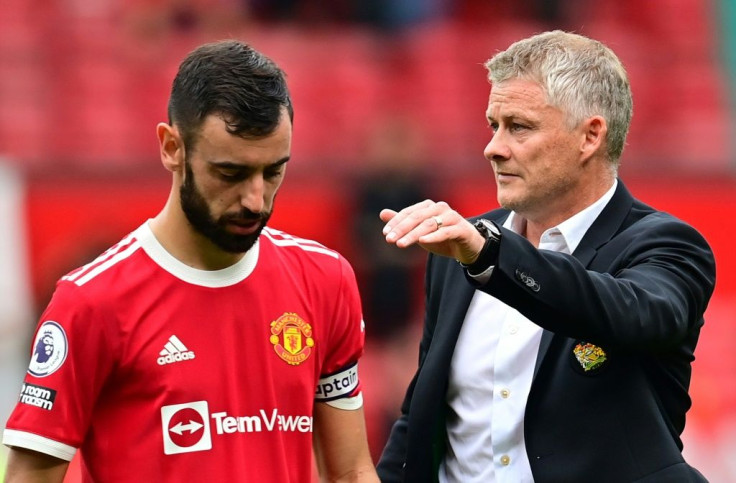 As things stand, Manchester United has gone 0-2 at home in their last three Premier League matches.
Aware of the disappointment of the fans, Fernandes also sent out his heartfelt apology to those who came to support the club.
"Obviously everyone is frustrated about the result, about the performance too," the Portuguese admitted. "We know we can do much better and we know this is not enough for a player who is representing this big club."
"We just have to apologize to the fans and that's it because it was not good enough from us," he added. "Great atmosphere they create. They pushed us until the end, they tried to give that energy to us but from us, it was not enough."
Manchester United will be visiting Watford on November 20 with hopes of being able to get back to its feet and do its best not to waste another title run this season.
"For us, it's all about Watford [the next game]," Red Devils boss Solskjaer said post-game. "To come out against Watford like a proper hurt animal and get back to what we know we can be. That's the only way to approach this and attack the situation."
© Copyright IBTimes 2023. All rights reserved.