Manitoba's NDP wins fourth straight majority term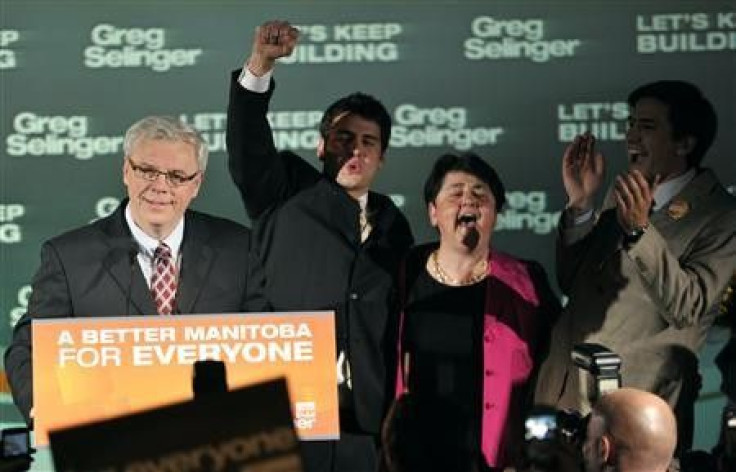 Manitoba voters re-elected the New Democratic Party government on Tuesday, which won a record-matching fourth straight majority in the western Canadian farm and mining province.
The New Democrats, led for the past two years by Premier Greg Selinger, have governed for 12 years in Manitoba, the only one of the three Prairie provinces with a left-of-center government.
The NDP has shown itself to be scandal-free, said pollster Chris Adams of Probe Research. They've been fortunate to be in government during a time of relative prosperity and used that prosperity in a relatively calm way.
With some polls yet to report, the NDP was leading or elected in 37 electoral districts, giving them a majority of seats in the Manitoba legislature. The Progressive Conservatives were on track to win 19 seats and the Liberals got a single seat in the province of 1.2 million people.
The NDP braced for a serious challenge from the right-of-center Conservatives, and the two parties mustered nearly the same number of total votes.
However, the NDP's votes translated into more seats in the provincial capital of Winnipeg, while the Conservatives won rural seats with large margins of victory.
Despite their ideological differences, the two main parties ran similar campaigns that promised more nurses and police officers while playing up public fears about each other.
They even seemed to reverse roles on the issue of balancing Manitoba's budget after three straight deficits.
Selinger, who replaced the popular Gary Doer as premier in 2009 after Doer became Canada's ambassador to the United States, promised to eliminate Manitoba's deficit by 2014, while Conservative Leader Hugh McFadyen, sensitive to charges he would make drastic cuts, vowed to take four additional years.
Manitoba has net debt of about C$12.8 billion.
The parties differed on where to build a costly new hydro-electric transmission line, but that issue may not have gained traction for either party with voters.
No other Manitoba party has won four straight majorities in nearly a century, and political pundits have said a buoyant public mood, due to a relatively strong economy and the arrival this year of a new National Hockey League team, the Jets, benefited the NDP.
© Copyright Thomson Reuters 2023. All rights reserved.