Manny Pacquiao: Is He an All-Time Great? (BOXING)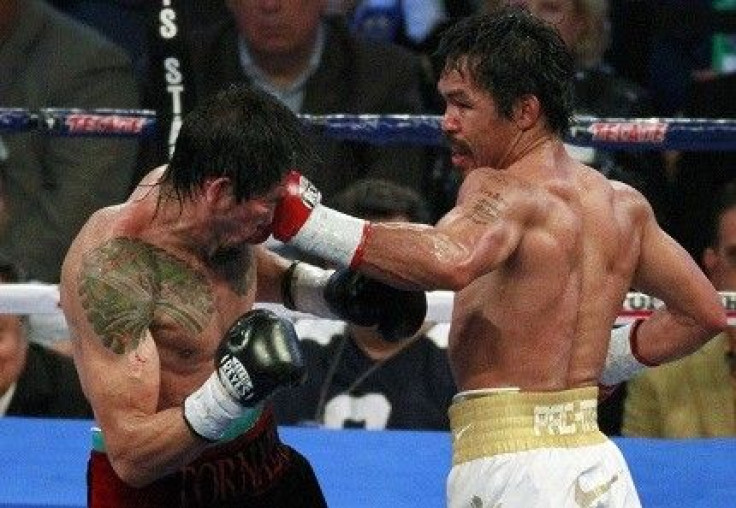 Few fighters have climbed as fast through the ranks of boxing like Manny Pacquiao (53-3, 38KO), who is currently considered the best pound-for-pound boxer in the world.
The Filipino phenom's success prompts the obvious question: where does Pacquiao rank among the greatest that have ever fought?
An eight-division world champion who started his journey at 106 pounds, Pacquiao dominates the welterweight division, and his success leading up to his current weight class has been nearly unprecedented.
However, this isn't the first time in boxing history that we've seen a fighter surge through weight classes successfully. Roy Jones (49-3, 38KO), was the first boxer to enter as a junior welterweight and become a heavyweight champion.
Unlike Jones, Pacquiao's greatness involves his domination of high-profile boxers.
His past ten fights have included Oscar De La Hoya (39-6, 30KO), Miguel Cotto (36-2, 29KO), Juan Manuel Marquez (52-5, 38KO) and Ricky Hatton (45-2, 32KO), and he was the clear winner in each fight.
Sugar Ray Robinson (173-19, 109KO) was also known to face some of the greatest fighters of his time. Some of his defeats include the notable Jake LaMotta (83-19, 30KO), Carmen Basilio (56-16, 27KO), Kid Gavilan (108-30, 28KO) and Rocky Graziano (67-10, 52KO). All of whom went on to be inducted into the Hall of Fame.
In the ring, Pacquiao brings power that goes beyond his weight. He is a fast, hard puncher who dominates sometimes much larger opponents. His precision, and technical abilities are unmatched by nearly all fighters in contemporary boxing.
In some ways, Pacquiao bears some resemblance to Roberto Duran (103-16, 70 KO), who was a champion in the lightweight, welterweight and middleweight classes. Like Duran, Pacquiao is incessant when he attacks his opponents. Back in 2009, Pacquiao showed no signs of mercy when he attacked and bloodied the extremely durable boxer, Cotto. It's that type of tenacity that separates Pacquiao from other competitors - he rarely takes his foot off the gas pedal.
Many of the best boxers in history made their mark by beating the best, and the one name that hovers over Pacquiao's head is Floyd Mayweather Jr., who due to inactivity is less recognized as being an all-time great. Mayweather would pose a real challenge, and would put the discussion of Pacquiao's all-time greatness into more clear perspective.
Though a Pacquiao victory over Mayweather would cement Pacquiao's place among the greatest boxing has ever seen, the fight may never happen. Meanwhile, Pacquiao probably has already achieved enough to be put himself in the same class with the likes of legends like Robinson.
Pacquiao's resume is nothing short than remarkable and he has to be considered among the best in boxing history.
© Copyright IBTimes 2023. All rights reserved.