Manny Pacquiao, Keith Thurman Fight May Not Go The Distance, According To Experts
Manny Pacquiao and Keith Thurman: one fighter is a former 8 division world champion bent on proving that he's still the best. While the other is an undefeated champion looking for redemption after disappointing performances in his previous six fights. Whatever the outcome is, Pacquiao versus Thurman will be an entertaining match to watch.
Two boxers, in a 12-round pay-per-view slugfest at the MGM Grand Garden Arena in Las Vegas, Nevada. It will be a contrast of styles. One will rely on speed, and footwork while the other one will depend on raw knockout power to retain his WBA "super" welterweight belt.
However, boxing experts think that the fight won't go the distance. Speaking with the local media, Filipino fight analyst Ed Tolentino said that the "fight would end within ten rounds."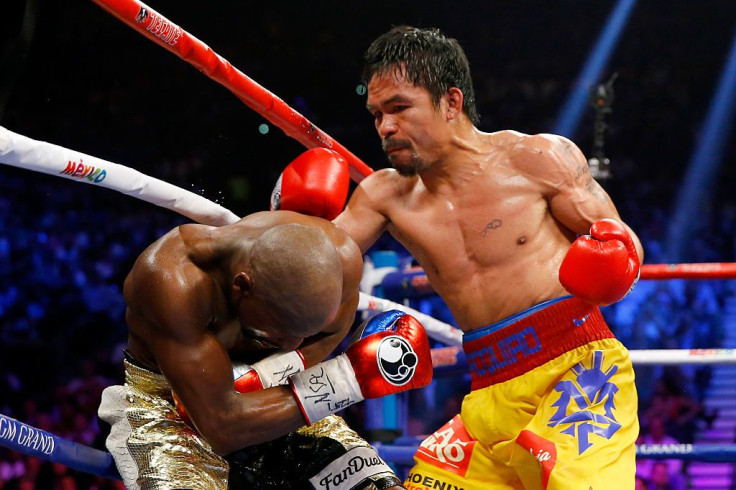 He added that, unlike Pacman's previous opponent Adrien Broner, Thurman would look to go inside to score. He might even "stand-up" and fight Manny head-on, quipped the analyst in his local language.
Pacquiao, for his part, has been taking a less intensive knock-out approach after being knocked-cold by Manuel Marquez in 2012. In his last four matches, the Filipino icon has been cautious of going inside. Instead, he uses his speed and footwork to dance his way out of danger as he usually lands punches while backing up.
His only KO happened against Lucas Matthysse last year. Perhaps we will see a more aggressive Pacman after he repeatedly said his resentment at the American champion for repeatedly disrespecting him.
We might witness an ultra-aggressive Manny Pacquiao on July 20, but he will have to be cautious against Thurman's mighty right hand. It will be intriguing to see who will be the aggressor between the prized pugilists.
Boxing journalist Nissi Icasiano described the American as a dangerous fighter. Thurman has a size and reach advantage against the Pacman. There's a big chance that he will be able to negate Manny's offense, but we will have to see that on fight night.
One advantage many experts believe that Manny has is Thurman's lack of experience and polish. The WBA welterweight champion has struggled to knock his opponents in his last six fights.
The 30-year-old boxer has a total of 30 fights, while Pacquiao has a total of 70 matches on his impressive 24-year professional career. It will be a matter of who comes out the gates first and dictates the tempo according to Tolentino.
© Copyright IBTimes 2023. All rights reserved.