Manny Pacquiao News: Did PacMan Do Enough To Beat Floyd Mayweather?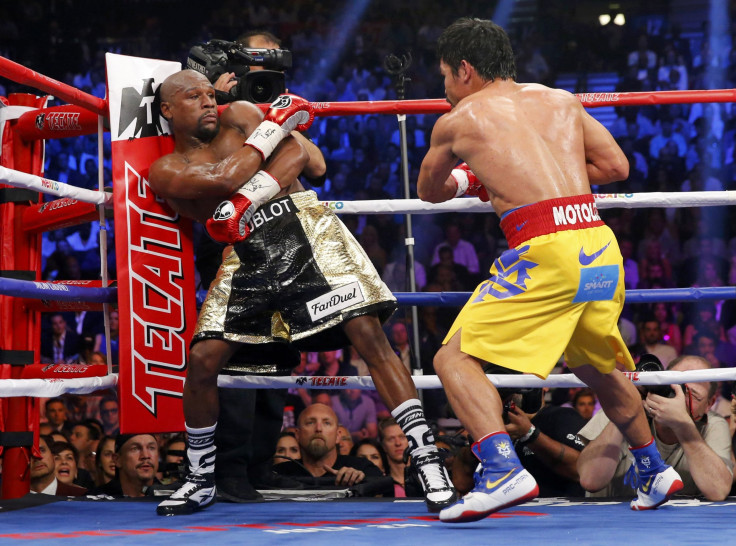 When Floyd Mayweather defeated Manny Pacquiao by unanimous decision in their May 2 bout in Las Vegas, there didn't seem to be much controversy on the side of the general public. But almost a month after the mega-fight took place, Pacquiao's camp remains unconvinced that Mayweather should've been named the winner.
Pacquiao has stated on multiple occasions that he believes he defeated Mayweather. His trainer, Freddie Roach, claims that the boxer isn't the only one who shares that sentiment.
"Most of the people and the fans told me we got robbed," said Roach via BoxingScene.com. "Then the next day at the airport 99 percent of the people told me that we won the fight. I haven't re-watched it yet so I can't tell you what I think yet, but after the fight [was over] I was like hmmmm…I think it could go either way."
The official judges certainly thought Mayweather won with ease. David Moretti had Mayweather winning 118-110, while Burt Clements and Glenn Feldman scored the fight 116-112.
Among prominent boxing experts, the general consensus appears to be that the right decision was made. ESPN's Dan Rafael gave the fight to Mayweather 116-112, and the International Business Times scorecard had Mayweather winning 116-113.
"Perhaps Mayweather's shots did not have the same kind of steam as Pacquiao's did, but he was the better offensive fighter and defensively brilliant as always. Pacquiao could barely hit Mayweather, and you can't win if you can't deliver the power," Rafael wrote on ESPN.com.
Scoring the fight live on the pay-per-view broadcast, Steve Farhood had it 118-110 in Mayweather's favor, while former judge Harold Lederman's score of 117-111 also indicated a dominant Mayweather performance.
The Guardian scored the fight 116-112 for Mayweather. Michael Power of the New York Times posted on Twitter: "Was solid decision." Of the three Los Angeles Times judges, one thought Pacquiao didn't lose the fight. Lance Pugmire and Mike James scored the bout 115-113 for Mayweather, but John Cherwa had it at a 114-114 draw.
One former boxer actually thought Pacquiao did enough to win. Evander Holyfield applauded Pacquiao's performance in an interview with ESPN.
"The fact of the matter, you're the more aggressive one, you hit him with the shots... Pacquiao seemed to hit him (Mayweather) more times than he hit Pacquiao," said Holyfield.
But Pacquiao didn't hit Mayweather with more punches, and it wasn't even close, according to statistics. Looking at the Compubox numbers, it would be hard to say that Pacquiao got the better of Mayweather.
The undefeated boxer landed 148 of his 435 punches, hitting his opponent at least 10 times in nine of the 12 rounds. Pacquiao threw six fewer punches than Mayweather, but he only connected 81 times. Pacquiao landed double figures in punches in just three rounds.
The fight itself didn't appear close enough to warrant a rematch, though Pacquiao's injured shoulder has caused some to wonder how he would've performed had he been at full strength. Mayweather initially said he would grant Pacquiao a rematch, but he later claimed he wouldn't fight him a second time.
Mayweather is set to fight again in September, possibly marking the last bout of his career. Pacquiao's recent surgery will keep him out of action for nine to 12 months.
© Copyright IBTimes 2022. All rights reserved.
FOLLOW MORE IBT NEWS ON THE BELOW CHANNELS