Manny Pacquiao Next Fight: Is Jessie Vargas Still His Opponent Or Is Terence Crawford A Possible Option?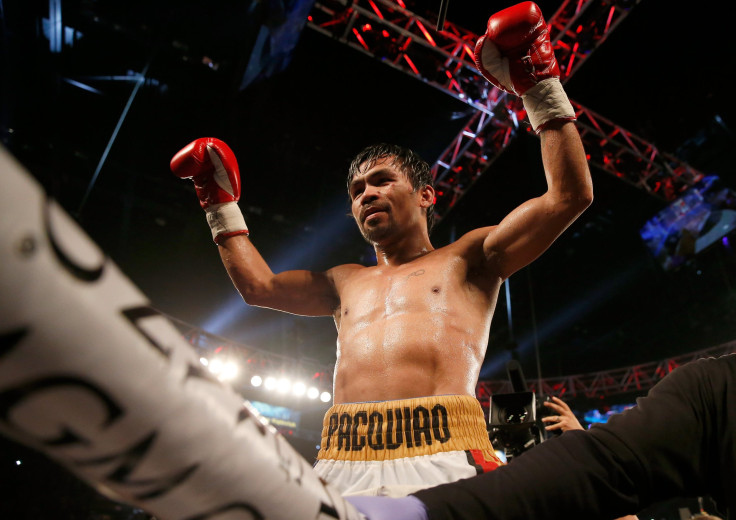 There's some disagreement in Manny Pacquiao's camp regarding whom the boxer will fight next. It looked like the eight-division champion was ready to take on Jessie Vargas, but the bout has not been made official.
Pacquiao adviser Michael Koncz told ESPN that the Filipino senator had chosen to go with Vargas, the WBO welterweight champion, as his next opponent. When it was announced that Pacquiao would return to the ring on Nov. 5 at the Thomas & Mack Center in Las Vegas, Vargas and light welterweight champion Terence Crawford became Pacquiao's top two options.
But Top Rank CEO Bob Arum says no decision has been made, and he's flying to the Philippines on Sunday night to talk to Pacquiao about his next fight.
"Why would I go to the Philippines if I already had a deal and a decision on the opponent?" Arum told ESPN. "If everything was set and arranged, why would I go over there for two days? I'm not going over there for the food. I am going to find out what the f--- is on Manny's mind and it's not easy to talk to him on the phone and we have to talk about a lot of things. Among the issues is the opponent.
"Michael can say whatever he wants but I haven't talked to Manny about any of this."
A fight against Crawford is one that the boxing world would like to see. After dismantling Viktor Postol in a title unification bout on July 23, Crawford further established himself as the sport's next star, improving his career record to 29-0. He presents the biggest challenge to Pacquiao, who might actually be the betting underdog if he goes down to 140 pounds for the fight.
Vargas is a good young fighter, but he would be a significant underdog against Pacquiao. The 27-year-old lost by unanimous decision last year to Timothy Bradley, whom Pacquiao beat for a second time in April.
Koncz has said that he doesn't like Crawford's "style," and from a business perspective, it would make more sense for Pacquiao to face Vargas. Pacquiao is still hoping to get a rematch against Floyd Mayweather, and a loss this year might end any chance of that happening.
Devoted boxing fans might want to see Pacquiao vs. Crawford, but the risk might far outweigh the reward. Crawford is relatively unknown to casual fans, and he wouldn't bring Pacquiao a substantially bigger payday than a fight against Vargas would.
But Pacquiao has never been one to back down from a challenge, and he could decide to risk a loss and take the best available fight.
"Michael feels strongly about the opponent, but that's Michael, not Manny," Arum said. "And Manny has the final say. There's no reason to be cute. I have no idea who Manny wants to fight yet, but it's up to him, not up to me and not up to Michael."
© Copyright IBTimes 2023. All rights reserved.