Manny Pacquiao And Son Jimuel Working On Lethal Move In Boxing
Manny Pacquiao and his son, Jimuel, are reportedly practicing a lethal move in boxing.
Pacquiao has proven to everybody that he is not yet done with boxing. It has not been long since the eight-division title holder battered former welterweight champ Keith Thurman but it seems like Pacquiao has no plans to slow down.
Just a few days ago, Pacquiao and his son, Jimuel Pacquiao, went to training together. The father and son shared the same boxing ring in what appeared to be a boxing tutorial session. Although Pacquiao and his son didn't actually sparred with each other, it is quite evident that Jimuel was receiving instructions from his father's trainers.
In the short video clip, Jimuel could be seen "perfecting" a specific move while his dad was on the other side of the ring working on his combinations with Freddie Roach. According to FightHype.com, Jimuel was trying to perfect a "vaunted left hook," a move in boxing which his father had used to knockout several world champions in the past.
After an intense training session with Roach, Pacquiao walked over to Jimuel to have a quick look on the progress of his son.
Now that Pacquiao is actually training with his son, it's hard not to assume that the legend finally gave his son his blessing to pursue a boxing career.
Last June, Pacquiao spoke to Yahoo Sports' Kevin Iole and revealed that he has been "discouraging" his son to follow his footsteps. Instead, Pacquiao wanted Jimuel to manage their business.
"That's what he wants. We already advised him that boxing is so difficult, hard. You have to undergo hard work, training, discipline. We discouraged him. (I told him) 'I think you have to go to school, manage the business that we have,'" Pacquiao revealed.
However, Jimuel seems eager to be a world boxing champion like his dad in the future.
"He said, 'What I'm gonna do? Boxing is my passion?'" Pacquiao quoted his son Jimuel who said "boxing is his line."
For Pacquiao, boxing came into his life in a much different way than his son.
"I entered boxing because we're poor, we didn't have nothing. I was obligated to box. (With him) it's different, how can you be motivated if your life is okay? That's the big question. That's why we're observing him, 'Okay, we'll support you. But we're closely looking at him," Pacquiao stated.
Jimuel is currently undefeated in amateur boxing. In fact, last month, ABS-CBN's Sports U was able to get a view of his most recent victory.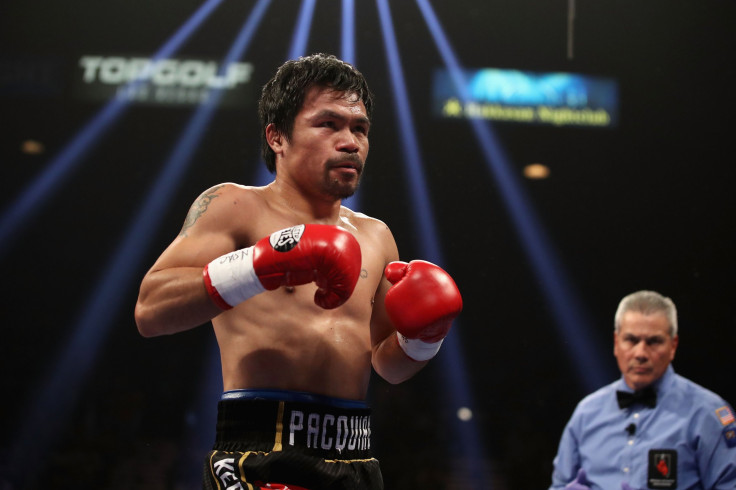 © Copyright IBTimes 2023. All rights reserved.
FOLLOW MORE IBT NEWS ON THE BELOW CHANNELS