Manny Pacquiao's Son To Continue Boxing Despite Disapproval Of Parents
KEY POINTS
Manny Pacquiao's eldest son Jimuel is an amateur boxer in the Philippines
Jimuel has decided to pursue showbiz but isn't willing to let go of his boxing career
Manny and his wife Jinkee don't want their son to continue competing inside the ring
One of Manny Pacquiao's sons is hoping to also make a name in boxing.
Jimuel, the eldest son of Manny, has embarked on a showbiz career in the Philippines.
While being a celebrity also means having a hectic schedule, the 20-year-old amateur boxer has no plans of letting go of his sporting career.
"I think it's just a matter of time management," Jimuel told reporters in a recent virtual media conference including ABS-CBN News. "Now, I only have school, boxing, and showbiz since everything is done online. It's a little bit more flexible."
"As of now, I still compete," he continued. "I always find time to train since that's the most important thing. I can handle both boxing and showbiz at the same time. There's always time to train and I'm motivated when it comes to boxing. It's feasible."
Jimuel is very close to his family and his parents--Manny and Jinkee--have always been supportive of every decision he makes.
However, Jimuel also admitted that he is well aware that should his parents get to decide for him, they would rather let him be in the entertainment industry than swap punches inside the boxing ring.
"If they were asked to choose between showbiz and boxing, of course, they would want me to pursue showbiz. They don't want me to pursue boxing," he said.
"They made sure, at the very beginning, that I really wanted to go in because [doing showbiz] is very taxing, especially schedule-wise, and all that," he added. "We did have a serious talk about it."
In September 2019, Jimuel was handed his first defeat as an amateur boxer. The three-round, 140-pound friendly boxing match ended via split decision--declaring his opponent, Ken Danila, as the winner.
After the fight, Jimuel insisted that the said loss would not hinder him from competing.
Manny, on the other hand, had already addressed Jimuel's dreams of becoming a world champion in boxing.
According to the world's only eight-division titlist, they have tried their best to convince their son to forget boxing. But the youngster was adamant about it.
"That's what he wants," Manny told Yahoo Sports in June 2019. "We already advised him that boxing is so difficult, hard. You have to undergo hard work, training, discipline. We discouraged him. [I told him] 'I think you have to go to school, manage the business that we have.'"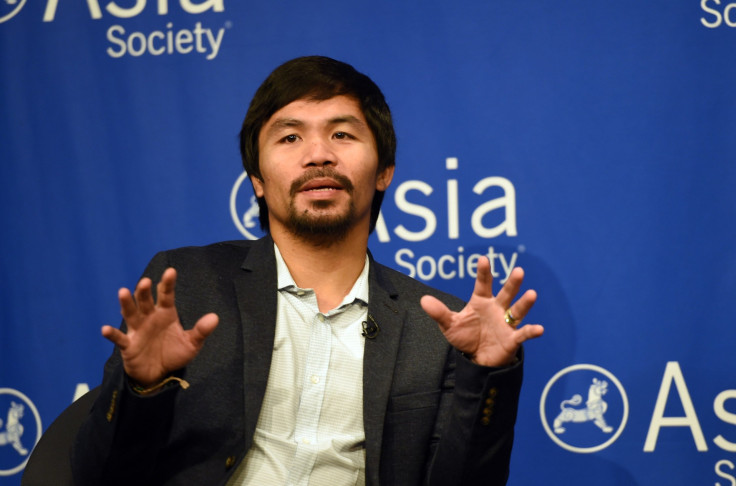 © Copyright IBTimes 2023. All rights reserved.