Manny Pacquiao's Son Wants To Shut Keith Thurman Up
Manny Pacquiao's son, Michael Pacquiao, wants father to shut Keith Thurman up by knocking him out.
It seems Pacquiao is not the only one intending to make Thurman shut up. In a recent media scrum, Pacquiao's son, Michael, said that he hopes his father would knock the loudmouth fighter out to keep him quiet.
Elie Seckbach of EsNews ran into one of Pacquiao's sons and took advantage of the opportunity to squeeze a fight prediction from an immediate member of the Pacquiao family. Michael first said that he is excited and happy that his father will once again step inside the ring, but at the same time he is also "kind of nervous."
Pacquiao's son seemed to be a bit in a hurry, but Seckbach was determined to know what the young Pacquiao had to say about the outcome of the fight and managed to get a quick but powerful response from Michael. According to Michael, his father will score a knockout somewhere in "later rounds." "It's gonna be a knockout, somewhere in late rounds, not sure," Michael said.
Michael also revealed his disgust over Thurman's trash-talking antics as he continued by stating that he really "hopes" for a knockout victory in order to keep the younger champ quiet.
"I hope so! To keep Thurman quiet, cause he keeps on talking," Michael added.
His brother, Jimuel, also had the same prediction. In a recent talk with Philstar Global, the Pacquiaos shared their thoughts about the Filipino boxing legend's fight with Thurman, and both of Pacquiao's sons see a KO win courtesy of their father.
Jimuel said that his father is "ready and all set" ahead of the fight. And when the reporter pressed him for a prediction, he stated the same outcome as his brother, although in a different fashion.
"Late stoppage," Jimuel answered.
Among the Pacquiao sons, Jimuel is the one who has been following his father's footsteps. In fact, Jimuel already has an undefeated record as an amateur boxer and has no plans of slowing down.
Pacquiao's family has been very supportive all throughout his career. His mother Dionisia even made her own name in Philippines as she became famous for her unique behavior and consistent desire to convince her son Manny to retire from boxing.
Pacquiao vs. Thurman is set for tonight at the MGM Grand in Las Vegas, Nevada.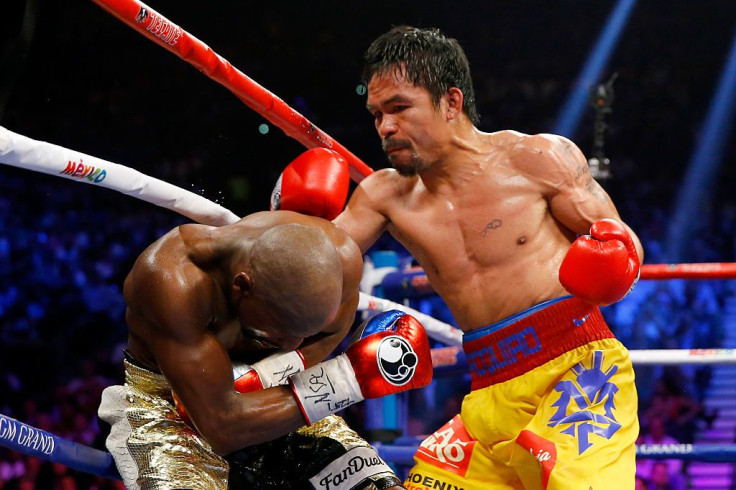 © Copyright IBTimes 2023. All rights reserved.